Taiwan CZT Mina Hsiao's simple 4Fun tangle was inspired, she writes, by jigsaw puzzles.
I thought this tangle's a great one for Hallowe'en week as its amorphic shapes reminded me of Casper the Friendly Ghost. And it is 4Fun, after all!
It is easy to draw and very engaging as you're creating the curvy amorphous shapes then deciding where to put the solid black rounded shapes of Step 3. This tangle turns out different every time!
Mina says 4Fun is a tangle that provides her with several benefits: Focus, Patience, Pleasure, and "Magical Fun". Mina describes each:
Benefit 1: focus (step 2)
When I start to draw the second or more irregular circles, each stroke must be along the other and can't touch on it.
It helps me focus more.
Benefit 2: more patient (step 3)
Add smooth black shapes at prominent areas within the irregular circles.
Benefit 3: lets me feel happy (step 4)
Finally, drawing curves surrounding each black shape from one side to the other side and leaving some space between curve and black block. (Like an aura.)
Benefit 4: magical, it's fun!

Here are Mina's step-by-step instructions for drawing 4Fun with a large monotangle example.
Mina's lovely Zentangle® tile below also features the Zentangle-original tangle Tripoli. 4Fun is ripe for all kinds of additional tangles in the open spaces as demonstrated here by Mina.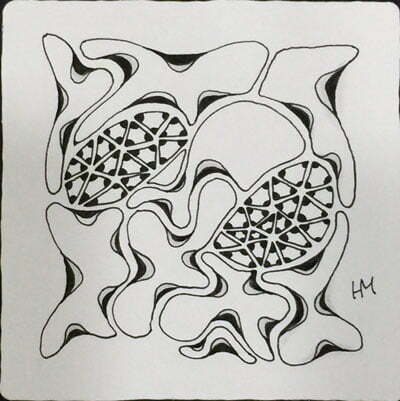 Have (4)Fun!
Check out the tag minah for more of Mina's tangles on TanglePatterns.com.
Related Links
Enhance your Zentangle experience ...

NEW! TanglePatterns.com TANGLE GUIDE, 2019 Edition

The newest and 8th Edition of my TanglePatterns.com TANGLE GUIDE. This instant-download 72-page (40 MB) interactive digital eBook contains all the tangles on the site from May 2010 through December 31, 2018. Containing over 1,000 tangles, it's a must-have tool for using the site.

"Linda, Thank you! I was relying on too few and getting stuck after 3 years of daily working with Zentangle. This has inspired me to 'begin again' with renewed excitement." ~ Barbara R.

See the BOOK REVIEWS page for more details on its features and view a sample page.
Visit the STORE > E-BOOKS page for more information and support TanglePatterns.com by getting your copy now!
GIFT ORDERS: To give the TANGLE GUIDE as a gift, visit this page to place your gift order.
If you're new to Zentangle® and tangling, my TanglePatterns.com BEGINNER'S GUIDE TO ZENTANGLE is just what you need to get started. Also available en Français and en Español.

---

NOW AVAILABLE IN SOFTCOVER:

This is the only Zentangle book you'll ever need: the fabulous Zentangle PRIMER Vol 1. It's your CZT-in-a-book by the founders of Zentangle®! Visit the STORE tab on the top menu bar or click on the image. For more about the content and to read the rave reviews, visit the BOOK REVIEWS tab.
"Absolutely the best Zentangle Book yet! As an accomplished artist I used to think I did not need instruction on this art form. How wrong I was! My tangling improved by leaps and bounds after reading this book. If you think you have Zentangle down then you need this book more than ever!" ~ Kris H

---

Another great jump-starter for new tanglers is the original Official Zentangle Kit. The Kit includes all the supplies you'll need to get started properly: Sakura Micron Pens, Zentangle Tiles, pencil, sharpener, tortillion, a booklet and an instructional DVD by co-founder Maria Thomas. Click on the image for more information about the Kit and its contents.
---