If you've been wowed by the Zentangle-inspired art on the covers of my Tanglepatterns.com TANGLE GUIDEs and loved her It's Spiralicious and Exploring the elegance of Zentangle® in a larger format tutorials, then prepare to be blown away by Tasmanian CZT Michele Beauchamp's new book, Today I Will Tangle.
Here's the cover …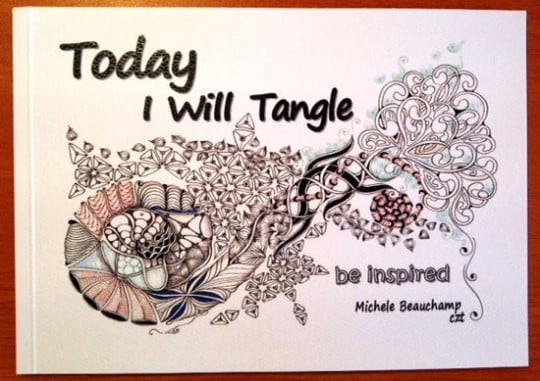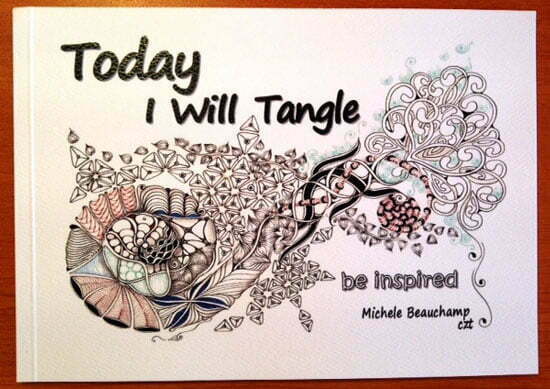 After many requests from her loyal followers, Michele has just self published this lovely volume that's simply inspirational. In my humble opinion, next to Zentangle co-founder Maria Thomas, few have the delicate touch and unique and beautiful artistry Michele brings to this art form.
Today I Will Tangle gives you the chance to learn first hand by studying a master. And it makes a PERFECT and affordable gift for everyone on your Christmas gift list! (I've already ordered copies for mine.)
Today I Will Tangle combines Zentangle-inspired art with Michele's poem Today. In the pages of this Zentangle treasure, Michele uses Zentangle-original tangles to create the art that frames the words of her poem and inside the back cover she lists the tangles used in each. The book also contains the steps for seven of Michele's own tangles, and a page of example spiral shapes to experiment with. The book's subtitle is "be inspired", and you will be.
As Michele writes, "Life is full of surprises just like a Zentangle. You create little gems while having fun!" Today I Will Tangle is full of gems, here's a sample of what's inside …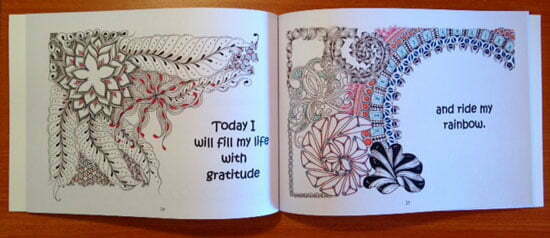 Here are its physical features:
48 pages including cover, in color
approx. 21.5 cm x 15 cm (8″ x 6″)
light and easy to carry for inspiration any time, anywhere
$15.00 AUD with $2.50 from each book being donated to a small village in Myanmar.
currently this translates to $11 US, plus shipping.
[Please Note: this is not a Zentangle "how to" instructional book, it's a coffee table book to relish and enjoy.]
If you live in Australia, visit this page and scroll down to the bottom to purchase this book.
Everywhere else in the world, visit Michele's Etsy Shop to make your purchase.
Then sit back and watch your mailbox with anticipation for this unique Zentangle treasure!