This lovely and interesting tangle, Riki Tiki, comes to us from stained glass and gourd artist Renee King and it's her first on the site.
In recent years many many gourd artists have added tangling to their repertoire of gourd embellishment, gourds offer a perfect canvas for Zentangle-inspired art. While tools like wood burning equipment (Pyrography) and rotary carvers can be used to produce amazing works of art, they can also pose health hazards to the artist. Zentangle-inspired gourd art removes that issue and allows gourd artists to continue their craft without worry of breathing issues down the road.
If you don't know much about gourds, here's an identification chart showing what an amazing variety of shapes and sizes they come in.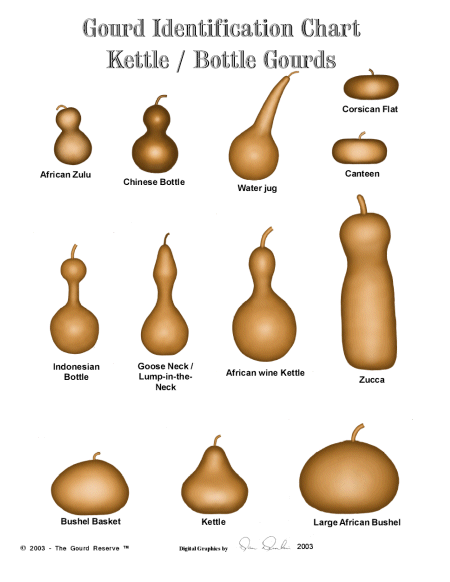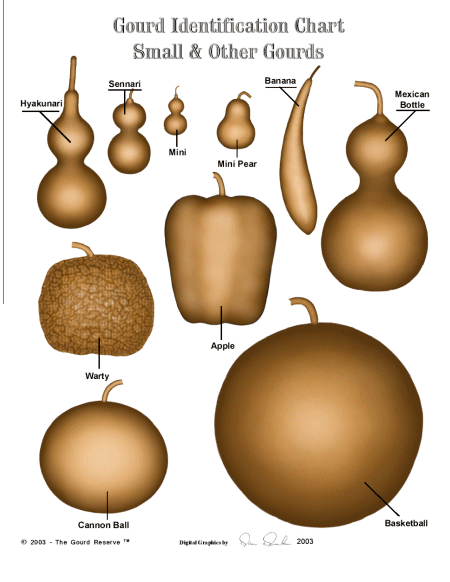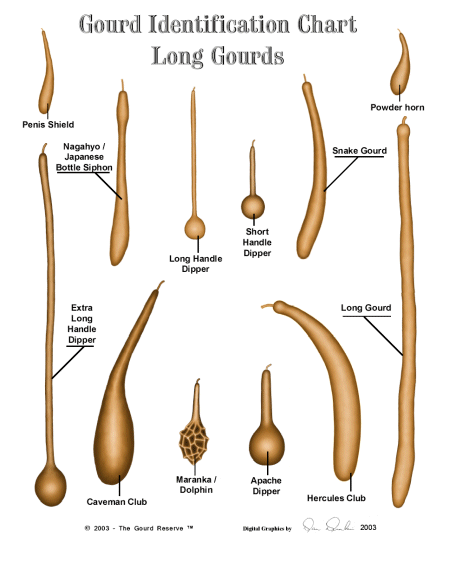 Digital Gourd chart © Dan Dunkin 2003
This chart is used courtesy The Gourd Reserve
Renee introduces herself,
I first found out about Zentangle® on the first of June when I was looking at the class schedule for the Mississippi Gourd Festival being held September 21st-22nd. I saw Judy Burkett's class for Zentangle on a gourd taught by a Certified Zentangle Teacher.  I had no clue what that was so I looked it up online and haven't been able to stop PLAYING. I also found Howard and Mickey Weitsen, CZTs, out of Coventon, LA and was able to take their workshop and learn even more about Zentangle. I'm a stained glass artist, gourd artist and paint murals so Zentangle is right up my alley. I've learned to keep pen and papers handy for when inspiration hits, usually at inopportune times. And that's OK. By being on the Tangle Patterns mailing list I'm always able to tangle new cards. My next step is to become a Certified Zentangle Teacher myself.
If you're interested in learning more about gourd art check out this PDF list of classes from the Mississippi Gourd Society's Mississippi Gourd Festival. The PDF is also available from a link on the home page of the Mississippi Gourd Society.
Renee credits Mickey Weitsen for helping her with the step-by-step instructions for drawing Riki Tiki below. This tangle pattern is completed in four simple steps and Renee shows us several variations in her steps and in her beautiful completed Zentangle.
Here's Renee's Zentangle featuring Riki Tiki. Notice the cone-shaped third variation on the right below using curved strokes in place of the straight ones in Step 2. Great tangle, thanks for sharing Renee!
Check out the tag reneek for more of Renee's patterns on TanglePatterns.com.
BTW – remember that you can always find the link to the list of Certified Zentangle Teachers (CZTs) in the left sidebar under the SOURCE WEBSITES heading. There's also a link there to find out more information if you're interested in becoming a CZT, or you can go straight to the ZENTANGLES tab on the top menu bar then select the TEACHING ZENTANGLE® page.
eBooks available from TanglePatterns.com
TanglePatterns.com TANGLE GUIDE, 2013 Edition

The current Edition of my TANGLE GUIDE. This eBook contains all the tangles on the site from May 2010 through December 31, 2012.
Visit the BOOK REVIEWS page for more information and to see a sample page.
Visit the STORE > E-BOOKS page for more information on this and the TanglePatterns.com BEGINNER'S GUIDE to Zentangle® (also available in Français and Español) and support TanglePatterns.com by getting your copy now!
* * *
You might also like: