Thank you, you have successfully subscribed to receive new tangle patterns and Zentangle® news from TanglePatterns.com. If you subscribed by email, when new items are added to the site you will receive a notification in your Inbox.
Each newsletter is a separate subscription, so if you signed up for all three (TanglePatterns, Weekly Digest, Comments), you will be asked to confirm each one individually.
How to manage your TanglePatterns Newsletter subscriptions

You can change your email address, temporarily pause your subscription while you're on vacation, or unsubscribe at any time by using your subscription management links at the bottom of any of your newsletters. Note: Whether you subscribe to the daily TanglePatterns newsletter, the Comments newsletter, or the Weekly Digest newsletter, each one is a separate subscription so use the links in the relevant email to make your changes. For more information see ABOUT > HOW TO CHANGE YOUR EMAIL SUBSCRIPTION on the menu bar at the top of any page.
* * *
If you have questions about the site, as your first stop please visit the ABOUT > FAQs page on the menu at the top of any page.
You can get in touch with me by visiting the ABOUT > CONTACT LINDA page.
 * * *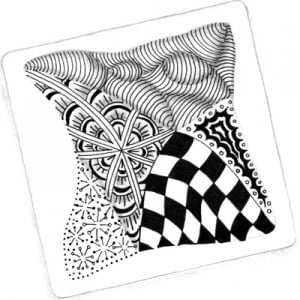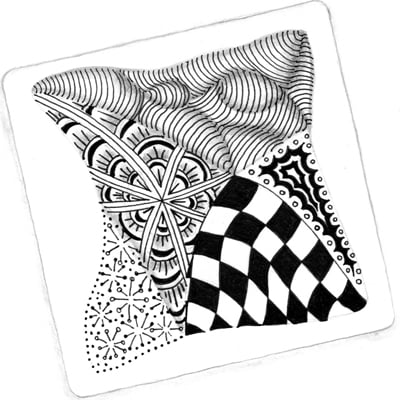 A very warm welcome to TanglePatterns.com, you are certainly among friends. Tanglers are a wonderful, generous and sharing community. I hope you enjoy the site and are inspired by the patterns you find here. Please feel free to add your thoughts in the comments on any page and join in the community.
If you are new to Zentangle®, I suggest you visit this page first to get an idea of what this site is about. This post also has some useful tips on using the site.
Here's another resource that's handy for newcomers – Exploring TanglePatterns. And check out the rest of the pages along the menu at the top of every page – there's a wealth of information there you'll want to see.
Recently I've added a new FAQ page on the "About" menu that may answer any other questions you might have.
New eBooks available from TanglePatterns.com
TanglePatterns.com BEGINNER'S GUIDE to Zentangle®
A Zentangle jump-start for beginners! This illustrated 14-page eBook describes Zentangle®, its origins, the supplies recommended, and the steps of the Zentangle Method.
It contains over a dozen examples of official tangles that are good for Beginners, and an interactive list of additional free learning resources. If you don't have a CZT near you this explains everything you need to know to get started with Zentangle.
Visit the STORE > E-BOOKS page for more information and support TanglePatterns.com by getting your copy today!

TanglePatterns.com TANGLE GUIDE, 2016 Edition

My TanglePatterns.com TANGLE GUIDE, 2016 Edition is  available. This TANGLE GUIDE eBook contains every tangle that appears on the site from May 2010 through December 2015. Hundreds and hundreds of tangles!

Great for newbies, it's an interactive 44-page eBook. You can click on the tangle images for the steps, and print out the TANGLE GUIDE for your own handy reference. Feedback about earlier editions is located here.

Find out how to support the sustainability of TanglePatterns.com by visiting the SUPPORT TANGLEPATTERNS tab on the top menu bar.
Enjoy, and HAPPY TANGLING!