Hello again friends! Welcome back for a brand new week of fresh tangle inspiration.
And a trip to the French Côte d'Azur!
Today's Zentilo tangle is from French CZT Catherine Rousseau and it's her first on the site.
Catherine is from Nice, France, a city located on the "French Riviera" on the beautiful Mediterranean Sea and is one of the most visited places in France according to Wikipedia:
The first known hominid settlements in the Nice area date back about 400,000 years (homo erectus); the Terra Amata archeological site shows one of the earliest uses of fire, construction of houses, as well as flint findings dated to around 230,000 years ago. Nice was probably founded around 350 BC by colonists from the Greek city of Phocaea.
… The clear air and soft light have particularly appealed to notable painters, such as Marc Chagall, Henri Matisse, Niki de Saint Phalle and Arman. Their work is commemorated in many of the city's museums, including Musée Marc Chagall, Musée Matisse and Musée des Beaux-Arts. International writers have also been attracted and inspired by the city.
… Because of its historical importance as a winter resort town for the European aristocracy and the resulting mix of cultures found in the city, UNESCO proclaimed Nice a World Heritage Site in 2021. The city has the second largest hotel capacity in the country, and it is the second most visited metropolis in the hexagon, receiving 4 million tourists every year. It also has the third busiest airport in France, after the two main Parisian ones.
I highly recommend taking a moment to read a little of Wikipedia's entry about Nice, it's a fascinating detour.
Catherine introduces herself and her tangle,
I discovered the Zentangle® method for the first time in 2015, but I told myself that it was not for me: in middle school, the drawing teacher told me that I was very bad at drawing …
I became interested in the Zentangle Method™ again at the end of 2020, when I was pursuing a personal development process and starting to practice meditation and there, it was obvious: this method was totally made for me!
I took advantage of the online organization of the CZT EU4 training seminar by the Conzentric team in March 2021, to become a CZT. My goal was to be able to teach the method within an association of well-being and health, in which I practice Qi Gong. For various reasons, I have not yet been able to set up the courses. So I continue to tangle and take classes from various teachers in the CZT community and it's a great pleasure!
I drew my pattern for the first time one day when it was very hot, I strongly thought about using a fan, while thinking of an airplane jet engine as I heard a plane take off in the sky of Nice (we have an international airport). I then deconstructed my pattern and named it "Zentilo".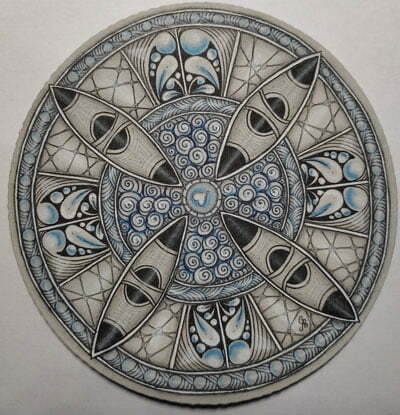 Zentilo has a bit of a Zenbutton effect to it and has many possibilities for varying it starting with changing the basic rice shape in Step 2 to a petal shape. Subtle but different.
Catherine illustrates the step-by-step instructions for drawing Zentilo below where she demonstrates some different ways to embellish it. She notes, "To present it on my tile, I chose to associate it with Chaba by Bing Chan, CZT and Polystatic by Lucy Farran, CZT because they were then the last two tangles that I had just discovered via the TanglePatterns newsletter. I encourage you to use Zentilo also as a string" as she has done in her lovely ZIA Zendala above.
As you enjoy any of the tangles on the site, please leave a comment of thanks and encouragement to show the artists you appreciate them for sharing their creativity to inspire yours. Your thanks helps motivate them to continue to share! And please share a link to your favorite tangles on social media. Thanks!
Check out the tag catheriner for more of Catherine's tangles on TanglePatterns.com.
Related Links
Looking for tangles by Artist or Type? For details visit the ABOUT > HOW TO FIND TANGLES BY ARTIST OR TYPE page on the top menu bar of any page on the site.
What is a Zentangle? — if you are new to the Zentangle Method, start here for the fundamentals.
Zentangle terminology — a glossary of terms used in this art form.
Linda's List of Zentangle-Original Patterns — here is the complete list of original tangles (aka "official tangles") created and introduced by founders Rick Roberts and Maria Thomas, including those not published online. If you are new to the Zentangle Method I highly recommend learning a few of the published Zentangle classics first.
"A Zentangle has no up or down and is not a picture of something, so you have no worries about whether you can draw a hand, or a duck. You always succeed in creating a Zentangle." Thus patterns that are drawings of a recognizable naturalistic or actual object, figure, or scene, are not tangles. A pattern is not always a tangle — here's what makes a tangle. TIP: tangles never start with pencil planning.
For lots of great FREE tutorials on TanglePatterns, click on the TUTORIALS link in the pink alphabetic menu bar below the tangle images at the top of any page.
Strings! Have we got STRINGS! Click on the STRINGS link in the pink alphabetic menu bar below the tangle images at the top of any page for 250 different (free) Zentangle-starters. More than enough for any lifetime!
Never miss a tangle! FREE eMAIL NEWSLETTER - visit the SUBSCRIBE page on the top menu bar of any page on the site and sign up to get notices delivered free to your inbox.
.oOo.

Enhance your Zentangle experience while supporting TanglePatterns:

BRAND NEW!

TanglePatterns.com TANGLE GUIDE, 2023 Edition

The 12th Edition of the TanglePatterns.com TANGLE GUIDE is an instant-download 103-page (50 MB) interactive digital eBook/PDF containing almost 1,900 tangles on the site from May 2010 through December 31, 2022. It's a great resource and a must-have digital tool for using the site. Visit the STORE > E-BOOKS page and help keep TanglePatterns.com online by getting your copy now!

"Linda, Thank you! I was relying on too few and getting stuck after 3 years of daily working with Zentangle. This has inspired me to 'begin again' with renewed excitement." ~ Barbara R.

See the BOOK REVIEWS page for more details on its features and view a sample page. Note: this is a digital product you download immediately when you place your order, nothing will be physically mailed to you.
GIFT ORDERS FOR ANOTHER PERSON: To give the TANGLE GUIDE as a gift, visit this page to place your gift order.
If you're new to Zentangle® and tangling, my TanglePatterns.com BEGINNER'S GUIDE TO ZENTANGLE is just what you need to get started. Also available en Français and en Español.

---

This is the only Zentangle book you'll ever need: the fabulous Zentangle PRIMER Vol 1. It's your CZT-in-a-book by the founders of Zentangle®. Visit the STORE tab on the top menu bar or click on the image. For more about the content and to read the rave reviews, visit the BOOK REVIEWS tab.
NEW! Now available in KINDLE format for $9.99. Spanish Edition here. Japanese Edition here.
"Absolutely the best Zentangle Book yet! As an accomplished artist I used to think I did not need instruction on this art form. How wrong I was! My tangling improved by leaps and bounds after reading this book. If you think you have Zentangle down then you need this book more than ever!" ~ Kris H

---

.oOo.