Hello friends, welcome to Wednesday's intriguing tangle.
I was reminded of this tangle in the archives by CZT Angie Gittles's "infatuation with using dots", such as we explored on Monday.
Poinpo is from Taiwan CZT Lin Chiu and it is much more than the sum of its part: that simple, elemental stroke: the dot.
I thought Poinpo looked so easy and yet once I got started I found it requires more focus than you might think. Focus to determine the spacing but even more for creating the right proportion of graduating dots to create an overall pattern in whatever configuration you can think of. Here are a few examples on one of Lin's Zentangle® tiles. This one includes a frame of Poinpo surrounding the Zentangle®-original Mooka filled with Onamato.
What intrigued me even more about Poinpo was not the tangle itself but Lin's inspiration and the artist who created it: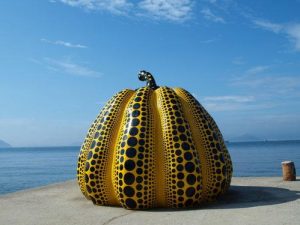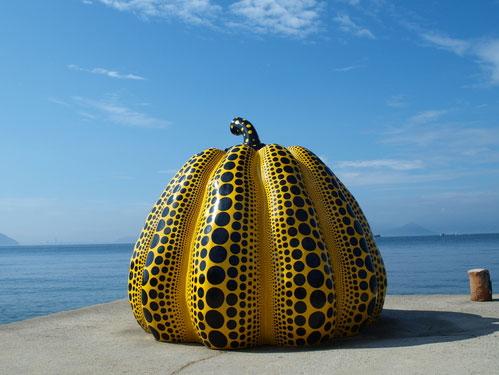 This installation is by internationally acclaimed Japanese artist Yayoi Kusama, born March 22, 1929 (age 93). She's a fascinating character as we learn courtesy of Wikipedia.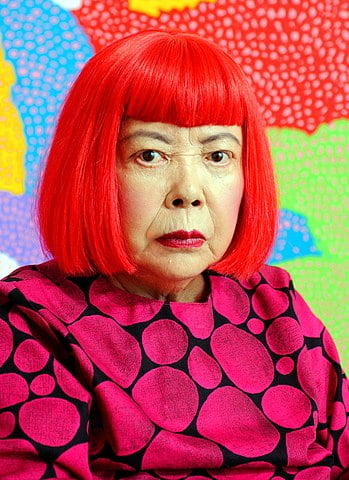 Yayoi Kusama is a Japanese contemporary artist who works primarily in sculpture and installation, but is also active in painting, performance, video art, fashion, poetry, fiction, and other arts. … She has been acknowledged as one of the most important living artists to come out of Japan. …
Kusama was raised in Matsumoto, and trained at the Kyoto City University of Arts in a traditional Japanese painting style called nihonga. Kusama was inspired, however, by American Abstract impressionism. She moved to New York City in 1958 and was a part of the New York avant-garde scene throughout the 1960s, especially in the pop-art movement.  …
Since the 1970s, Kusama has continued to create art, most notably installations in various museums around the world.
Kusama has been open about her mental health. She says that art has become her way to express her mental problems. She reported in the interview she did with Infinity Net "I fight pain, anxiety, and fear every day, and the only method I have found that relieved my illness is to keep creating art. I followed the thread of art and somehow discovered a path that would allow me to live."
… When Kusama was ten years old, she began to experience vivid hallucinations which she has described as "flashes of light, auras, or dense fields of dots". These hallucinations also included flowers that spoke to Kusama, and patterns in fabric that she stared at coming to life, multiplying, and engulfing or expunging her, a process which she has carried into her artistic career and which she calls "self-obliteration". Kusama's art became her escape from her family and her own mind when she began to have hallucinations. She was reportedly fascinated by the smooth white stones covering the bed of the river near her family home, which she cites as another of the seminal influences behind her lasting fixation on dots.
Another of Lin's Poinpo tiles together with the Zentangle-original Betweed: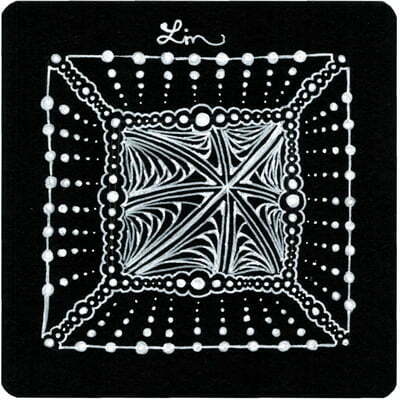 In this case steps are hardly necessary, however Lin illustrates in a single line the step-by-step instructions for drawing Poinpo below. She includes the name of the artist (last name first) inspiring her tangle as well as several ways to create designs with it.
As you enjoy any of the tangles on the site, please leave a comment of thanks and encouragement to show the artists you appreciate them for sharing their creativity to inspire yours. Your thanks helps motivate them to continue to share! And please share a link to your favorite tangles on social media. Thanks!
Check out the tag linc for more of Lin's tangles on TanglePatterns.com.
Related Links
Looking for tangles by Artist or Type? For details visit the ABOUT > HOW TO FIND TANGLES BY ARTIST OR TYPE page on the top menu bar of any page on the site.
What is a Zentangle? — if you are new to the Zentangle Method, start here for the fundamentals.
Zentangle terminology — a glossary of terms used in this art form.
How to use the site — an excellent free video tutorial showing how to use the site as well as pointing out lots of useful features you might have missed.
Linda's List of Zentangle-Original Patterns — here is the complete list of original tangles (aka "official tangles") created and introduced by founders Rick Roberts and Maria Thomas, including those not published online. If you are new to the Zentangle Method I highly recommend learning a few of the published Zentangle classics first.
"A Zentangle has no up or down and is not a picture of something, so you have no worries about whether you can draw a hand, or a duck. You always succeed in creating a Zentangle." Thus patterns that are drawings of a recognizable naturalistic or actual object, figure, or scene, are not tangles. A pattern is not always a tangle — here's what makes a tangle. TIP: tangles never start with pencil planning.
For lots of great FREE tutorials on TanglePatterns, click on the TUTORIALS link in the pink alphabetic menu bar below the tangle images at the top of any page.
Strings! Have we got STRINGS! Click on the STRINGS link in the pink alphabetic menu bar below the tangle images at the top of any page for 250 different (free) Zentangle-starters. More than enough for any lifetime!
Never miss a tangle! FREE eMAIL NEWSLETTER - visit the SUBSCRIBE page on the top menu bar of any page on the site and sign up to get notices delivered free to your inbox.
.oOo.

Enhance your Zentangle experience while supporting TanglePatterns:

CURRENT EDITION!

TanglePatterns.com TANGLE GUIDE, 2023 Edition

The 12th Edition of the TanglePatterns.com TANGLE GUIDE is an instant-download 103-page (50 MB) interactive digital eBook/PDF containing almost 1,900 tangles on the site from May 2010 through December 31, 2022. It's a great resource and a must-have digital tool for using the site. Visit the STORE > E-BOOKS page and help keep TanglePatterns.com online by getting your copy now!

"Linda, Thank you! I was relying on too few and getting stuck after 3 years of daily working with Zentangle. This has inspired me to 'begin again' with renewed excitement." ~ Barbara R.

See the BOOK REVIEWS page for more details on its features and view a sample page. Note: this is a digital product you download immediately when you place your order, nothing will be physically mailed to you.
GIFT ORDERS FOR ANOTHER PERSON: To give the TANGLE GUIDE as a gift, visit this page to place your gift order.
If you're new to Zentangle® and tangling, my TanglePatterns.com BEGINNER'S GUIDE TO ZENTANGLE is just what you need to get started. Also available en Français and en Español.

---

This is the only Zentangle book you'll ever need: the fabulous Zentangle PRIMER Vol 1. It's your CZT-in-a-book by the founders of Zentangle®. Visit the STORE tab on the top menu bar or click on the image. For more about the content and to read the rave reviews, visit the BOOK REVIEWS tab.
NEW! Now available in KINDLE format for $9.99. Spanish Edition here. Japanese Edition here.
"Absolutely the best Zentangle Book yet! As an accomplished artist I used to think I did not need instruction on this art form. How wrong I was! My tangling improved by leaps and bounds after reading this book. If you think you have Zentangle down then you need this book more than ever!" ~ Kris H

---

.oOo.