Hi there my tangling friends!
Today is a very special Wednesday for me and for my Sweetheart, Robert.
On this day 48 (!) years ago Robert and I said "we will" surrounded by family and friends. My lovely Mom sewed my beautiful gown, as well as those of all three of my bridesmaids – my darling sisters Carol, Karen and Bev; her own gown, AND last but not least, one for her mom, my Grandmother. Needless to say Mom had an incredibly busy Spring that year!
On the day of our wedding, my Mom and sisters gathered armfuls of beautiful, heavenly scented lilacs for the church and for the reception hall at Toronto's Anzac Club. Each year when the lilacs bloom it's impossible not to think of that special day. Happy Anniversary my love!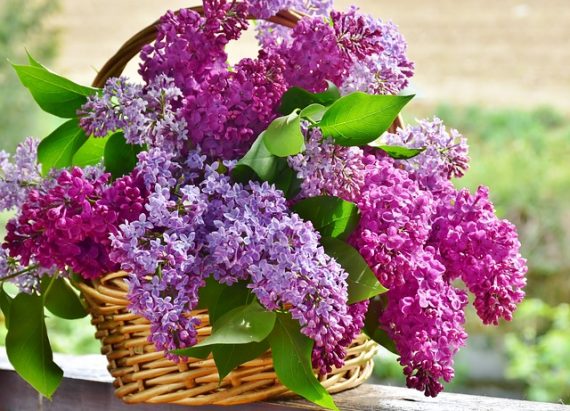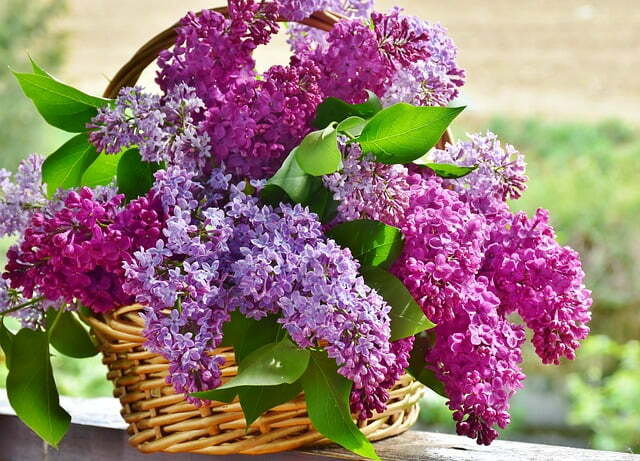 Lilacs are also our tangle theme today.
I've been saving CZT Heidi Kay's Cassatt tangle for this occasion 🙂
Heidi writes,
I was just playing around with another tangle and this happened.    
The first time I drew it, I immediately thought it looked like a lilac stem from an overhead view.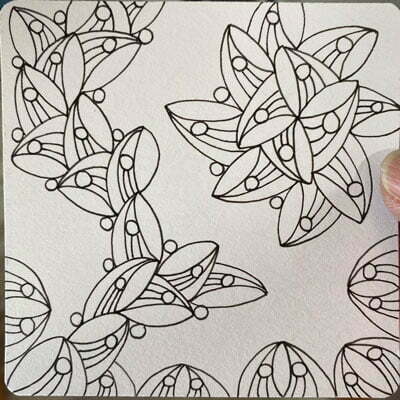 I love lilacs and I especially love Mary Cassatt's famous painting of them, so the name was instant.
It can be done:
large and filled up with more lines or tangles,
stripped down to just the rice shapes and outer "point to two auras", replacing the small orbs and radial lines from the orbs with other things,
or done small as a fill that can continue out organically into infinity…..
Heidi illustrates the step-by-step instructions for drawing Cassatt below and she includes a variation to explore.
Heidi includes this illustration showing how to use Cassatt as an organic fragment and as a ribbon creating a frame or border: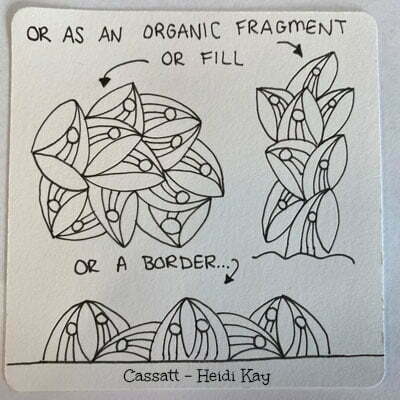 As you enjoy any of the tangles on the site, please leave a comment of thanks and encouragement to show the artists you appreciate them for sharing their creativity to inspire yours. Your thanks helps motivate them to continue to share! And please share a link to your favorite tangles on social media. Thanks!
Check out the tag heidik for more of Heidi's tangles on TanglePatterns.com.
Another event today — a total lunar eclipse …
It's another Noom Repus (Super Moon, spelled backwards)!
According to NASA,
The Moon will be located on Earth's opposite side from the Sun and fully illuminated May 26, 2021, at 6:13 a.m. CDT. This Full Moon was known by early Native American tribes as the Flower Moon because this was the time of year when spring flowers appeared in abundance.
Compared to other Full Moons in 2021, the Flower Moon will have the nearest approach to Earth, making it appear as the closet and largest Full Moon of the year. This is what is commonly referred to as a "supermoon". Yet, it's not just bringing brightness and size. May's supermoon is also bringing a "super power" to change its color, and the color is red!
Mars is most commonly known as the Red Planet. But have you ever witnessed our own planet's Moon turn red? If you haven't, you'll get your chance with this year's only total lunar eclipse also happening May 26! It's been nearly two and a half years since the last one.
A total lunar eclipse occurs when the Moon passes completely through the Earth's dark shadow, or umbra. During this type of eclipse, the Moon will gradually get darker, taking on a rusty or blood-red color. The color is so striking that lunar eclipses are sometimes called Blood Moons.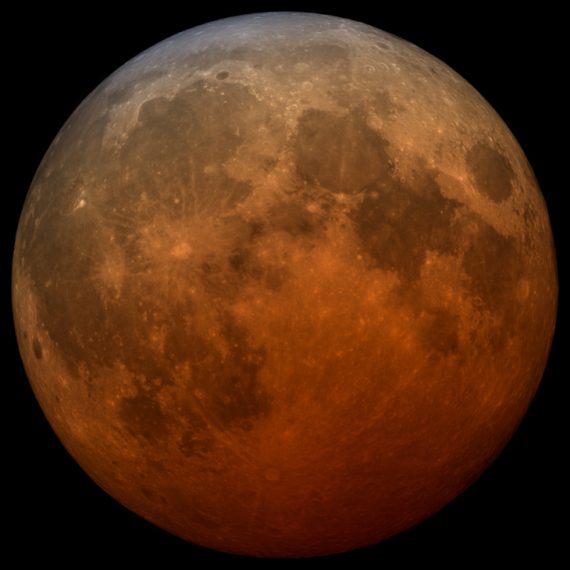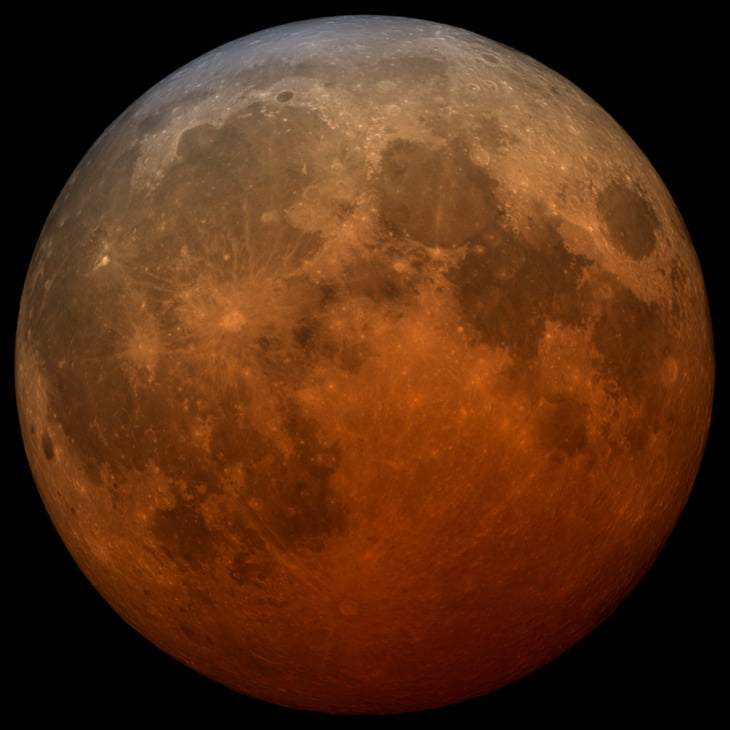 The total eclipse phase will be visible near moonset in the western United States and Canada, all of Mexico, most of Central America and Ecuador, western Peru, and southern Chile and Argentina. The eclipse can be seen in its entirety in eastern Australia, New Zealand, and the Pacific Islands, including Hawaii. Unlike a solar eclipse, you won't need special glasses to view this lunar eclipse, just go outside and keep your head to the sky!
Related Links
Looking for tangles by Artist or Type? For details visit the ABOUT > HOW TO FIND TANGLES BY ARTIST OR TYPE page on the top menu bar of any page on the site.
What is a Zentangle? — if you are new to the Zentangle Method, start here for the fundamentals.
Zentangle terminology — a glossary of terms used in this art form.
How to use the site — an excellent free video tutorial showing how to use the site as well as pointing out lots of useful features you might have missed.
Linda's List of Zentangle-Original Patterns — here is the complete list of original tangles (aka "official tangles") created and introduced by founders Rick Roberts and Maria Thomas, including those not published online. If you are new to the Zentangle Method I highly recommend learning a few of the published Zentangle classics first.
"A Zentangle has no up or down and is not a picture of something, so you have no worries about whether you can draw a hand, or a duck. You always succeed in creating a Zentangle." Thus patterns that are drawings of a recognizable naturalistic or actual object, figure, or scene, are not tangles. A pattern is not always a tangle — here's what makes a tangle. TIP: tangles never start with pencil planning.
For lots of great FREE tutorials on TanglePatterns, click on the TUTORIALS link in the pink alphabetic menu bar below the tangle images at the top of any page.
Strings! Have we got STRINGS! Click on the STRINGS link in the pink alphabetic menu bar below the tangle images at the top of any page for 250 different (free) Zentangle-starters. More than enough for any lifetime!
Never miss a tangle! FREE eMAIL NEWSLETTER - visit the SUBSCRIBE page on the top menu bar of any page on the site and sign up to get notices delivered free to your inbox.
.oOo.

Enhance your Zentangle experience while supporting TanglePatterns:

CURRENT EDITION!

TanglePatterns.com TANGLE GUIDE, 2023 Edition

The 12th Edition of the TanglePatterns.com TANGLE GUIDE is an instant-download 103-page (50 MB) interactive digital eBook/PDF containing almost 1,900 tangles on the site from May 2010 through December 31, 2022. It's a great resource and a must-have digital tool for using the site. Visit the STORE > E-BOOKS page and help keep TanglePatterns.com online by getting your copy now!

"Linda, Thank you! I was relying on too few and getting stuck after 3 years of daily working with Zentangle. This has inspired me to 'begin again' with renewed excitement." ~ Barbara R.

See the BOOK REVIEWS page for more details on its features and view a sample page. Note: this is a digital product you download immediately when you place your order, nothing will be physically mailed to you.
GIFT ORDERS FOR ANOTHER PERSON: To give the TANGLE GUIDE as a gift, visit this page to place your gift order.
If you're new to Zentangle® and tangling, my TanglePatterns.com BEGINNER'S GUIDE TO ZENTANGLE is just what you need to get started. Also available en Français and en Español.

---

This is the only Zentangle book you'll ever need: the fabulous Zentangle PRIMER Vol 1. It's your CZT-in-a-book by the founders of Zentangle®. Visit the STORE tab on the top menu bar or click on the image. For more about the content and to read the rave reviews, visit the BOOK REVIEWS tab.
NEW! Now available in KINDLE format for $9.99. Spanish Edition here. Japanese Edition here.
"Absolutely the best Zentangle Book yet! As an accomplished artist I used to think I did not need instruction on this art form. How wrong I was! My tangling improved by leaps and bounds after reading this book. If you think you have Zentangle down then you need this book more than ever!" ~ Kris H

---

.oOo.