Oh my, Hurricane Laura is "expected to become a Category 4 storm and slam into the Louisiana and Texas coasts as a major hurricane Wednesday evening.
At least 20 million people are in the storm's path and over half a million have been ordered to evacuate." Source.
This incredible satellite image from the National Hurricane Center shows Hurricane Laura is practically the entire size of the Gulf of Mexico. Astonishing and frightening. For reference, Hurricane Andrew (August 24, 1992) and Hurricane Katrina (August 29, 2005) were both powerful and destructive Category 5 storms. April isn't "the cruellest month". (T.S. Eliot's The Waste Land.)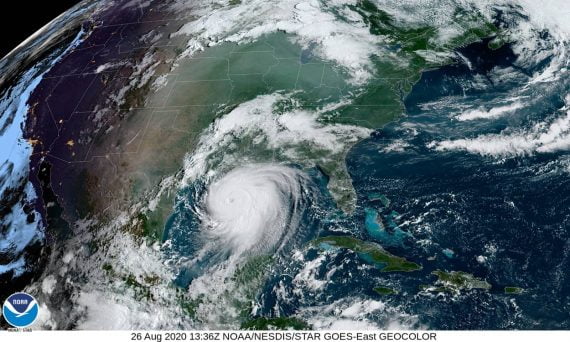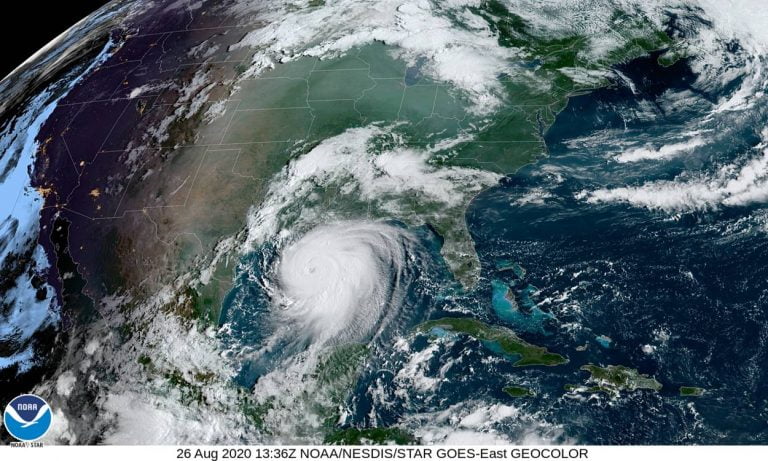 Camber is our cool Wednesday tangle and it comes to us from tangler Donna Stanchfield from Maine. It's her first on the site.
Donna writes,
In 2014 I retired from my lampshade designing business. Winters are long here in Maine and with all my newly found extra time I discovered Zentangle® online, and have been tangling ever since.
It seems to be the perfect fit for this time in my life and brings such peace of mind.
The worldwide Zentangle community has opened up the possibilities of friendships that would never have happened elsewhere, I'm so impressed by the caring of this wonderful group of people!
Camber happened when I started what I thought was going to be a traditional Mandala…well my pen seemed to have a different idea, and this pattern was part of the result.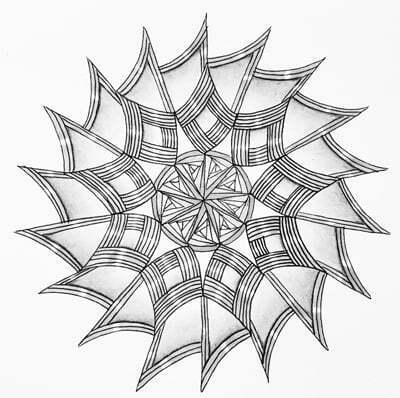 Camber is simple but you can do lots of variations such as vary the line weights, flip it in different directions, add most any fragment as a center pattern to name a few.
Information for the completist's body of knowledge 🙂 … Camber defined:
noun: camber; plural noun: cambers
the slightly convex or arched shape of a road or other horizontal surface. "the deck beams are curved for the camber of the deck"
British: a tilt built into a road at a bend or curve, enabling vehicles to maintain speed.
the slight sideways inclination of the front wheels of a motor vehicle.
When I first saw Camber the tangle it reminded me of the Zentangle-original Stoic, similar but different. For my Camber example I decided to try it out in a grid style and leave the fancy stuff to Donna 😉
Donna illustrates the step-by-step instructions for drawing Camber below, "Pictured is Camber with a border of Hibred."
As you enjoy any of the tangles on the site, please leave a comment of thanks and encouragement to show the artists you appreciate them for sharing their creativity to inspire yours. Your thanks helps motivate them to continue to share! And please share a link to your favorite tangles on social media. Thanks!
Check out the tag donnas for more of Donna's tangles on TanglePatterns.com.
Related Links
Looking for tangles by Artist or Type? For details visit the ABOUT > HOW TO FIND TANGLES BY ARTIST OR TYPE page on the top menu bar of any page on the site.
What is a Zentangle? — if you are new to the Zentangle Method, start here for the fundamentals.
Zentangle terminology — a glossary of terms used in this art form.
How to use the site — an excellent free video tutorial showing how to use the site as well as pointing out lots of useful features you might have missed.
Linda's List of Zentangle-Original Patterns — here is the complete list of original tangles (aka "official tangles") created and introduced by founders Rick Roberts and Maria Thomas, including those not published online. If you are new to the Zentangle Method I highly recommend learning a few of the published Zentangle classics first.
"A Zentangle has no up or down and is not a picture of something, so you have no worries about whether you can draw a hand, or a duck. You always succeed in creating a Zentangle." Thus patterns that are drawings of a recognizable naturalistic or actual object, figure, or scene, are not tangles. A pattern is not always a tangle — here's what makes a tangle. TIP: tangles never start with pencil planning.
For lots of great FREE tutorials on TanglePatterns, click on the TUTORIALS link in the pink alphabetic menu bar below the tangle images at the top of any page.
Strings! Have we got STRINGS! Click on the STRINGS link in the pink alphabetic menu bar below the tangle images at the top of any page for 250 different (free) Zentangle-starters. More than enough for any lifetime!
Never miss a tangle! FREE eMAIL NEWSLETTER - visit the SUBSCRIBE page on the top menu bar of any page on the site and sign up to get notices delivered free to your inbox.
.oOo.

Enhance your Zentangle experience while supporting TanglePatterns:

CURRENT EDITION!

TanglePatterns.com TANGLE GUIDE, 2023 Edition

The 12th Edition of the TanglePatterns.com TANGLE GUIDE is an instant-download 103-page (50 MB) interactive digital eBook/PDF containing almost 1,900 tangles on the site from May 2010 through December 31, 2022. It's a great resource and a must-have digital tool for using the site. Visit the STORE > E-BOOKS page and help keep TanglePatterns.com online by getting your copy now!

"Linda, Thank you! I was relying on too few and getting stuck after 3 years of daily working with Zentangle. This has inspired me to 'begin again' with renewed excitement." ~ Barbara R.

See the BOOK REVIEWS page for more details on its features and view a sample page. Note: this is a digital product you download immediately when you place your order, nothing will be physically mailed to you.
GIFT ORDERS FOR ANOTHER PERSON: To give the TANGLE GUIDE as a gift, visit this page to place your gift order.
If you're new to Zentangle® and tangling, my TanglePatterns.com BEGINNER'S GUIDE TO ZENTANGLE is just what you need to get started. Also available en Français and en Español.

---

This is the only Zentangle book you'll ever need: the fabulous Zentangle PRIMER Vol 1. It's your CZT-in-a-book by the founders of Zentangle®. Visit the STORE tab on the top menu bar or click on the image. For more about the content and to read the rave reviews, visit the BOOK REVIEWS tab.
NEW! Now available in KINDLE format for $9.99. Spanish Edition here. Japanese Edition here.
"Absolutely the best Zentangle Book yet! As an accomplished artist I used to think I did not need instruction on this art form. How wrong I was! My tangling improved by leaps and bounds after reading this book. If you think you have Zentangle down then you need this book more than ever!" ~ Kris H

---

.oOo.