This March 2020 Monday in our "new normal", Spanish CZT Tomàs Padrós sends along his fantastic Wanderline tangle for us to play with in "these complicated times of epidemics, uncertainty and confinements" and assures us "I'm fine, at the moment."
At this moment Robert and I are both fine too, and so far our families are as well. I pray all of you are fine too.
As long as every single one of us commits to our individual responsibility to maintain this temporary isolation from one another, we aren't offering ourselves up as sacrificial hosts for this terrible virus to continue to live and spread.
I found a helpful article in The Washington Post by Jelena Kecmanovic : "A psychologist's science-based tips for emotional resilience during the coronavirus crisis", I hope you find it comforting too.
"following evidence-based recommendations for bolstering mental resilience can help us weather this crisis." – The Washington Post
Today the U.S. Surgeon General is imploring us:
"We really, really need everyone to stay at home. … People choosing to visit beaches and national parks or spending time crowding around Washington's cherry blossoms is how the virus is going to keep spreading,'- The Washington Post
Stay safe in your cozy home refuge as we all navigate these uncharted waters together — while apart!
So … let's have a look at our fun new tangle for the day, Wanderline. First here's one of Tomàs's tiles showing a variety of ways to explore it.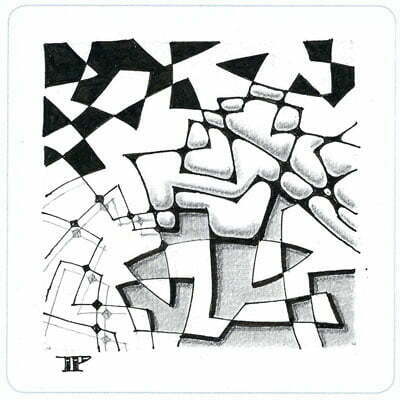 Tomàs describes his new tangle:
The idea is very simple. It is a line that changes direction and crosses itself, creating closed areas. I have organized it into two modalities.
The most basic option tends to a more or less right angle, forming rectangular or square areas. In the second, the angles are freer and the lines can be more curved creating random and dynamic polygonal areas.
This tangle is WAY fun! At first I tried doing my "notan" version in a continuous line fashion but that was a bit of a mess, it ended up more like Tomàs's "crazy" version and not what I was going for at all. So I ended up kind of using the "take off and land" technique and turning my tile with each stroke as Rick did in his recent KTT video. And then I found when I filled in the inked areas (very methodically using the Knightsbridge tip to ink spaces that meet at the corners) I could straighten up some of the wobbly bits AND add an extra black bit where I didn't want so much white space. And that's just using one of many possible versions of this interesting tangle …
Tomàs illustrates the step-by-step instructions for drawing the basic version of Wanderline below and demonstrates four different ways of changing its look completely!
In the first example I show the basic deconstruction and a presentation tile with four possible different forms of decoration, although the original idea is in black and white, as in Knightsbridge, which is how it was originally conceived.
The other three examples are fun variations that fully respect deconstruction. Surely the inexhaustible ingenuity of people will find new ways to decorate it. The design can contain a single wanderline that runs through the entire tile. That was the original idea too. But as I point out in step 5 of the deconstruction, new wanderlines can be added to balance or add complexity to the composition.
Now that you've seen its basic construction Tomàs offers some important Wanderline tips:
The areas can be bigger or smaller, but none should be tiny or the design is confusing. That is why each line is drawn with full awareness, focusing attention on where we start and where we are going and what area we are going to generate.
If you think the design is getting too tangled it's best to send the wanderline line to the margin and start a new wanderline.
Personally, the intersection points are made only between two lines. But if three lines cross or coincide at the same point, nothing happens. Keep going.
Next Tomàs demonstrates his "Crazy" version of Wanderline:
In the second deconstruction I show the variation that I call crazy for its dynamic, almost chaotic, fun and very abstract art appearance from the first half of the 20th century.
It is another monotangle in which I have opted for the dramatic and very optical contrast of black and white, which is the original and simplest decoration, very powerful visually.
And this is his ribbon-style version with a quirky variation of the Zentangle-original Pokeroot as well as some lovely Tipple:
In the third deconstruction I propose a variant that allows you to convert this tangle into a ribbon, although it can be applied to any area.
The first step and the basic concept are inspired by the Strircles tangle. The initial lines allow to maintain a fluid rhythm that runs through the entire design.
TONS of fun to while away your creative hours with this one!
You know what we say, "Keep calm, and tangle on!"
As you enjoy any of the tangles on the site, please leave a comment of thanks and encouragement to show the artists you appreciate them for sharing their creativity to inspire yours. Your comment helps motivate them to continue to share!
Check out the tag tomasp for more of Tomàs's tangles on TanglePatterns.com.
.oOo.
A word about rulers
Many great tangles begin with an underlying inked grid (reticula) and they are always drawn freehand.
"Just as we point out that there's no eraser in a Zentangle Kit, there's also no ruler. ... With a relaxed focus and leaving rulers and preconceived notions aside, expect to be surprised and delighted." ~ Zentangle blog.
I've noticed quite a few "Zentangles" — and even tangle instructions — around the net where a some type of straight edge, stencil or other mechanical aid has been used to draw the underlying grid. Or even (egad!) to draw straight lines (or circles) making up the pattern within a Zentangle.
As CZT Sandy Hunter writes, "there is no zen to be had in the preoccupation with perfection."
Here's what I say ...
Zentangle is all about you and your pen
So put away the rulers and experience the Zen.
and you may quote me. 🙂
Related Links
Looking for tangles by Artist or Type? For details visit the ABOUT > HOW TO FIND TANGLES BY ARTIST OR TYPE page on the top menu bar of any page on the site.
What is a Zentangle? — if you are new to the Zentangle Method, start here for the fundamentals.
Zentangle terminology — a glossary of terms used in this art form.
How to use the site — an excellent free video tutorial showing how to use the site as well as pointing out lots of useful features you might have missed.
Linda's List of Zentangle-Original Patterns — here is the complete list of original tangles (aka "official tangles") created and introduced by founders Rick Roberts and Maria Thomas, including those not published online. If you are new to the Zentangle Method I highly recommend learning a few of the published Zentangle classics first.
"A Zentangle has no up or down and is not a picture of something, so you have no worries about whether you can draw a hand, or a duck. You always succeed in creating a Zentangle." Thus patterns that are drawings of a recognizable naturalistic or actual object, figure, or scene, are not tangles. A pattern is not always a tangle — here's what makes a tangle. TIP: tangles never start with pencil planning.
For lots of great FREE tutorials on TanglePatterns, click on the TUTORIALS link in the pink alphabetic menu bar below the tangle images at the top of any page.
Strings! Have we got STRINGS! Click on the STRINGS link in the pink alphabetic menu bar below the tangle images at the top of any page for 250 different (free) Zentangle-starters. More than enough for any lifetime!
Never miss a tangle! FREE eMAIL NEWSLETTER - visit the SUBSCRIBE page on the top menu bar of any page on the site and sign up to get notices delivered free to your inbox.
.oOo.

Enhance your Zentangle experience while supporting TanglePatterns:

CURRENT EDITION!

TanglePatterns.com TANGLE GUIDE, 2023 Edition

The 12th Edition of the TanglePatterns.com TANGLE GUIDE is an instant-download 103-page (50 MB) interactive digital eBook/PDF containing almost 1,900 tangles on the site from May 2010 through December 31, 2022. It's a great resource and a must-have digital tool for using the site. Visit the STORE > E-BOOKS page and help keep TanglePatterns.com online by getting your copy now!

"Linda, Thank you! I was relying on too few and getting stuck after 3 years of daily working with Zentangle. This has inspired me to 'begin again' with renewed excitement." ~ Barbara R.

See the BOOK REVIEWS page for more details on its features and view a sample page. Note: this is a digital product you download immediately when you place your order, nothing will be physically mailed to you.
GIFT ORDERS FOR ANOTHER PERSON: To give the TANGLE GUIDE as a gift, visit this page to place your gift order.
If you're new to Zentangle® and tangling, my TanglePatterns.com BEGINNER'S GUIDE TO ZENTANGLE is just what you need to get started. Also available en Français and en Español.

---

This is the only Zentangle book you'll ever need: the fabulous Zentangle PRIMER Vol 1. It's your CZT-in-a-book by the founders of Zentangle®. Visit the STORE tab on the top menu bar or click on the image. For more about the content and to read the rave reviews, visit the BOOK REVIEWS tab.
NEW! Now available in KINDLE format for $9.99. Spanish Edition here. Japanese Edition here.
"Absolutely the best Zentangle Book yet! As an accomplished artist I used to think I did not need instruction on this art form. How wrong I was! My tangling improved by leaps and bounds after reading this book. If you think you have Zentangle down then you need this book more than ever!" ~ Kris H

---

.oOo.