Welcome to December! I'm dropping in today because I have what I think is a great tip to share with you …
I'm pretty diligent about recapping my Sakura Micron 01 pens immediately when I'm not going to be using them for a minute or two, and storing them horizontally as recommended.

"The performance characteristics of Pigma ink require a special ink delivery system within the nib, but the trade off is that the Pigma Micron has to be handled more carefully than an ordinary ball point pen. We pack our pens full of pigment ink. Pigment ink particles are much larger than dye ink particles and therefore more susceptible to gravitational pressure. The pen should also be stored horizontally when not in use." ~ FAQ from Sakura of America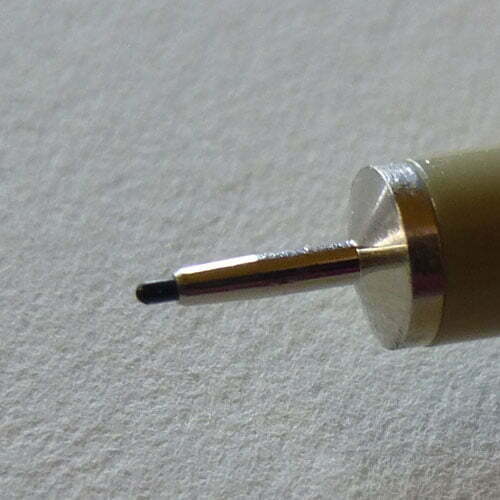 However there are times when my Micron is too new to have dried out, but for some reason the ink stopped flowing well and the strokes become kind of spindly compared to what I'm accustomed for them to be.
I'm guessing the tube/nib has picked up microscopic fibers from my paper and become clogged.
"A Micron nib may clog from use with partially dried paint or primer, wood dust, fabric dust, starches & protections on fabric surfaces and very fibrous paper. The Micron nibs are essentially "micro size plastic tubes" which allow our pigment ink formula to easily flow from the barrel to the paper. When any foreign matter clogs these tubes, the Pigma ink flow is blocked." ~ FAQ from Sakura of America
Recently I stumbled across a way to restart the ink flowing well, and I'm sharing in case it helps you too.
Linda's Micron Fix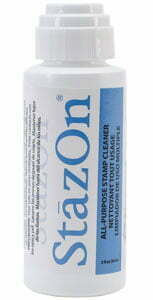 I happened to have a bottle of Tsukineko's StazOn All-Purpose Stamp Cleaner sitting on my table, and a light went off in my head:
"If it cleans permanent ink from clear and rubber stamps, I wonder …."
So I put the smallest dab (maybe 1/4 tsp, not much!) of StazOn on my craft mat then lightly scribbled my recalcitrant pen in circles in the little puddle. Lo and behold, after a few scribbles and wiping the nib dry the ink began to flow well again.
This is no scientific experiment but it worked for me and maybe it will work for you too. No guarantees, use at your own risk and all that, but something worth trying if you have some StazOn Cleaner handy.
And if your pens have actually run out, well it's time to get new ones instead of trying to bring back the dead! 😉
BTW, Sakura of America's Frequently Asked Questions (FAQ) page is a wealth of helpful and useful information. I highly recommend you check it out if you have questions or concerns about any of their products including Pigma Microns, Gelly Rolls, Identi-Pens, Permapaques, Koi …
For future reference, this article is filed on the TUTORIALS tab.
Thanks for your time, see you again tomorrow with another fun new tangle …
.oOo.

Enhance your Zentangle experience while supporting TanglePatterns:

CURRENT EDITION!

TanglePatterns.com TANGLE GUIDE, 2023 Edition

The 12th Edition of the TanglePatterns.com TANGLE GUIDE is an instant-download 103-page (50 MB) interactive digital eBook/PDF containing almost 1,900 tangles on the site from May 2010 through December 31, 2022. It's a great resource and a must-have digital tool for using the site. Visit the STORE > E-BOOKS page and help keep TanglePatterns.com online by getting your copy now!

"Linda, Thank you! I was relying on too few and getting stuck after 3 years of daily working with Zentangle. This has inspired me to 'begin again' with renewed excitement." ~ Barbara R.

See the BOOK REVIEWS page for more details on its features and view a sample page. Note: this is a digital product you download immediately when you place your order, nothing will be physically mailed to you.
GIFT ORDERS FOR ANOTHER PERSON: To give the TANGLE GUIDE as a gift, visit this page to place your gift order.
If you're new to Zentangle® and tangling, my TanglePatterns.com BEGINNER'S GUIDE TO ZENTANGLE is just what you need to get started. Also available en Français and en Español.

---

This is the only Zentangle book you'll ever need: the fabulous Zentangle PRIMER Vol 1. It's your CZT-in-a-book by the founders of Zentangle®. Visit the STORE tab on the top menu bar or click on the image. For more about the content and to read the rave reviews, visit the BOOK REVIEWS tab.
NEW! Now available in KINDLE format for $9.99. Spanish Edition here. Japanese Edition here.
"Absolutely the best Zentangle Book yet! As an accomplished artist I used to think I did not need instruction on this art form. How wrong I was! My tangling improved by leaps and bounds after reading this book. If you think you have Zentangle down then you need this book more than ever!" ~ Kris H

---

.oOo.