Here's the last one in July for your creative tangling pleasure!
Steron, a cool ribbon-style tangle from Texas CZT Shelley Cox, shares DNA with the Zentangle®-original Huggins and also Cadent.
All three use the Zentangle "take-off-and-land" technique that's always fun to do and it's fascinating how many different tangles can result.
Steron is Shelley's first tangle on the site, here she features it in a lovely tile as a ribbon or frame together with a "radial" or sunburst version which to a degree shares DNA with CZT Jana Rogers/Pharmer's Stella.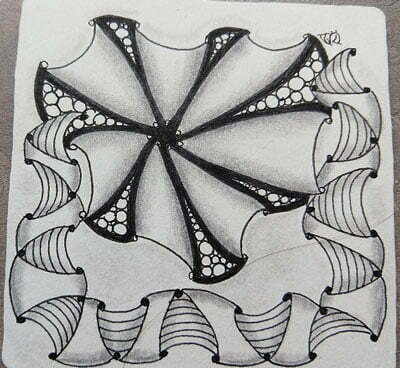 Shelley shares a little about her background and her tangle,
I live in a little town, Watauga, by a big city; Fort Worth. I'm a transplant starting from Detroit, Michigan by way of Southern California, via Nashville, Tennessee to Fort Worth. I'm married with his, hers and ours sons (5 of them!)
I've been playing with colors, paper and design since I was a kid; I started in College as a Commercial Artist, then working with design and advertising. After life got in the way, I became an Accountant, and stopped drawing. Several years ago, I started back with pencil and paper and discovered Zentangle!
My father became terminally ill and one of the ways for me to cope was doing tangles; keeping supplies with me at the hospital and at appointments. My father wanted me to get back to my art and I wanted to honor him. After he passed, I wanted to learn more about Zentangle; I brought my mother to Rhode Island and we took the CZT class # 21 and we both became CZTs!
I'm still an Accountant, but have weekly Tangle classes – and yes, the tangling has me doing more art again!
I'm always working with lines and I was trying to do one thing and that one thing led to another and I created Steron.
It's easy to do – remember to start with 3 small orbs and to take off and land; but you can replace the orbs with dots or add a little tear drop at the end. The result allows for all sorts of designs.
At first glance I didn't recognize the logic of how to lay out the orbs for Steron (Step 3) but I soon found when I visualized turning the shape of Step 2 "upside down" or mirrored so that Step 4 is the result, then placing the next set of three orbs beside it becomes easy. You kind of "grow" the ribbon as you move along, mirroring the previous shape each time. And of course there are many ways to embellish the shapes to create variations. Shading gives this tangle its dimension and emphasizes the woven appearance.
Shelley illustrates the step-by-step instructions for drawing Steron below and features it in a monotangle creating an embellished letter with her last name's initial, "C".
Shelley's radial-style version of Steron differs in that the "V" or "U" shapes do not alternate their up-and-down orientation as they do in the ribbon-style version so the result is quite different as shown in Shelley's Zendala tile.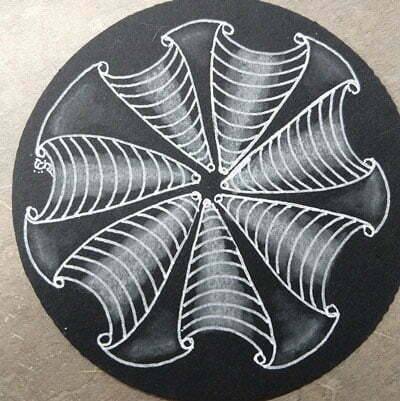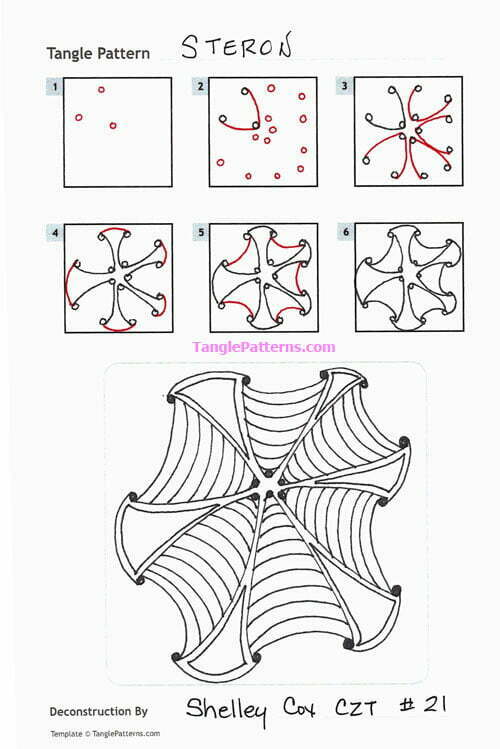 Another example using a variety of orbs aka Tipple to embellish Steron for a rhinestone-filled effect: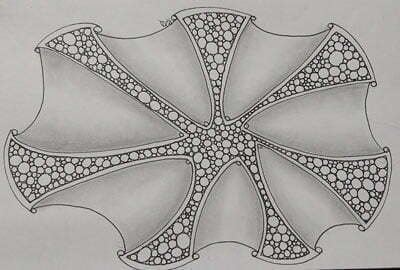 As you enjoy any of the tangles on the site, please leave a comment of thanks and encouragement to show the artists you appreciate them for sharing their creativity to inspire yours. Your comment helps motivate them to continue to share!
Check out the tag shelleyc for more of Shelley's tangles on TanglePatterns.com.
.oOo.
Like some help with shading your Zentangles?
It's fun and easy — forget about traditional "art rules" for shading, this is Zentangle and those rules do not apply!
As we are coached in the chapter on Shading in the Zentangle PRIMER Vol 1, "Ignore the light source ... in Zentangle shading we do not consider the type or direction of the light source. ... More often, shading is a component of the tangle itself that we use to play with dimension, emphasis, and contrast."
Everything you need to know is here in two free tutorials on TanglePatterns.
TanglePatterns Shading Mini Clinic, Part 1 by CZT Marizaan van Beek, and
TanglePatterns Shading Mini Clinic, Part 2 by CZT Sandy Bartholomew
You can always locate these and many other helpful tutorials by visiting the TUTORIALS tab on the pink alphabetic tangle menu bar as shown here: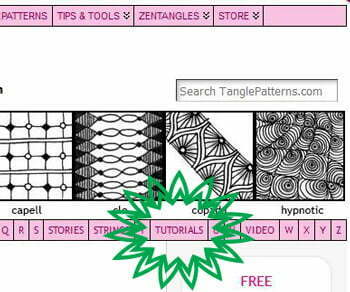 .oOo.
Related Links
Looking for tangles by Artist or Type? For details visit the ABOUT > HOW TO FIND TANGLES BY ARTIST OR TYPE page on the top menu bar of any page on the site.
What is a Zentangle? — if you are new to the Zentangle Method, start here for the fundamentals.
Zentangle terminology — a glossary of terms used in this art form.
How to use the site — an excellent free video tutorial showing how to use the site as well as pointing out lots of useful features you might have missed.
Linda's List of Zentangle-Original Patterns — here is the complete list of original tangles (aka "official tangles") created and introduced by founders Rick Roberts and Maria Thomas, including those not published online. If you are new to the Zentangle Method I highly recommend learning a few of the published Zentangle classics first.
"A Zentangle has no up or down and is not a picture of something, so you have no worries about whether you can draw a hand, or a duck. You always succeed in creating a Zentangle." Thus patterns that are drawings of a recognizable naturalistic or actual object, figure, or scene, are not tangles. A pattern is not always a tangle — here's what makes a tangle. TIP: tangles never start with pencil planning.
For lots of great FREE tutorials on TanglePatterns, click on the TUTORIALS link in the pink alphabetic menu bar below the tangle images at the top of any page.
Strings! Have we got STRINGS! Click on the STRINGS link in the pink alphabetic menu bar below the tangle images at the top of any page for 250 different (free) Zentangle-starters. More than enough for any lifetime!
Never miss a tangle! FREE eMAIL NEWSLETTER - visit the SUBSCRIBE page on the top menu bar of any page on the site and sign up to get notices delivered free to your inbox.
.oOo.

Enhance your Zentangle experience while supporting TanglePatterns:

CURRENT EDITION!

TanglePatterns.com TANGLE GUIDE, 2023 Edition

The 12th Edition of the TanglePatterns.com TANGLE GUIDE is an instant-download 103-page (50 MB) interactive digital eBook/PDF containing almost 1,900 tangles on the site from May 2010 through December 31, 2022. It's a great resource and a must-have digital tool for using the site. Visit the STORE > E-BOOKS page and help keep TanglePatterns.com online by getting your copy now!

"Linda, Thank you! I was relying on too few and getting stuck after 3 years of daily working with Zentangle. This has inspired me to 'begin again' with renewed excitement." ~ Barbara R.

See the BOOK REVIEWS page for more details on its features and view a sample page. Note: this is a digital product you download immediately when you place your order, nothing will be physically mailed to you.
GIFT ORDERS FOR ANOTHER PERSON: To give the TANGLE GUIDE as a gift, visit this page to place your gift order.
If you're new to Zentangle® and tangling, my TanglePatterns.com BEGINNER'S GUIDE TO ZENTANGLE is just what you need to get started. Also available en Français and en Español.

---

This is the only Zentangle book you'll ever need: the fabulous Zentangle PRIMER Vol 1. It's your CZT-in-a-book by the founders of Zentangle®. Visit the STORE tab on the top menu bar or click on the image. For more about the content and to read the rave reviews, visit the BOOK REVIEWS tab.
NEW! Now available in KINDLE format for $9.99. Spanish Edition here. Japanese Edition here.
"Absolutely the best Zentangle Book yet! As an accomplished artist I used to think I did not need instruction on this art form. How wrong I was! My tangling improved by leaps and bounds after reading this book. If you think you have Zentangle down then you need this book more than ever!" ~ Kris H

---

.oOo.