When you're cooped up in the house in the winter it's a perfect time to dig out those patterns you've been putting aside and deconstruct them so they can be 'drawn as a tangle'.
From a "way early" Zentangle® blog post from 2012:
"Drawn as a tangle" means that you repeat a series of elemental strokes in a certain structured way so you inevitably end up with a particular pattern without needing to know what the pattern you are creating is supposed to look like.
Usually the number of elemental strokes needed are 3 or less. Often, you only need one or two. By "elemental strokes" we mean a dot, a straight(-ish) line, a curve (like a parenthesis), a reverse curve (like an "S"), and an orb or circle.
EyeDazzler is another fine tangle from Canadian tangler Cyndi Knapp and it uses only one elemental stroke, "a straight(-ish) line".
Cyndi writes,
The inspiration for EyeDazzler came to me when flipping through a magazine while waiting for winter tyres to be mounted on my car. I came across a small wallpaper image that I thought would make a great op art zentangle pattern.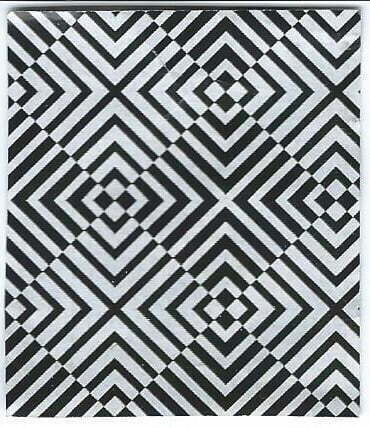 Cyndi's deconstruction is an adaptation of her inspiration image where stroke placement creates the final effect. Another approach could be the method used, for example, in Barbara Finwall's On Target, where alternating solid inked-in spaces creates a similar eye-dazzling effect.
Recently I received this lovely notecard in the mail from Cyndi. It's a great example of how the minimalist use of a tangle can be so effective. (Unfortunately the scan doesn't do justice to the rich kraft brown of the cardstock.)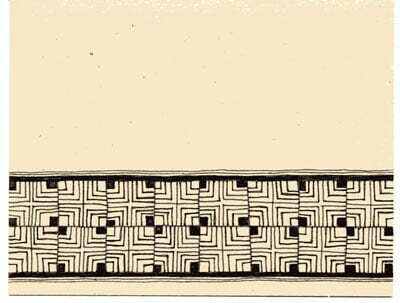 Cyndi continues,
This grid based pattern is named for it's eyedazzling effect and works equally as well on a square grid as a diamond grid.
It's a combination of two slightly different squares that are alternated and integrated. The squares may seem alike but there are two main differences between them.
First, one square has a double line cross in the centre (Step 2) and the other square has a single line cross in the centre (Step 4). This is what allows subsequent lines in each quadrant of every square to be integrated.
Second, the square with the double cross has it's corners filled (Step 3) whereas the square with the single cross does not (Step 5).
EyeDazzler does require a little concentration as it can play tricks on your eyes but it's easier to tangle than it looks.
Tips:
In each quadrant of every square, draw subsequent lines from the centre outwards to the corner. (Do so as straight as possible and spaced as uniformly as possible.)
Alternating them in your grid, draw all the double cross squares first. (This provides the structure to draw the single cross squares and allows for better focus.)
In the remaining squares of your grid, draw all the single cross squares. (Make sure each line is positioned in-between the corresponding lines of the double cross squares.)
Note that the thicker the lines, the more dramatic the effect of this pattern. (An 05 Micron was used in both illustrations.)
I think one of the most important tips Cyndi gives is contained in her first one: make your aura strokes "spaced as uniformly as possible".
Cyndi illustrates the step-by-step instructions for drawing Eye Dazzler below where she demonstrates it in two eye-dazzling examples.
As you enjoy any of the tangles on the site, please leave a comment of thanks and encouragement to show the artists you appreciate them for sharing their creativity to inspire yours. Your thanks helps motivate them to continue to share!
Check out the tag cyndik for more of Cyndi's tangles on TanglePatterns.com.
.oOo.
Never miss a tangle - FREE newsletter subscription!
Sign up to get new tangle posting notices delivered
free
to your email inbox in a few easy steps:
Click here: Subscribe to TanglePatterns by Email and enter your email address. OR, sign up from the SUBSCRIBE page on the top menu bar.
Double check that you've entered the correct email address — typos occur more often than you'd think.
If you entered your email address correctly you will immediately receive a "Thank you for subscribing" email from FeedBlitz on behalf of TanglePatterns.
Add linda@tanglepatterns.com to your address book/whitelist so the email isn't blocked by spam filters. Gmail is particularly brutal about deciding everything important is spam.
If you subscribe to all three lists (Daily, Comments, Weekly Digest) you may receive a separate email for each subscription.
How to manage your TanglePatterns subscriptions
You can change your email address, temporarily pause your subscription while you're on vacation, or unsubscribe at any time by using the subscription management links at the bottom of any of your TanglePatterns emails. Whether you subscribe to the daily TanglePatterns email, the Comments email, or the Weekly Digest email, each one is a separate subscription so use the links in the relevant email to make your changes. For more information see ABOUT > HOW TO CHANGE YOUR EMAIL SUBSCRIPTION on the menu bar at the top of any page.
.oOo.
.oOo.

Enhance your Zentangle experience while supporting TanglePatterns:

BRAND NEW!

TanglePatterns.com TANGLE GUIDE, 2023 Edition

The 12th Edition of the TanglePatterns.com TANGLE GUIDE is an instant-download 103-page (50 MB) interactive digital eBook/PDF containing almost 1,900 tangles on the site from May 2010 through December 31, 2022. It's a great resource and a must-have digital tool for using the site. Visit the STORE > E-BOOKS page and help keep TanglePatterns.com online by getting your copy now!

"Linda, Thank you! I was relying on too few and getting stuck after 3 years of daily working with Zentangle. This has inspired me to 'begin again' with renewed excitement." ~ Barbara R.

See the BOOK REVIEWS page for more details on its features and view a sample page. Note: this is a digital product you download immediately when you place your order, nothing will be physically mailed to you.
GIFT ORDERS FOR ANOTHER PERSON: To give the TANGLE GUIDE as a gift, visit this page to place your gift order.
If you're new to Zentangle® and tangling, my TanglePatterns.com BEGINNER'S GUIDE TO ZENTANGLE is just what you need to get started. Also available en Français and en Español.

---

This is the only Zentangle book you'll ever need: the fabulous Zentangle PRIMER Vol 1. It's your CZT-in-a-book by the founders of Zentangle®. Visit the STORE tab on the top menu bar or click on the image. For more about the content and to read the rave reviews, visit the BOOK REVIEWS tab.
NEW! Now available in KINDLE format for $9.99. Spanish Edition here. Japanese Edition here.
"Absolutely the best Zentangle Book yet! As an accomplished artist I used to think I did not need instruction on this art form. How wrong I was! My tangling improved by leaps and bounds after reading this book. If you think you have Zentangle down then you need this book more than ever!" ~ Kris H

---

.oOo.