Swiss tangler Lisette Hofer shares her pretty Quagga ribbon-style tangle with us today. Not too long ago we explored her Sling-Slang tangle. Lisette is coming to CZT#32 in October and she's very excited!
Quagga? An unusual name to be sure.
Lisette explains …
I was looking for a name beginning with "Q". In our FB-Tangle Group we used to draw tiles from A to Z some time ago. The patterns of each tile had to begin with the same letter: A-tile, B-tile…. Z-tile. It was great fun but very challenging with the letter "Q" as there are very few Q-patterns.
Recently I came across the name Quagga which is a (unfortunately) extinct zebra who lived in South Africa. (https://en.wikipedia.org/wiki/Quagga).
I think the name matches the pattern: it is round and striped.
From Wikipedia:
The quagga (Equus quagga quagga) was a plains zebra that lived in South Africa until becoming extinct late in the 19th century. It was long thought to be a distinct species, but early genetic studies have supported it to being a subspecies of plains zebra. A more recent study suggested that it was merely the southernmost ecotype of the species.
The name was derived from its call, which sounded like "kwa-ha-ha".
We learn the most interesting and eclectic things with our tangles!
Lisette shares several beautiful Zentangle® tiles featuring her tangle. The first features Quagga with CZT Angie Gittles's recent Flog tangle.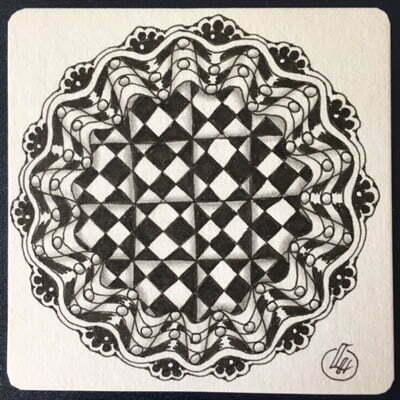 Her second tile features Quagga with Diva Dance, Lace Curtains, Mooka, Lollywimple and 'Nzeppel.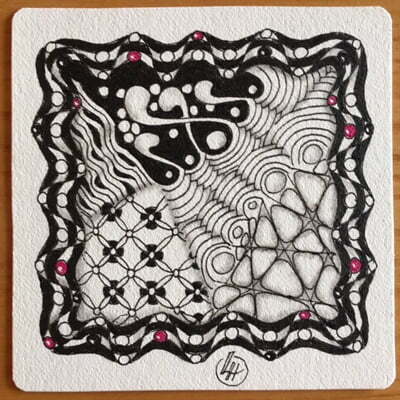 Here Lisette illustrates the step-by-step instructions for drawing Quagga and she features it with variations in a lovely Zentangle tile together with the Zentangle-original 'Nzeppel.
As you enjoy any of the tangles on the site, please leave a comment of thanks and encouragement to show the artists you appreciate them for sharing their creativity to inspire yours. Your thanks helps motivate them to continue to share!
Check out the tag lisetteh for more of Lisette's tangles on TanglePatterns.com.
.oOo.
Never miss a tangle - FREE newsletter subscription!
Sign up to get new tangle posting notices delivered
free
to your email inbox in a few easy steps:
Click here: Subscribe to TanglePatterns by Email and enter your email address. OR, sign up from the SUBSCRIBE page on the top menu bar.
Double check that you've entered the correct email address — typos occur more often than you'd think.
If you entered your email address correctly you will immediately receive a "Thank you for subscribing" email from FeedBlitz on behalf of TanglePatterns.
Add linda@tanglepatterns.com to your address book/whitelist so the email isn't blocked by spam filters. Gmail is particularly brutal about deciding everything important is spam.
If you subscribe to all three lists (Daily, Comments, Weekly Digest) you may receive a separate email for each subscription.
How to manage your TanglePatterns subscriptions
You can change your email address, temporarily pause your subscription while you're on vacation, or unsubscribe at any time by using the subscription management links at the bottom of any of your TanglePatterns emails. Whether you subscribe to the daily TanglePatterns email, the Comments email, or the Weekly Digest email, each one is a separate subscription so use the links in the relevant email to make your changes. For more information see ABOUT > HOW TO CHANGE YOUR EMAIL SUBSCRIPTION on the menu bar at the top of any page.
.oOo.
.oOo.

Enhance your Zentangle experience while supporting TanglePatterns:

CURRENT EDITION!

TanglePatterns.com TANGLE GUIDE, 2023 Edition

The 12th Edition of the TanglePatterns.com TANGLE GUIDE is an instant-download 103-page (50 MB) interactive digital eBook/PDF containing almost 1,900 tangles on the site from May 2010 through December 31, 2022. It's a great resource and a must-have digital tool for using the site. Visit the STORE > E-BOOKS page and help keep TanglePatterns.com online by getting your copy now!

"Linda, Thank you! I was relying on too few and getting stuck after 3 years of daily working with Zentangle. This has inspired me to 'begin again' with renewed excitement." ~ Barbara R.

See the BOOK REVIEWS page for more details on its features and view a sample page. Note: this is a digital product you download immediately when you place your order, nothing will be physically mailed to you.
GIFT ORDERS FOR ANOTHER PERSON: To give the TANGLE GUIDE as a gift, visit this page to place your gift order.
If you're new to Zentangle® and tangling, my TanglePatterns.com BEGINNER'S GUIDE TO ZENTANGLE is just what you need to get started. Also available en Français and en Español.

---

This is the only Zentangle book you'll ever need: the fabulous Zentangle PRIMER Vol 1. It's your CZT-in-a-book by the founders of Zentangle®. Visit the STORE tab on the top menu bar or click on the image. For more about the content and to read the rave reviews, visit the BOOK REVIEWS tab.
NEW! Now available in KINDLE format for $9.99. Spanish Edition here. Japanese Edition here.
"Absolutely the best Zentangle Book yet! As an accomplished artist I used to think I did not need instruction on this art form. How wrong I was! My tangling improved by leaps and bounds after reading this book. If you think you have Zentangle down then you need this book more than ever!" ~ Kris H

---

.oOo.