Spanish tangler Tomàs Padrós is on a tangle pattern roll!
Irradial is his latest tangle, and it is a fine one indeed.
Tomàs writes,

Irradial is a conceptually simple pattern. The idea is very simple.
A line divides the surface in two areas. Two points are determined on that line. From one of the points a line radiation is drawn to one side of the line. From the other point the same thing is done on the other side of the line. The line could be straight, curved or wavy. The effect produces a certain twisting sensation.
I have called it Irradial because in it there are two radiation sources.
Originally I designed Irradial a while ago as a fragment for a grid of squares. I placed the two radiation points on the diagonal of the square. But I did not use it anymore and it stayed like an isolated fragment in my notebook. One day reviewing my notes I decided to rescue it. Like many of my patterns this idea arose by chance, playing with the pen and following my intuitions. It's possible that I had been practicing the tangle Facets shortly before. I don't remember.
It's amazing the amount of possibilities that such a simple idea can have. It adapts perfectly to regular and irregular shapes, straight and curved. You can easily solve the filling of an area bounded by strings. You only need to enter a line with two points. You can also combine it with areas that have a single radiation center.
If it's used as a regular fragment, you must draw the same number of lines on each side of the square, so that the fragments fit together. Play with shading. In my case, I usually darken two of the four sides of the area and the two points.
When we can't think of what to do next on our tiles Rick and Maria remind us to simply add auras. To this I would add, Irradial! Repeating for emphasis: "You can easily solve the filling of an area bounded by strings. You only need to enter a line with two points." Irradial.


Irradial is a sibling to the Zentangle®-original tangle Scena (not published publicly by Zentangle to date), yet Irradial is different. For my example on the right I used Tomàs's second example below. This version is somewhat similar to the curved lines of Scena.
Tomàs illustrates the step-by-step instructions for drawing Irradial in various ways below. In this first example, "I drew it in a structure of irregular quadrilaterals."
His second example is a monotangle demonstrating Irradial using a wavy line as the starting point. Tomàs's shading gives his example wonderful movement and dimension.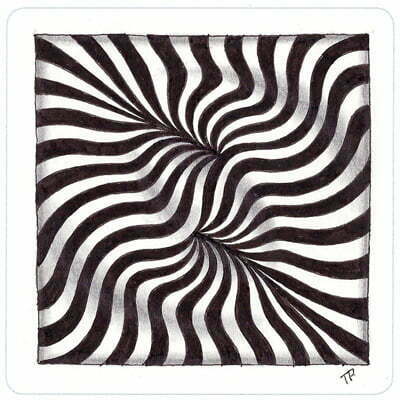 In this example Tomàs demonstrates "two Irradial possibilities as a fragment in a squared grid." This is where the Facets inspiration is observable whee the radiating lines meet at the grid lines and give the impression of coming forward, jutting out.
All versions of Irradial offer fun opportunities to add variation with solid ink or filling the "rays" with orbs or stripes or whatever other embellishments your imagination and intuition comes up with. Enjoy playing!
As you enjoy any of the tangles on the site, please leave a comment of thanks and encouragement to show the artists you appreciate them for sharing their creativity to inspire yours.
Check out the tag tomasp for more of Tomàs's tangles on TanglePatterns.com.
---
And a little reminder …
TanglePatterns needs You! Our lives are very busy, especially this time of year, I get it.
November is TanglePatterns' fundraising month. If you enjoy receiving my email newsletters and using and learning from all the creative resources on this site, know that your contribution matters to help keep it online and growing.
Click the PayPal button below and ensure the encouragement and fresh creative inspiration keeps coming to you for another year.
If you prefer to contribute by mail my mailing address is: Linda Farmer, TanglePatterns.com, PO Box 880386, Port St Lucie FL 34988.
Your gift counts, no matter the size. Thank you so much.

---