Wooooooo! sounds like a perfect Hallowe'en kind of tangle, don't ya think? And Wooooooo! it's fun! And EASY. It's from tangler Joan Stark and it's her first on the site.
Joan's tangle submission, "a ribbon for the ribbonly-challenged" is full of Wooooooo! exuberance. Joan introduces herself,

"I live in a western suburb of Cleveland, Ohio. I was introduced to Zentangle® by Judy Montgomery, CZT. I've been tangling since fall of 2013. I started with Judy's Beginning Zentangle class and have been taking her 'More Zentangle' class ever since. I love the zen of the art.
I have a background in education and currently teach private swimming lessons for all levels and ages at the local recreation center. It's enjoyable and rewarding however if I could re-do my life I would've gotten an art degree and would've also been an art teacher. That's why I believe that eventually I will become a CZT.
I've always enjoyed experiencing art. I remember winning a community art award when I was in elementary school — I made a Christmas poster with a reindeer– complete with a red sparkly nose, And in the 1990s, I created a lot of ASCII art (pictures made with keyboard characters). I was so prolific in ASCII Art that even have a Wikipedia entry that describes me an 'American artist' and 'Queen of ASCII art'…… So if it's on the internet, it must be true. Right? hahaha"
This is a screen capture of Joan's first big picture ascii art piece, "The first big picture I made was of a dragon– it took about a week to complete."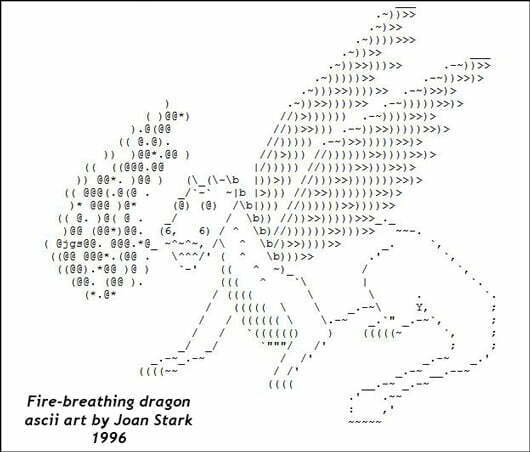 Impressive stuff! Must have driven those old dot-matrix printers crazy. And worn out the space bar on the keyboard.
.:*~*:._.:*~*:._.:*~*:.
Joan explains how Wooooooo! comes by its name and some tips for tangling it,
"I consider Wooooooo to be a ribbon pattern for those who are 'ribbonly-challenged'.
I taught this pattern in Judy's class and was thanked by several people because they were finally able to create a ribbon! They were so proud of themselves…made me feel good too that they were able to succeed. The seven 'O's in the name represent all those who were present that day.
The Wooooooo comes from the initial curvy line. As you draw the line, say WOOOOOOO! in excitement. Tangling **IS** exciting!
Next comes marking dots midway between the curves, then aura from dot-to-dot over and under each hump.
I like to aura 3x but you can aura as many/few times as you want. I also like adding stripes and orbs in the aura sections. But again, you can do just about anything or nothing in there. Shading makes it pop though. The final product looks like a simple ribbon — but a ribbon that ANYONE can draw — even those who are 'ribbonly-challenged'!! Yay!"

For those interested in learning to draw even more ribbons check out Sandra Strait's tutorial "How to draw a ribbon" on TanglePatterns, also located on the TUTORIALS tab in the pink alphabetic tangle menu bar. So Wooooooo! is a ribbon-style tangle of a stylized ribbon 🙂 On the right, a fancy version of Wooooooo! based on Joan's steps.

Joan illustrates the step-by-step instructions for drawing Wooooooo! below and features it in a fun ZIA embellished with Sharon Robinson's Sp-eye-ryl tangle and sprinklings of tiny orbs.
As you enjoy any of the tangles on the site, please leave a comment of thanks and encouragement to show the artists you appreciate them for sharing their creativity to inspire yours.
Check out the tag joans for more of Joan's tangles on TanglePatterns.com.
.oOo.

Enhance your Zentangle experience while supporting TanglePatterns:

CURRENT EDITION!

TanglePatterns.com TANGLE GUIDE, 2023 Edition

The 12th Edition of the TanglePatterns.com TANGLE GUIDE is an instant-download 103-page (50 MB) interactive digital eBook/PDF containing almost 1,900 tangles on the site from May 2010 through December 31, 2022. It's a great resource and a must-have digital tool for using the site. Visit the STORE > E-BOOKS page and help keep TanglePatterns.com online by getting your copy now!

"Linda, Thank you! I was relying on too few and getting stuck after 3 years of daily working with Zentangle. This has inspired me to 'begin again' with renewed excitement." ~ Barbara R.

See the BOOK REVIEWS page for more details on its features and view a sample page. Note: this is a digital product you download immediately when you place your order, nothing will be physically mailed to you.
GIFT ORDERS FOR ANOTHER PERSON: To give the TANGLE GUIDE as a gift, visit this page to place your gift order.
If you're new to Zentangle® and tangling, my TanglePatterns.com BEGINNER'S GUIDE TO ZENTANGLE is just what you need to get started. Also available en Français and en Español.

---

This is the only Zentangle book you'll ever need: the fabulous Zentangle PRIMER Vol 1. It's your CZT-in-a-book by the founders of Zentangle®. Visit the STORE tab on the top menu bar or click on the image. For more about the content and to read the rave reviews, visit the BOOK REVIEWS tab.
NEW! Now available in KINDLE format for $9.99. Spanish Edition here. Japanese Edition here.
"Absolutely the best Zentangle Book yet! As an accomplished artist I used to think I did not need instruction on this art form. How wrong I was! My tangling improved by leaps and bounds after reading this book. If you think you have Zentangle down then you need this book more than ever!" ~ Kris H

---

.oOo.