Today's fun Harvey tangle is from UK tangler Sarah Fowler, and as she says "There is a bit of a story attached to this fella…"
So let's get right to Sarah's story:

Mid August myself and my family went to Texas to stay with my husband's brother for a two week vacation.
Half way through the first week we started to get info. about a hurricane that was forming out in the ocean that was headed towards Texas….
So before it arrived we went for some retail therapy at a local mall and whilst sampling the delights of the Cheesecake Factory (needless to say we had no idea of what was to come…my brother in law said we would be getting 'a bit of rain'…English understatement at its finest!) I noticed a rather interesting pattern on the end of one of the booths. So took a really bad photo of it and off we went.
Fast forward a few days and Hurricane Harvey arrived! So whilst being housebound for a few days I thought I'd start deconstructing the pattern and this is the result!
As is the nature of hurricanes their character and personality can change (Harvey turned into a tropical storm that included tornadoes!) and so this pattern can change.
So I've shown Harvey as a random pattern and as a ribbon-style. He can also be used singly and filled.
So this is my small way of paying tribute to all those people affected by the hurricanes that swept through and to their courage and resilience during a terrible time.
We certainly have had lots of hurricane memories these last couple of months starting with Harvey, then Irma, then Maria and Hurricane Ophelia that made landfall in Ireland on Monday as "the strongest eastern Atlantic hurricane on record … Parts of southern and central Scotland and northern England also may face a hazardous combination of tropical storm-force winds and heavy rain."
As if anyone needed more proof of climate change.
When I first looked at Sarah's free-form version of Harvey I immediately thought it was CZT Michele Beauchamp's Blooming Butter and indeed it is similar. However Sarah's Harvey has different fills and her ribbon-style version which I've used for my example is a nice orderly tangle that suits any OCD tendencies I may or may not have. And it is indeed fun to play with. With this version I found it important to follow Steps 4 and 5 in the orderly fashion Sarah shows. I got quite confused as to where those 3's connect when I attempted to do them all in one step. But then I'm easily confused these days anyway.
Sarah illustrates the step-by-step instructions for drawing Harvey below. The first set of steps shows the ribbon-style version with a colorful ZIA monotangle, the second is the free-form random version and Sarah has also included a colorful ZIA zendala to inspire exploration.
Random Harvey's steps:
And Sarah's colorful Harvey ZIA zendala …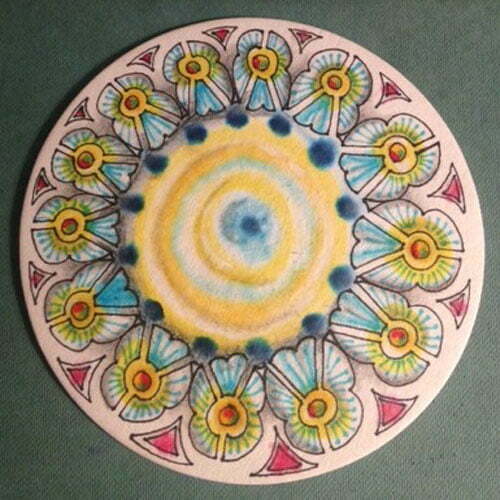 As you enjoy any of the tangles on the site, please leave a comment of thanks and encouragement to show the artists you appreciate them for sharing their creativity to inspire yours.
Check out the tag sarahf for more of Sarah's tangles on TanglePatterns.com.
.oOo.

Enhance your Zentangle experience while supporting TanglePatterns:

CURRENT EDITION!

TanglePatterns.com TANGLE GUIDE, 2023 Edition

The 12th Edition of the TanglePatterns.com TANGLE GUIDE is an instant-download 103-page (50 MB) interactive digital eBook/PDF containing almost 1,900 tangles on the site from May 2010 through December 31, 2022. It's a great resource and a must-have digital tool for using the site. Visit the STORE > E-BOOKS page and help keep TanglePatterns.com online by getting your copy now!

"Linda, Thank you! I was relying on too few and getting stuck after 3 years of daily working with Zentangle. This has inspired me to 'begin again' with renewed excitement." ~ Barbara R.

See the BOOK REVIEWS page for more details on its features and view a sample page. Note: this is a digital product you download immediately when you place your order, nothing will be physically mailed to you.
GIFT ORDERS FOR ANOTHER PERSON: To give the TANGLE GUIDE as a gift, visit this page to place your gift order.
If you're new to Zentangle® and tangling, my TanglePatterns.com BEGINNER'S GUIDE TO ZENTANGLE is just what you need to get started. Also available en Français and en Español.

---

This is the only Zentangle book you'll ever need: the fabulous Zentangle PRIMER Vol 1. It's your CZT-in-a-book by the founders of Zentangle®. Visit the STORE tab on the top menu bar or click on the image. For more about the content and to read the rave reviews, visit the BOOK REVIEWS tab.
NEW! Now available in KINDLE format for $9.99. Spanish Edition here. Japanese Edition here.
"Absolutely the best Zentangle Book yet! As an accomplished artist I used to think I did not need instruction on this art form. How wrong I was! My tangling improved by leaps and bounds after reading this book. If you think you have Zentangle down then you need this book more than ever!" ~ Kris H

---

.oOo.