Giving the gift of Zentangle® is not only a thoughtful idea for Christmas, you are sharing an endless, life-long rewarding practice with your loved ones.
These are the items I highly recommend for your consideration and I promise your Zentangle gifts will be the most memorable of all! Remember to treat yourself too …
Place your order now from the comfort of your home and avoid the hassle of holiday crowds! 🙂
The Zentangle PRIMER Vol 1
If you could only have one book in your Zentangle library, this is the one. The Zentangle PRIMER Vol 1 is the perfect Zentangle gift. It describes the Zentangle Method™ in detail and offers much much more.
The Zentangle PRIMER Vol 1 is literally a CZT-in-a-book:
"This book is an 'old-world' instructional that is simple in its delivery but with enough information to gently guide the novice, or enlighten the master. Whoever reads this, will find what they seek. Hidden in the margins and borders and exemplars are inspirations. Each time you leaf through its folios, you will find something new to spark your creativity. Each time you study it, you may find yourself going just a bit beyond what you previously thought possible.
Working solely on white tiles with black ink, this book digs deep into the fundamentals of the Zentangle method and teaches the techniques and tools you need to take your Zentangle practice where you want."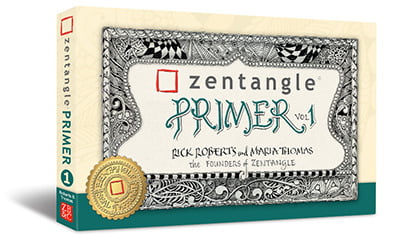 To learn more about the book and for links to place your order, visit the STORE > ZENTANGLE PRIMER VOL 1 page on the top menu bar.
The Official Zentangle Kit
The Official Zentangle Kit makes a wonderful gift that includes an instructional booklet and DVD and all the supplies necessary to get started with this relaxing enjoyable art form.
Why buy an Official Zentangle Kit? As Zentangle's founders explain,
"To understand and appreciate something fully, it's good to learn the basics as they were developed. We regularly receive emails from people who finally bought a Zentangle Kit, and they inevitably say how much more they discovered there is to the Zentangle Method, how beautiful the Kit is itself, how enjoyable the DVD is, and how much more pleasure they now receive from creating Zentangle art.
We invite you to get a Zentangle Kit to appreciate it's beauty, quality and the potential inspiration for creativity that it offers you and whoever else you decide to give one to."
To learn more about the Kit and for links to place your order, visit the STORE > OFFICIAL ZENTANGLE KIT page on the top menu bar.
Official Zentangle Tiles
And any of the official Zentangle art supplies make perfect gifts for friends and rellies who are already confirmed tanglers. Especially if they haven't had the pleasure of drawing on the yummy Zentangle tiles — there's nothing like it.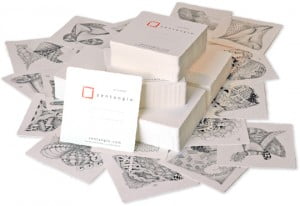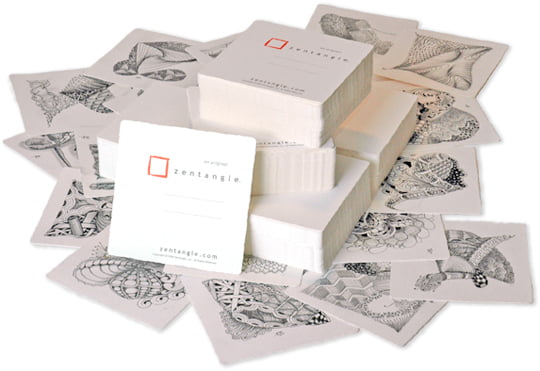 More information about each can be found in the STORE at these pages:
Beat the holiday rush and order today!
Here are the direct links to the ordering pages.
Thanks for your time, and many thanks for supporting TanglePatterns with your gift purchases.