Gneiss (pronounced "nice") is one of the 102 original Zentangle®-original tangles. And it makes a very Gneiss Thanksgiving gift! 🙂
At the zenAgain CZT-only event last week, Canadian CZT Margaret Bremner presented one of her "and then some" classes on this "early" tangle. As Margaret says, Gneiss "looks like a star with aplomb".
While she doesn't present Maria's original steps showing how to draw Gneiss, Margaret does demonstrate a wide range of wonderful and creative ways to play with this tangle.
Here is Margaret's fun tutorial, Niiice! Gneiss, and then some.
PSSST – TIP: take a close look at the section Margaret calls Gneiss-ly Irregular, that gives you the most complete "clue" to tangling this tangle until Zentangle HQ posts the original steps themselves.
Niiice! Geneiss, and then some is the newest addition to Margaret's wonderful series of tutorials she calls "… and then some" where she takes several Zentangle®-original tangles "on a wild ride of variations". Truly, you do not want to miss any of these creative and inspirational tutorials.
Look for the links to Margaret's tutorials on these Zentangle-original tangle pages:
As you enjoy any of the tangles on the site, please do leave a comment of thanks and encouragement to show the artists you appreciate them for sharing their creativity to inspire yours.
Check out the tag margaretb for more of Margaret's tangles on TanglePatterns.com.
Warm wishes for a very Happy Thanksgiving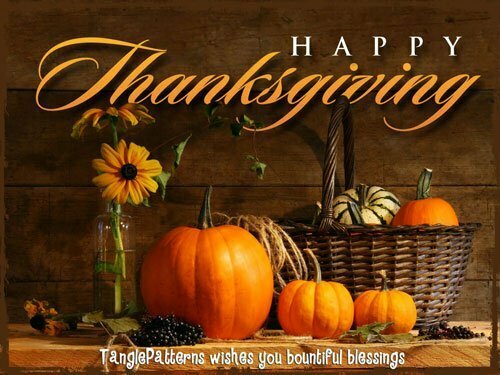 Tomorrow in the U.S. we will be enjoying Thanksgiving Day traditions with family and friends and giving special thanks for all the reasons we have to be grateful every single day of the year.
Thank you so much for being part of this wonderful, caring, sharing Zentangle® community.
With much love and gratitude not just today, but every day.  Hugs,
Related Links
Linda's List of Zentangle-Original Patterns — here is the complete list of original tangles (aka "official tangles") created and introduced by founders Rick Roberts and Maria Thomas, including those not published online. If you are new to the Zentangle Method I highly recommend learning a few of the published Zentangle classics first.
A pattern is not always a tangle — here's what makes a tangle.
Un motif n'est pas toujours un tangle — Qu'est-ce qu'un tangle ?
Un diseño no es siempre un tangle — ¿Qué es un tangle?
Zentangle terminology — a glossary of terms used in this art form
For lots of great FREE tutorials on TanglePatterns, click on the TUTORIALS link in the pink alphabetic menu bar below the tangle images at the top of any page
Strings! Have we got STRINGS! Click on the STRINGS link in the pink alphabetic menu bar below the tangle images at the top of any page for 250 different (free) Zentangle-starters. More than enough for any lifetime!
What is a Zentangle? — if you are new to the Zentangle Method, start here for the fundamentals
.oOo.

Enhance your Zentangle experience while supporting TanglePatterns:

TanglePatterns.com TANGLE GUIDE, 2020 Edition

The 9th Edition of my TanglePatterns.com TANGLE GUIDE. This instant-download 79-page (54 MB) interactive digital eBook contains all the tangles on the site from May 2010 through December 31, 2019. Containing almost 1,400 tangles, it's a must-have tool for using the site. Visit the STORE > E-BOOKS page and support TanglePatterns.com by getting your copy now!

"Linda, Thank you! I was relying on too few and getting stuck after 3 years of daily working with Zentangle. This has inspired me to 'begin again' with renewed excitement." ~ Barbara R.

See the BOOK REVIEWS page for more details on its features and view a sample page. Note: this is a digital product you download when you place your order, nothing will be physically mailed to you.
GIFT ORDERS FOR ANOTHER PERSON: To give the TANGLE GUIDE as a gift, visit this page to place your gift order.
If you're new to Zentangle® and tangling, my TanglePatterns.com BEGINNER'S GUIDE TO ZENTANGLE is just what you need to get started. Also available en Français and en Español.

---

This is the only Zentangle book you'll ever need: the fabulous Zentangle PRIMER Vol 1. It's your CZT-in-a-book by the founders of Zentangle®. Visit the STORE tab on the top menu bar or click on the image. For more about the content and to read the rave reviews, visit the BOOK REVIEWS tab.
NEW! Now available in KINDLE format for $9.99.
"Absolutely the best Zentangle Book yet! As an accomplished artist I used to think I did not need instruction on this art form. How wrong I was! My tangling improved by leaps and bounds after reading this book. If you think you have Zentangle down then you need this book more than ever!" ~ Kris H

---

Another great jump-starter for new tanglers is the original Official Zentangle Kit. The Kit includes all the supplies you'll need to get started properly: Sakura Micron Pens, Zentangle Tiles, pencil, sharpener, tortillion, a booklet and an instructional DVD by co-founder Maria Thomas. Click on the image for more information about the Kit and its contents.

.oOo.