In response to emails of concern about our safety, I thought I'd give you an update of our situation today. I'm sure news reports of this storm will be widespread given the strength and size of this very scary storm approaching our coast today.
Hurricane Matthew will arrive closest to Florida's east coast about 2 A.M. Eastern time tomorrow morning (Friday), as a Category 4 (winds at 130-156 mph, 113-136 kt, 209-251 km/h) and possibly Category 5 storm. For reference both Hurricane Andrew in 1992 and Hurricane Katrina of 2005 were Category 5 on the Saffir-Simpson Hurricane Wind Scale. Unfortunately the current projected path of "the most powerful storm to threaten the Atlantic coast in more than a decade" puts it going all the way up the state's East coast for about 24 hours when it reaches Georgia and South Carolina where it is projected to go further offshore (and then loop around, destination unknown … ).
Matthew's nearest approach to the state is not far north of where we live in South Florida on the east coast and the sheer enormous diameter of the system puts much of the state in a high state of alert, anxiety and preparation. The most recent advisory at 11 A.M. this morning (below) has the storm path move fractionally EAST. We are praying hard for more of the same as the day goes on because if the eye moves further away from the coast it takes the most damaging winds with it.
FORTUNATELY for us, by sheer good fortune we left Florida last weekend for our much planned-in-advance annual drive north to Ontario, Canada to visit my family. While we are thankfully out of harm's way, we have no way of knowing what will become of our home. It is well secured with good hurricane shutters but the area is surrounded by many large oak trees so we are keeping our fingers and toes crossed that there is minimal damage. Given the strength of the storm, that could be wishful thinking.
Courtesy of Robert's research, this is a live radar screen capture from 11:30 A.M. today. He tells me this could be the first October landfall of a hurricane on Florida's East coast since Hurricane King in October 1950.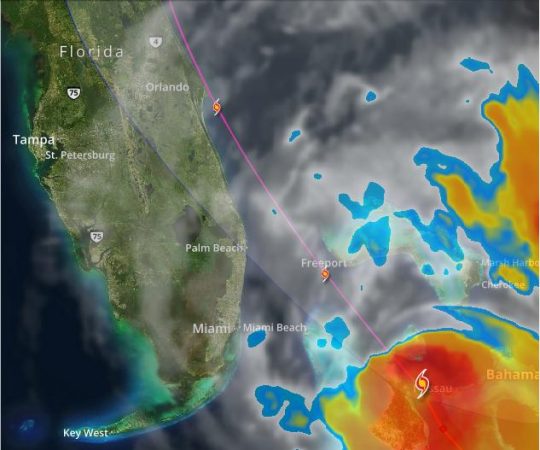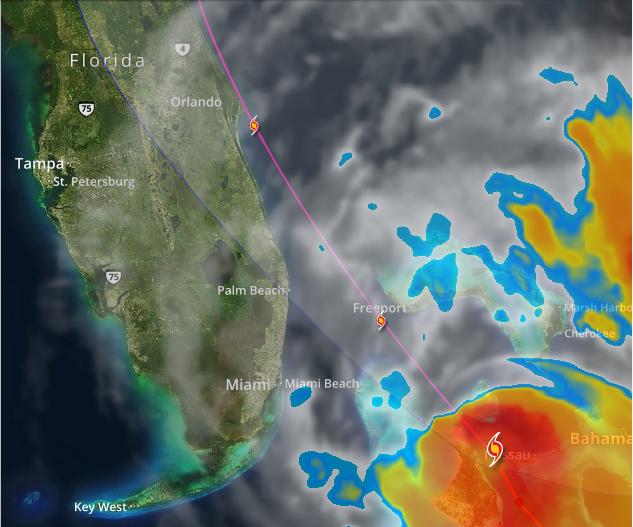 Our thoughts and prayers are with everyone in the State and along the Atlantic coast in the path of this natural nightmare and affected by its unwelcome aftermath.