Marnie is a tangle from UK tangler Chrissie Frampton who's traveled to the US to become a CZT since her last tangle (Midnight) on the site. As with many people who become CZTs, Chrissie is not actively teaching currently but she is actively tangling. 🙂
Here in the US, the ABC TV show Dancing With the Stars is wildly popular and it's a spin off of the UK's BBC program Strictly Come Dancing, a Saturday night program that started in 2004. In fact "Strictly" has "DWTS" spin offs in many countries around the world, as I learned from reading about it on Wikipedia.
Strictly Come Dancing is responsible for today's tangle pattern because Chrissie spotted this backdrop in one of the numbers on a recent broadcast and she's deconstructed it for us to enjoy.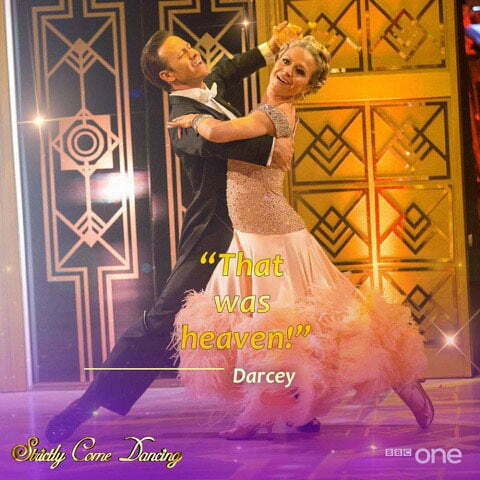 Here Chrissie describes how she arrived at her tangle's name.
We have a judge on the contest called Darcey Bussell and when I was researching a name for this tangle, I used Wikipedia. 
Darcey is not her first birth name, it is Marnie. In fact she has several wonderful birth names. [She was born Marnie Mercedes Darcey Pemberton Crittle.]
Darcey Bussell's biography is interesting to read as she's had a wide and varied career in dance and entertainment. She was a professional ballerina who has made several guest appearances with the New York City Ballet; she is the author of a series of children's books and is also a model. In 2012, she "performed at the closing ceremony of the 2012 Summer Olympics, descending from the roof of the Olympic stadium, in the role 'spirit of the flame', leading a troupe of 200 ballerinas." She was awarded the OBE in 1995 and the CBE in 2006.
And now she has a tangle named after her.
When I was drawing Marnie, I found that it wasn't always easy to get the two triangles of Steps 1 and 2 to meet up creating an evenly shaped diamond in the middle. So then I started simply drawing the small diamond at the center of each grid square, then adding the smaller triangles from the points of the diamond.
Chrissie illustrates the step-by-step instructions for drawing Marnie here and she shows several ways to play with Marnie to create some very different variations.
Check out the tag chrissief for more of Chrissie's tangles on TanglePatterns.com.
.oOo.
Tangle or Zentangle?
Often Zentangle newbies describe their drawings containing several patterns as "a tangle". Or conversely, refer to a tangle as "a Zentangle". Not so.
A tangle is one (1) single pattern.
As described on zentangle.com, "In its verb form 'tangle' means to draw a tangle. You tangle a tangle, and in that process create Zentangle art."
A Zentangle is the finished art on a tile containing one or more tangles. A Zentangle containing just one tangle is called a monotangle.
And while we're on the subject of using this wonderful art form's terminology correctly, as for "Zentangling" or "Zentangled" the terms to use are tangling or tangled. 🙂
Learn more by visiting the ZENTANGLES > ZENTANGLE TERMINOLOGY page on the top menu bar of any page.
.oOo.
.oOo.

Enhance your Zentangle experience while supporting TanglePatterns:

CURRENT EDITION!

TanglePatterns.com TANGLE GUIDE, 2023 Edition

The 12th Edition of the TanglePatterns.com TANGLE GUIDE is an instant-download 103-page (50 MB) interactive digital eBook/PDF containing almost 1,900 tangles on the site from May 2010 through December 31, 2022. It's a great resource and a must-have digital tool for using the site. Visit the STORE > E-BOOKS page and help keep TanglePatterns.com online by getting your copy now!

"Linda, Thank you! I was relying on too few and getting stuck after 3 years of daily working with Zentangle. This has inspired me to 'begin again' with renewed excitement." ~ Barbara R.

See the BOOK REVIEWS page for more details on its features and view a sample page. Note: this is a digital product you download immediately when you place your order, nothing will be physically mailed to you.
GIFT ORDERS FOR ANOTHER PERSON: To give the TANGLE GUIDE as a gift, visit this page to place your gift order.
If you're new to Zentangle® and tangling, my TanglePatterns.com BEGINNER'S GUIDE TO ZENTANGLE is just what you need to get started. Also available en Français and en Español.

---

This is the only Zentangle book you'll ever need: the fabulous Zentangle PRIMER Vol 1. It's your CZT-in-a-book by the founders of Zentangle®. Visit the STORE tab on the top menu bar or click on the image. For more about the content and to read the rave reviews, visit the BOOK REVIEWS tab.
NEW! Now available in KINDLE format for $9.99. Spanish Edition here. Japanese Edition here.
"Absolutely the best Zentangle Book yet! As an accomplished artist I used to think I did not need instruction on this art form. How wrong I was! My tangling improved by leaps and bounds after reading this book. If you think you have Zentangle down then you need this book more than ever!" ~ Kris H

---

.oOo.