In this occasional series on TanglePatterns, readers describe in their own words how Zentangle® has changed their lives. For more accounts in this series, click on the "STORIES" link in the alphabetical listing above.
Visit this post for the Stories that inspired this series.

* * *

New tangler Shirley H from Columbia, Maryland, writes …
"My dear sweet mother passed away at age 87 in June. We lived together all our lives. It has been a devastating loss. The only way I can cope is to keep busy. I have done many crafts over the years. I taught needlepoint for 20 years. I have never delve too much into art, as I don't consider myself an 'artist.'
Not long after mom passed, I had dinner with some high school alumni and one lady mentioned she had just came from a Zentangle class. I had never heard of it. When she showed me some of her pieces, I was fascinated. So much so that I looked it up on the internet when I got home. What a shock to see all the sites dedicated to Zentangle. The next day I went to the craft store, bought some paper and pens and a book and off I went.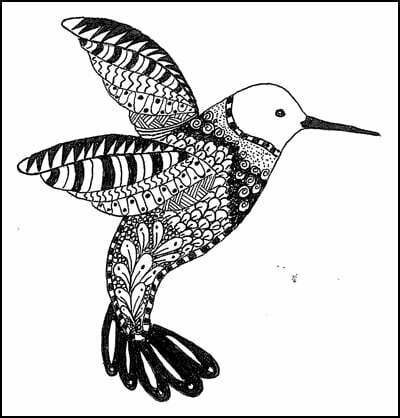 I was concerned that I would be too process oriented to give way to the creative juices, but it just helped me to calm my mind and concentrate on something besides how lonely the house is without mom.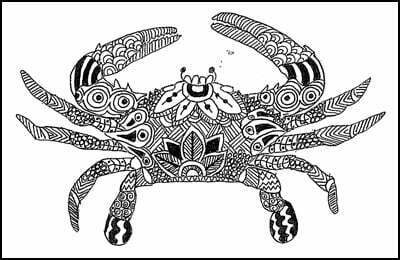 Still no formal training, but I am going for a class next week. I will find out what I am doing wrong and will have to correct my bad habits. The hardest thing for me is to slow down and take it line by line.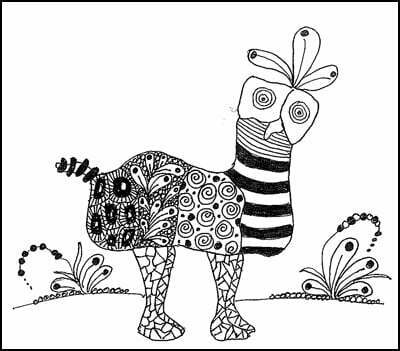 I created the heart to use on a custom t-shirt that we will order for our company's heart walk. I volunteered to lead this year's campaign in honor of my mom. My team loved the design."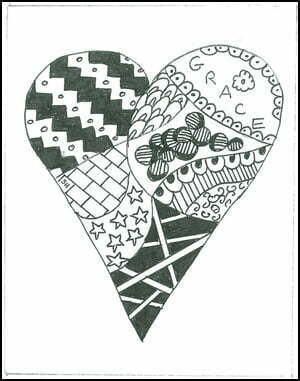 ~ Shirley
* * *
If you would like to share your own experience for this series, please email me (linda [at] tanglepatterns [dot] com). You can make your story as long as or short as you like and if you wish your personal details to remain private, I will certainly honor that.
By publishing your "testimonials", I'm hoping it will help spread the word about Zentangle to many others who can REALLY benefit from it. As the Zentangle founders say, "Anything is possible, one stroke at a time."™
.oOo.

Enhance your Zentangle experience while supporting TanglePatterns:

CURRENT EDITION! TanglePatterns.com TANGLE GUIDE, 2022 Edition

The 11th Edition of the TanglePatterns.com TANGLE GUIDE is an instant-download 96-page interactive digital eBook/PDF containing more than 1,700 tangles on the site from May 2010 through December 31, 2021. It's a great resource and a must-have digital tool for using the site. Visit the STORE > E-BOOKS page and help keep TanglePatterns.com online by getting your copy now!

"Linda, Thank you! I was relying on too few and getting stuck after 3 years of daily working with Zentangle. This has inspired me to 'begin again' with renewed excitement." ~ Barbara R.

See the BOOK REVIEWS page for more details on its features and view a sample page. Note: this is a digital product you download when you place your order, nothing will be physically mailed to you.
GIFT ORDERS FOR ANOTHER PERSON: To give the TANGLE GUIDE as a gift, visit this page to place your gift order.
If you're new to Zentangle® and tangling, my TanglePatterns.com BEGINNER'S GUIDE TO ZENTANGLE is just what you need to get started. Also available en Français and en Español.

---

This is the only Zentangle book you'll ever need: the fabulous Zentangle PRIMER Vol 1. It's your CZT-in-a-book by the founders of Zentangle®. Visit the STORE tab on the top menu bar or click on the image. For more about the content and to read the rave reviews, visit the BOOK REVIEWS tab.
NEW! Now available in KINDLE format for $9.99. Spanish Edition here. Japanese Edition here.
"Absolutely the best Zentangle Book yet! As an accomplished artist I used to think I did not need instruction on this art form. How wrong I was! My tangling improved by leaps and bounds after reading this book. If you think you have Zentangle down then you need this book more than ever!" ~ Kris H

---

.oOo.