In this occasional series on TanglePatterns, readers describe in their own words how Zentangle® has changed their lives. For more accounts in this series, click on the "STORIES" link in the alphabetical listing above.
Visit this post for the stories that inspired this series.

* * *

Twelve-year-old Daniel writes that he's "an ADHD almost-teenager who's always loved art" and he recently discovered Zentangle. My hope is that Daniel's story can be shared with friends and family who are dealing with children (or adults) with Attention Deficit Hyperactivity Disorder (ADHD). They may find that Zentangle is an answer to some prayers.
Here, with the permission of his parents, is Daniel in his own very articulate words.
"I have ADHD and anger management issues, and they've made life for me pretty challenging at times. Luckily I discovered this wonderful art form, and while it didn't wave a magic wand and make all my problems disappear, it definitely helped.
I discovered Zentangle only about 1 or 2 months ago. I was visiting my grandparents, and we were looking around an art store that had recently popped up in the area. I grabbed a couple of pens (I loved pens even before I discovered Zentangle), and we were about to leave when my grandmother noticed Suzanne McNeill's Zentangle 7 book. We looked over it and immediately decided to buy it.
A while later, when I was back at home (and already thoroughly addicted to Zentangle), I was looking around for some new tangle patterns when I discovered Linda's site. Suddenly everything changed – I had more information about Zentangle than I could ever possibly digest, and there were so many more patterns I could use! Tangling really opened up for me after that.
While, like I said earlier, it didn't wave a magic wand and make all my problems disappear, tangling helped calm me down and make my brain stop running around in circles. I really hope that other people can find that Zentangle helps them with whatever issues pop up in their life. Thank you, Maria and Rick, for creating such a wonderful art form!"
~ Daniel (Age 12)

I asked Daniel if he had any words of advice for others challenged by ADHD about getting started with Zentangle and he replied, "I guess my advice would be 'Don't worry about the appearance-just focus on the process itself.' Although I suppose that's the whole point of Zentangle in general, isn't it?" Daniel certainly gets it!
Daniel was kind enough to share some of his wonderful Zentangle art with us and this first piece is a traditional Zentangle.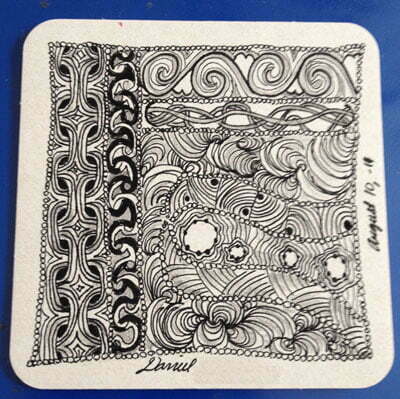 Next is Daniel's lovely Zendala.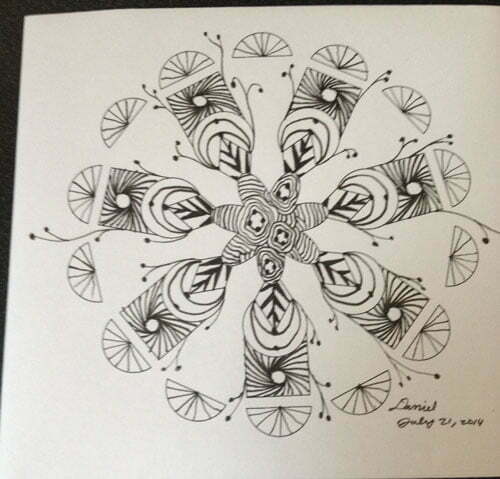 And finally, a ZIA page.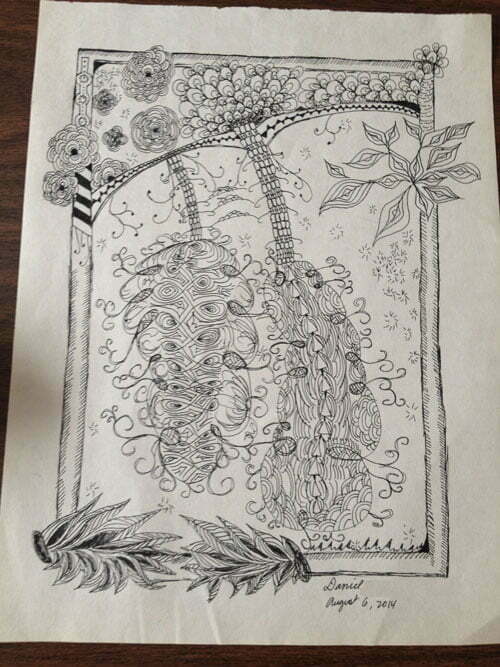 Kudos, Daniel!
* * *
If you would like to share your own experience for this series, please email me (linda [at] tanglepatterns [dot] com). You can make your story as long as or short as you like and if you wish your personal details to remain private, I will certainly honor that.
By publishing your "testimonials", I'm hoping it will help spread the word about Zentangle to many others who can REALLY benefit from it. As the Zentangle founders say, "Anything is possible, one stroke at a time."™
.oOo.

Enhance your Zentangle experience while supporting TanglePatterns:

CURRENT EDITION!

TanglePatterns.com TANGLE GUIDE, 2023 Edition

The 12th Edition of the TanglePatterns.com TANGLE GUIDE is an instant-download 103-page (50 MB) interactive digital eBook/PDF containing almost 1,900 tangles on the site from May 2010 through December 31, 2022. It's a great resource and a must-have digital tool for using the site. Visit the STORE > E-BOOKS page and help keep TanglePatterns.com online by getting your copy now!

"Linda, Thank you! I was relying on too few and getting stuck after 3 years of daily working with Zentangle. This has inspired me to 'begin again' with renewed excitement." ~ Barbara R.

See the BOOK REVIEWS page for more details on its features and view a sample page. Note: this is a digital product you download immediately when you place your order, nothing will be physically mailed to you.
GIFT ORDERS FOR ANOTHER PERSON: To give the TANGLE GUIDE as a gift, visit this page to place your gift order.
If you're new to Zentangle® and tangling, my TanglePatterns.com BEGINNER'S GUIDE TO ZENTANGLE is just what you need to get started. Also available en Français and en Español.

---

This is the only Zentangle book you'll ever need: the fabulous Zentangle PRIMER Vol 1. It's your CZT-in-a-book by the founders of Zentangle®. Visit the STORE tab on the top menu bar or click on the image. For more about the content and to read the rave reviews, visit the BOOK REVIEWS tab.
NEW! Now available in KINDLE format for $9.99. Spanish Edition here. Japanese Edition here.
"Absolutely the best Zentangle Book yet! As an accomplished artist I used to think I did not need instruction on this art form. How wrong I was! My tangling improved by leaps and bounds after reading this book. If you think you have Zentangle down then you need this book more than ever!" ~ Kris H

---

.oOo.