KauriKunda is a lovely new grid-based tangle pattern from Swiss CZT, Tina Hunziker.
Tina is located in Olten, Switzerland, "Olten's railway station is within 30 minutes of Zürich, Bern, Basel, and Lucerne by train, and is a rail hub of Switzerland." Tina is one of three CZTs in Switzerland.
In English we know the "Kauri" as Cowry or Cowrie shells and Wikipedia tells us this about them:
"Cowry or cowrie, plural cowries, is the common name for a group of small to large sea snails, marine gastropod molluscs in the family Cypraeidae, the cowries. The word cowry is also often used to refer only to the shells of these snails, which overall are often shaped more or less like an egg, except that they are rather flat on the underside.
Many people throughout history have found (and still find) the very rounded, shiny, porcelain-like shells of cowries pleasing to look at and to handle. Indeed the term 'porcelain' derives from the old Italian term for the cowrie shell (porcellana) due to their similar translucent appearance. Shells of certain species have historically been used as currency in several parts of the world, as well as being used, in the past and present, very extensively in jewellery, and for other decorative and ceremonial purposes."
Hmm … snails seem to have gained instant popularity in the Zentangle® world these days with the recent introduction of the sweet little Bijou.
According to Tina,
"Kunda means 'family' in Wolof, one of so many languages of West Africa. My pattern reminds me of a kauri-family, this shells are everywhere in Africa. …

I was born in Switzerland, and after many years of travelling I came back. Art has always been a part of my life. I believe that dreams become true, so I have to be careful what I'm dreaming about (daydreams)…. I have 2 wonderful daughters, I know their father since the year 2000, he is one of the greatest people I know. I started to discover Zentangle in August 2013. Last december we visited Oman (the father of the girls) in Gambia, that's where he's living in a big garden. I had alot of time for drawing patterns. When in January 2014 I was back in Switzerland, I contacted zentangle, and snatched the last place for the CZT – seminar 15 in June 2014. So happy that I could make this experience and meet all this wonderful people. life is wonderful."
Tina has taken the familiar shell and abstracted it into a grid-based tangle and as you'll see below, KauriKunda can be drawn on several types of grids or on its own as a grid "seed".
The basic shape for KauriKunda is like an egg. If you have trouble judging the size to draw those Kauri shapes in Step 2, try drawing the "Chillon"-type thin rice shapes first and then you can fit the Kauri into the remaining space.
Here Tina illustrates the step-by-step instructions for drawing KauriKunda and features it in a pretty monotangle with some great shading.
Here are two more Zentangle examples of KauriKunda where Tina shows it done on a triangle variation of a diamond grid. If you'd like some tips about drawing the underlying grids, see this tutorial on TanglePatterns with a free PDF download of grid instructions.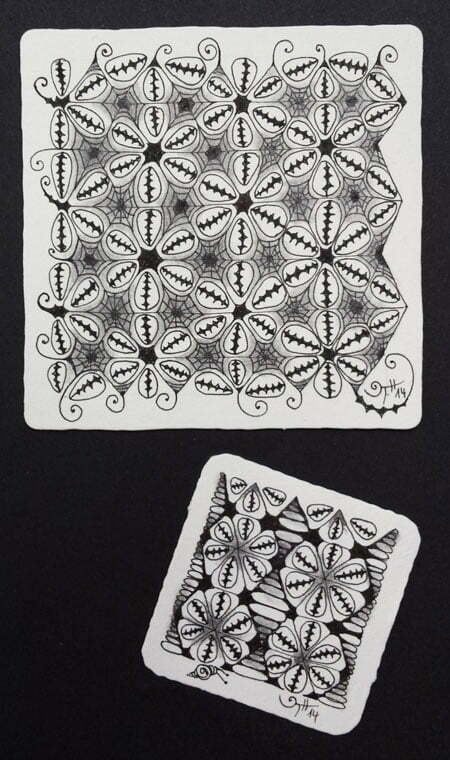 Check out the tag tinah for more of Tina's patterns on TanglePatterns.com.
Update: You can also find this tangle on Tina's new blog here.
Related Links
Looking for tangles by Artist or Type? For details visit the ABOUT > HOW TO FIND TANGLES BY ARTIST OR TYPE page on the top menu bar of any page on the site.
What is a Zentangle? — if you are new to the Zentangle Method, start here for the fundamentals.
Zentangle terminology — a glossary of terms used in this art form.
Linda's List of Zentangle-Original Patterns — here is the complete list of original tangles (aka "official tangles") created and introduced by founders Rick Roberts and Maria Thomas, including those not published online. If you are new to the Zentangle Method I highly recommend learning a few of the published Zentangle classics first.
"A Zentangle has no up or down and is not a picture of something, so you have no worries about whether you can draw a hand, or a duck. You always succeed in creating a Zentangle." Thus patterns that are drawings of a recognizable naturalistic or actual object, figure, or scene, are not tangles. A pattern is not always a tangle — here's what makes a tangle. TIP: tangles never start with pencil planning.
For lots of great FREE tutorials on TanglePatterns, click on the TUTORIALS link in the pink alphabetic menu bar below the tangle images at the top of any page.
Strings! Have we got STRINGS! Click on the STRINGS link in the pink alphabetic menu bar below the tangle images at the top of any page for 250 different (free) Zentangle-starters. More than enough for any lifetime!
Never miss a tangle! FREE eMAIL NEWSLETTER - visit the SUBSCRIBE page on the top menu bar of any page on the site and sign up to get notices delivered free to your inbox.
.oOo.

Enhance your Zentangle experience while supporting TanglePatterns:

BRAND NEW!

TanglePatterns.com TANGLE GUIDE, 2023 Edition

The 12th Edition of the TanglePatterns.com TANGLE GUIDE is an instant-download 103-page (50 MB) interactive digital eBook/PDF containing almost 1,900 tangles on the site from May 2010 through December 31, 2022. It's a great resource and a must-have digital tool for using the site. Visit the STORE > E-BOOKS page and help keep TanglePatterns.com online by getting your copy now!

"Linda, Thank you! I was relying on too few and getting stuck after 3 years of daily working with Zentangle. This has inspired me to 'begin again' with renewed excitement." ~ Barbara R.

See the BOOK REVIEWS page for more details on its features and view a sample page. Note: this is a digital product you download immediately when you place your order, nothing will be physically mailed to you.
GIFT ORDERS FOR ANOTHER PERSON: To give the TANGLE GUIDE as a gift, visit this page to place your gift order.
If you're new to Zentangle® and tangling, my TanglePatterns.com BEGINNER'S GUIDE TO ZENTANGLE is just what you need to get started. Also available en Français and en Español.

---

This is the only Zentangle book you'll ever need: the fabulous Zentangle PRIMER Vol 1. It's your CZT-in-a-book by the founders of Zentangle®. Visit the STORE tab on the top menu bar or click on the image. For more about the content and to read the rave reviews, visit the BOOK REVIEWS tab.
NEW! Now available in KINDLE format for $9.99. Spanish Edition here. Japanese Edition here.
"Absolutely the best Zentangle Book yet! As an accomplished artist I used to think I did not need instruction on this art form. How wrong I was! My tangling improved by leaps and bounds after reading this book. If you think you have Zentangle down then you need this book more than ever!" ~ Kris H

---

.oOo.