If you loved the White Zendala Set, you're going to love the brand new Black ones too.
These new Zendala Sets have been available at workshops through CZTs for a little while and now they're available to you online from TanglePatterns.
The Black Zendala tiles are made from the same wonderful paper as the regular Black Zentangle tiles, and have the same strings as the original White set. Both sets also have blank refills available.
Check out the new Black Zendala Sets below and here on TanglePatterns.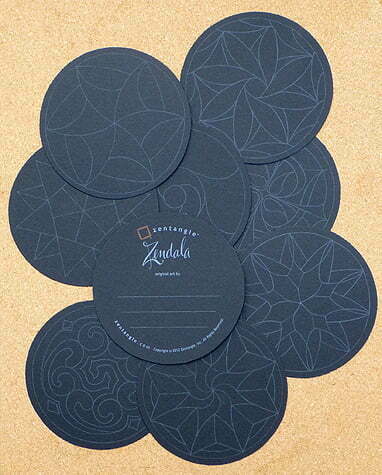 Each set comes in a special round tin about the size of a CD – perfect for taking your Zendalas (and a few regular tiles) with you anywhere you go!
21 tiles – 18 are beautifully pre-strung with inspiring strings: 2 sets of 9 strings, see photo above, and 3 blanks
Zendala tiles are about 4-5/8-inches (117mm) diameter. They are die cut with Zentangle's familiar deckle edge and use the same paper as the square white or black tiles.
retail price for the WHITE Zendala Set is $24.95
retail price for the BLACK Zendala Set is $28.95
Sample of the Refill pack: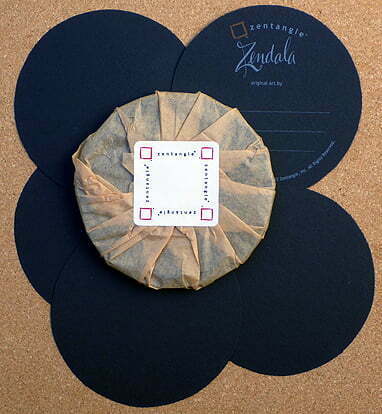 Place your order now
US orders are shipped by USPS Priority Mail; Canada and International orders are shipped by USPS First Class Air. Mail orders are also accepted, please visit the ordering page below for prices including shipping and mailing details.