Housekeeping Notice! This week I've made some major changes to the services that send out email newsletters to TanglePatterns subscribers and those who subscribe to the site by RSS in a feed reader. Your email will look different!
This is a major move from one service provider to another and although I'm reasonably sure the transition is taking place smoothly, if you notice irregularities please be patient while I sort out all the bits that need to be fine-tuned.
Google Feedburner was a free service that has recently become very baulky about sending out the email newsletter and Google no longer supports the service. Which means if you have problems forget getting any help, and I became nervous that the service could disappear altogether without any notice.
For this reason I've moved everyone to the premium FeedBlitz service. I will confess that despite the best efforts of the friendly folk at FeedBlitz, I'm not sure I've done everything I need to. I guess I'll find out!
What I do know is this. If you have been receiving the email newsletters already, you should not have to do anything and you will continue to receive them. They will look a little different and they might arrive at a different time of day than you have been used to, but you will receive them.
You might want to add the subscription service's address feedblitz@mail.feedblitz.com to your whitelist to make sure the email isn't blocked by your spam filter.
In some cases, depending on how you subscribed, you may receive an email from FeedBlitz asking you to confirm your subscription, and this is not spam. If you wish to continue receiving TanglePatterns news and updates, please confirm as requested.
If you did not receive your usual email notice (for example you did not receive a notice about this post) and you want to be totally sure you continue to receive the TanglePatterns email newsletters, you can use the signup box at the top right of any page – shown in the image below – to sign up with the new service.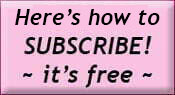 In the unlikely event that you end up with two email notices, simply use the "Unsubscribe" link at the bottom of one of those emails.
If you subscribe to the RSS Feed, you will need to update your RSS reader with the new TanglePatterns feed address:
http://feeds.feedblitz.com/tanglepatterns
In some cases you may receive an alert in your Reader to update your subscription. If you don't update your RSS reader, you will not receive the new updates.
Thanks so much for your patience during this transition!