October 15, 2011 – Greetings my friends!
Robert and I have been on the road for 3 weeks visiting my family in Canada and capping a wonderful time this week at the 7th CZT® training in Providence, Rhode Island. I'm thankful that my weeks of preplanning kept things humming along here at TanglePatterns and you've been getting your regular "dose". 🙂
I am grateful, humbled, honored and absolutely thrilled to be among of the 100 or so wonderful graduates of CZT#7 (Certified Zentangle Teacher, 7th Class). Here's a gander at my gorgeous certificate …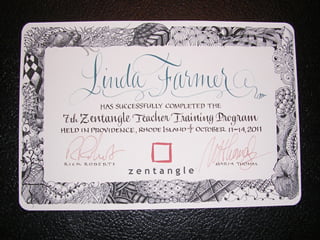 One of the coolest things was meeting friends face-to-face I've met online and corresponded with electronically (if you don't already know this, I'm Facebook-phobic so your comments and/or email is my thing). I won't name names and risk offending if I leave someone out but I LOVED meeting every single one of you and hope you'll all stay in touch by email. Here I am with Zentangle founders, Rick and Maria.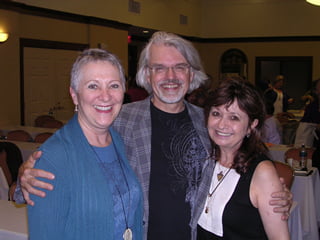 It was just an amazing time and there is so much to process about the program and the whole event in general that it will take me a while to put it into words. Let me just say that Zentangle® is a first class organization and they put on first class training program. A million thanks to Rick and Maria, Nancy and Sue, Molly, and all the Zentangle family for being such gracious hosts and for the absolutely incredible amount of time and effort you all put into this event to make it such a success.
There will be lots of coverage of this around the blogosphere, but with my currently-limited computer access here's the only one I've seen yet so far. It's from my Tasmanian e-pal Michele Beauchamp, now on an RV trek to Salt Lake City with her hubby Paul. A shout out to all the hubbies who came and supported their ladies.
Attention all my CZT#7 colleagues – if you post photos on your blog, please leave a link in the comments so we can all share!
As life returns to normal after all this travel, I hope to be able to share more about this entire experience. For now I'll just say, Happy Tangling from Linda, newly-minted CZT. Yayyyyyyyyyyyyyyyyyy!!!!
PS – your comment might take a few hours to appear while I'm on the road but I will get to them as soon as technology permits. Thanks for your patience!
Here's a composite picture of the first tile we each did in the training.