Welcome to Monday and another wonderful week of new tangles to explore. Delighted as always to have you along with me …
Canadian tangler Cyndi Knapp is back today with her Bekk tangle. Last one for the month of April, and a super easy one too.
Cyndi explains its name and how it came about:
Bekk is one of those patterns that came about while creating another pattern. Some time over the past year, I'd scribbled it on a piece of paper and had forgotten about it until recently reorganizing my Zentangle® supplies.
Its name came to being because of long time friends from Bellingham WA and San Francisco CA. They traveled across Canada by train from Vancouver BC to Toronto ON to ring in the new year with us. One of the gifts we received was a lovely hand painted stone they'd commissioned a Bellingham rock painting artist to paint as a Canadian flag. Seeing the artist's name on the back of the stone, I commented it would make a good name for a Zentangle pattern. So in keeping my promise, this pattern is named Bekk.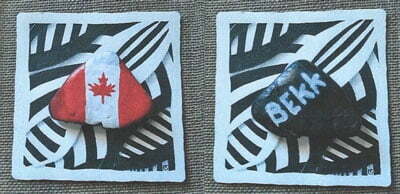 It's one of those super easy patterns that once you get into its rhythm you could practically tangle it with your eyes closed.
There are only two adjoining strokes that are drawn in opposing directions – the first is drawn clockwise starting at the upper left (Step 1) and the second is drawn counter clockwise starting at the lower left (Step 2).
Being a simple open design, it provides endless fill/embellishment possibilities and adapts well to being enclosed by lines/auras or in back-to-back rows (see illustration).
Tip: If tangling this pattern in rows, position the loops head to head so it creates the centre diamond that delineates the rows.
I used one of Cyndi's examples in her tile as the basis for my example, and then I added a little embellishing.
Cyndi illustrates the step-by-step instructions for drawing Bekk below and she includes several variations for you to explore. Lots of possibilities this ribbon-style tangle.
As you enjoy any of the tangles on the site, please leave a comment of thanks and encouragement to show the artists you appreciate them for sharing their creativity to inspire yours. Your comment helps motivate them to continue to share!
Check out the tag cyndik for more of Cyndi's tangles on TanglePatterns.com.
Related Links
Enhance your Zentangle experience ...

NEW! TanglePatterns.com TANGLE GUIDE, 2019 Edition

The newest and 8th Edition of my TanglePatterns.com TANGLE GUIDE. This instant-download 72-page (40 MB) interactive digital eBook contains all the tangles on the site from May 2010 through December 31, 2018. Containing over 1,000 tangles, it's a must-have tool for using the site.

"Linda, Thank you! I was relying on too few and getting stuck after 3 years of daily working with Zentangle. This has inspired me to 'begin again' with renewed excitement." ~ Barbara R.

See the BOOK REVIEWS page for more details on its features and view a sample page.
Visit the STORE > E-BOOKS page for more information and support TanglePatterns.com by getting your copy now!
GIFT ORDERS: To give the TANGLE GUIDE as a gift, visit this page to place your gift order.
If you're new to Zentangle® and tangling, my TanglePatterns.com BEGINNER'S GUIDE TO ZENTANGLE is just what you need to get started. Also available en Français and en Español.

---

NOW AVAILABLE IN SOFTCOVER:

This is the only Zentangle book you'll ever need: the fabulous Zentangle PRIMER Vol 1. It's your CZT-in-a-book by the founders of Zentangle®! Visit the STORE tab on the top menu bar or click on the image. For more about the content and to read the rave reviews, visit the BOOK REVIEWS tab.
"Absolutely the best Zentangle Book yet! As an accomplished artist I used to think I did not need instruction on this art form. How wrong I was! My tangling improved by leaps and bounds after reading this book. If you think you have Zentangle down then you need this book more than ever!" ~ Kris H

---

Another great jump-starter for new tanglers is the original Official Zentangle Kit. The Kit includes all the supplies you'll need to get started properly: Sakura Micron Pens, Zentangle Tiles, pencil, sharpener, tortillion, a booklet and an instructional DVD by co-founder Maria Thomas. Click on the image for more information about the Kit and its contents.
---