Sayantika Ray's Pots-N-Pans tangle pattern reminded me of CZT Marie Browning's Stishes (stacked dishes) tangle from her book, Time to Tangle With Colors. Marie's book is one of my two favorite Zentangle® books, the other, as I'm sure you know, is Sandy Bartholomew's Totally Tangled.
There have been quite a few Zentangle-related books published since these two early ones, however the content and quality of these two still have them leading the pack in my view.
Pots-N-Pans is a little different from Stishes and it's worthy of adding to our collection. It makes a great border pattern and it can be varied in as many different ways you can think of to decorate the band around the edge of a (very small) plate or bowl.
Here are Sayantika's steps for drawing Pots-N-Pans .
And here are Sayantika's suggestions for ways to vary it.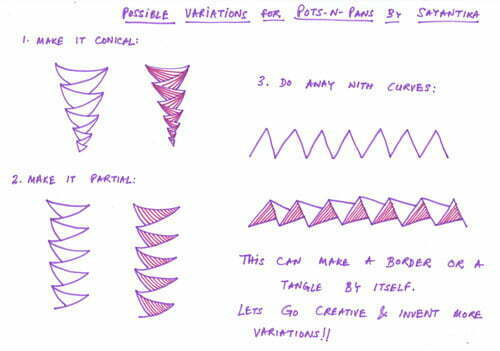 Check out the tag sayantikar for more of Sayantika's patterns on TanglePatterns.com.
For your Zentangle® library
Visit the BOOK REVIEWS tab at the top of the page for details on any of these great Zentangle® books.
If you do not have access to Amazon, you can also find these books on the Book Depository website and they always ship free, worldwide!
---
eBooks available from TanglePatterns.com
TanglePatterns.com TANGLE GUIDE, 2014 Edition

The current Edition of my TANGLE GUIDE. This eBook contains all the tangles on the site from May 2010 through December 31, 2013.
Visit the BOOK REVIEWS page for more information on the new features and to see a sample page.
Visit the STORE > E-BOOKS page for more information on this and the TanglePatterns.com BEGINNER'S GUIDE to Zentangle® (also available in Français and Español) and support TanglePatterns.com by getting your copy now.
---
You might also like: