Sproxy is a tangle pattern from Australian tangler David Rae and it's his first pattern on the site.
David joins the ranks of male tanglers with patterns on TanglePatterns – Brad Harms, Daved Levitan, Didier Gervy, Jonathan Baetens, José Meeusen, Karl Stewart, the young Thomas Gallagher, and Wayne Harlow. Then there are Rick Roberts' official tangles too, most notably Paradox.
Looks like there's a challenge theme of some sort in there, don't you think? David Rae introduces himself …
"I hail from New South Wales in Australia and I first came across Zentangles in April while looking through some art books for sale and noticed that the Zentangle books were disappearing very quickly. I managed to buy the last one and was soon addicted to this intriguing art form. I am interested in many different forms of art including watercolour and mixed media. This pattern has no particular inspiration but just came from playing with different shapes."
David's Sproxy tangle uses the grid seed concept to get started and there are many interesting ways to vary the basic tangle pattern.
Here is David's illustration of the steps for drawing Sproxy and a monotangle featuring his tangle and some of his suggested variations.
Here are two of David's beautiful Zentangles featuring Sproxy.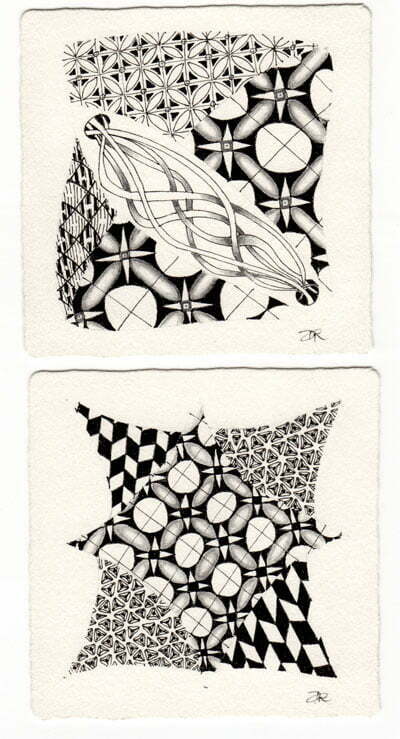 Check out the tag davidr for more of David's patterns on TanglePatterns.com.
---
eBooks available from TanglePatterns.com
TanglePatterns.com TANGLE GUIDE, 2014 Edition

The current Edition of my TANGLE GUIDE. This eBook contains all the tangles on the site from May 2010 through December 31, 2013.
Visit the BOOK REVIEWS page for more information on the new features and to see a sample page.
Visit the STORE > E-BOOKS page for more information on this and the TanglePatterns.com BEGINNER'S GUIDE to Zentangle® (also available in Français and Español) and support TanglePatterns.com by getting your copy now.
---
You might also like: