Ohio tangler Sue Olsen created the C-scape tangle pattern and it's her first on the site. "I have been in love with Zentangle® since I heard about it 3 years ago," she writes. Sue will be attending the CZT® seminar in September. (If you are interested in learning about becoming a CZT, visit the ZENTANGLES > TEACHING ZENTANGLE tab on the top menu bar.)
C-scape "starts by drawing a line of cursive c's and when it's finished resembles a wave. It is simply straight lines and curved lines, very easy to do. It also lends itself well to variations and one can add their own personal style to it. It works well with other tangles and can be used as a border. As always shading really brings out a wonderful 3-D effect."
"I live in Ohio (just west of Cleveland) with my husband Jim, 2 grown children, 1 cat, 1 dog, and a grandbaby on the way. I earned a Bachelor of Fine Arts degree from Bowling Green State University, am a member of the Lorain Arts Council, and a member of the Yahoo Group Zentangle Inspired Art. I am a semi-retired cake decorator and was introduced to Zentangle by a friend back in 2009.  I was hooked!! The Zentangle experience is quite unique and I love the fact that anyone can take part in this unique experience. I'm excited to be able to go Providence RI to learn for Rick and Maria and earn my CZT. And I look forward to sharing Zentangle with as many people as possible. I hope you like c-scape.  It's easy and fun and the variations are as wide as your imagination. Just remember to relax, have fun and create!!!"
I chose a simple border-style version with wee embellishments for my example of C-scape. With Sue's instructions below, she shows several variations and a completed Zentangle-inspired piece featuring C-scape "in action".
Variations: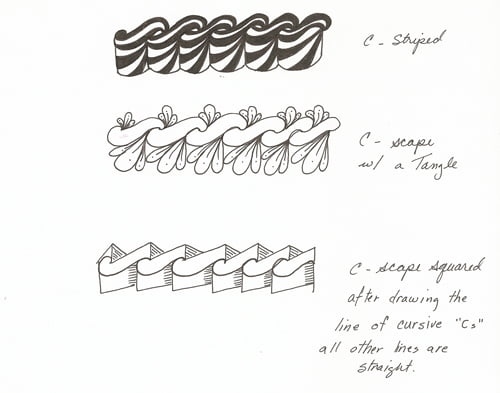 Zentangle-inspired drawing featuring C-scape: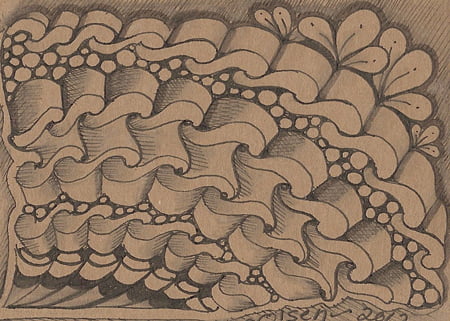 Thanks for sharing your tangle, Sue!
Check out the tag sueo for more of Sue's patterns on TanglePatterns.com.
---
eBooks available from TanglePatterns.com
TanglePatterns.com TANGLE GUIDE, 2014 Edition

The current Edition of my TANGLE GUIDE. This eBook contains all the tangles on the site from May 2010 through December 31, 2013.
Visit the BOOK REVIEWS page for more information on the new features and to see a sample page.
Visit the STORE > E-BOOKS page for more information on this and the TanglePatterns.com BEGINNER'S GUIDE to Zentangle® (also available in Français and Español) and support TanglePatterns.com by getting your copy now.
---
You might also like: