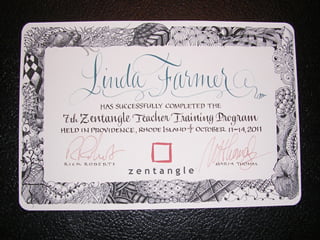 The Zentangle Method™ is taught by Certified Zentangle Teachers (CZTs) who have graduated from the certification seminar taught by founders Rick Roberts and Maria Thomas.
This four day program is taught by the founders, Rick Roberts and Maria Thomas, along with their daughters Martha Huggins and Molly Hollibaugh. They provide a comprehensive understanding of the philosophies behind the Zentangle Method of drawing and how to teach it. After seminar you have the understanding, tools and inspiration necessary to teach the Zentangle Method and convey the full Zentangle experience to others.
All USA certification seminars are held in Providence, Rhode Island (see the "I can't afford to come to Providence, RI" note below).
People from all over the world come to Providence to attend the training seminar.
CZT-Asia: Seminars are taught in Mandarin and are held in Taipei, Taiwan and in Shanghai, China. For current CZT-Asia training seminars, visit this page.
CZT-Europe: Seminars are taught in German with a simultaneous English translation available for all who need it. Additional languages are planned – the CZT-Europe seminars are meant for all of Europe! Seminars are held in Frankfurt, Germany. For more information, visit this page.
The USA English-speaking Certified Zentangle Teacher training seminars take place at the Graduate Providence (formerly the Providence Biltmore) in Providence, RI.
All seminars begin with a Sunday afternoon class and finish Wednesday around 5:00 pm so plan your travel accordingly. You need to attend all sessions to be certified.
Certification seminars for 2020 (Click dates to go to registration information page):
Each seminar link will take you to its respective registration page on the Zentangle.events website and give you much more detailed information. There you can choose whether you wish to be a day student, share a room with another student or have a private room.
The seminars fill up very quickly, so be sure to register ASAP to ensure you get a spot. "Please do not make plane or other reservations until your registration is completed with us."
Tuition includes

All supplies needed for seminar
All meals and snacks starting with dinner on Sunday and ending with celebratory snacks on Wednesday afternoon.
All taxes and gratuities

In other words, everything you need is included, except parking.
---
When you register you can choose to have a private room, share a room with another student or be a day student. If you choose a lodging option, the price includes 3 nights accommodations: Sunday, Monday and Tuesday nights. Additional days are available at a reduced rate.
Private Room Student
Includes training, meals, coffee breaks and snacks, all necessary supplies and three nights (Sunday, Monday and Tuesday) private lodging. $2.395.
Share Room Student
Includes training, meals, coffee breaks and snacks, all necessary supplies and three nights (Sunday, Monday and Tuesday) shared lodging. $2,125.
Day Student (No Lodging)
Includes training, meals, coffee breaks and snacks, and all necessary supplies. $1,850.
When you register online, you will only pay a non-refundable registration fee. The balance will be invoiced in a follow-up email. Payment plans are available on request.
If you have any questions, please email: martha@zentangle.com
---
"Important events occur at CZT seminars that can't be conveyed with words or online through video. …

Often people see Zentangle's simplicity and assume it is easy to teach. However there is so much more to our Zentangle teaching method than the many cool tangles we and others share for free. There are reasons and techniques and philosophies and principles for everything that we do. Once you learn these you can then really serve your students well and be able to answer their questions and concerns. …

We created our CZT training program so you could understand the basics and depth of Zentangle and so you could convey the full Zentangle experience to others".
This is from the FAQ page on zentangle.com:
I can't afford to come to Providence, RI. Can you give a CZT seminar in _________ ?

"We work diligently to keep our CZT seminars as inexpensive as possible, while providing the venue and materials necessary to have a wonderful experience. If we** were to travel more than a short driving distance from our home base our costs would go up significantly. It would end up costing attendees much more than if they had flown to Providence. If we would teach a seminar in say, California, the tuition would have to be many times what it is now, certainly more than it would cost someone to come to Providence from California."
**Linda's note: "we" includes all the Zentangle team members who handle the logistics of moving and setting up exhibits, supplies and teaching materials as well as administering the seminar. This staff is in addition to Rick and Maria and Molly and Martha, the teachers. As you might imagine, running a seminar of the scope and nature of the CZT training involves much more than Rick and Maria and Molly and Martha simply turning up in another part of the country. Or the globe.
How to become a CZT®
To learn more about how to become a Certified Zentangle Teacher, please visit this page on Zentangle.com.
Find a class near you: Certified Zentangle Teachers
"We encourage you to take a class from a Certified Zentangle Teacher (CZT). It is a special experience. Everyone on the zentangle.events site has been personally taught by Rick and Maria. They understand what Zentangle is about and how to teach you."
Learn more on Zentangle.com
More questions? Learn about teaching, selling your Zentangle-inspired creations, and more by visiting the zentangle.com website.
.oOo.

Enhance your Zentangle experience while supporting TanglePatterns:

CURRENT EDITION!

TanglePatterns.com TANGLE GUIDE, 2023 Edition

The 12th Edition of the TanglePatterns.com TANGLE GUIDE is an instant-download 103-page (50 MB) interactive digital eBook/PDF containing almost 1,900 tangles on the site from May 2010 through December 31, 2022. It's a great resource and a must-have digital tool for using the site. Visit the STORE > E-BOOKS page and help keep TanglePatterns.com online by getting your copy now!

"Linda, Thank you! I was relying on too few and getting stuck after 3 years of daily working with Zentangle. This has inspired me to 'begin again' with renewed excitement." ~ Barbara R.

See the BOOK REVIEWS page for more details on its features and view a sample page. Note: this is a digital product you download immediately when you place your order, nothing will be physically mailed to you.
GIFT ORDERS FOR ANOTHER PERSON: To give the TANGLE GUIDE as a gift, visit this page to place your gift order.
If you're new to Zentangle® and tangling, my TanglePatterns.com BEGINNER'S GUIDE TO ZENTANGLE is just what you need to get started. Also available en Français and en Español.

---

This is the only Zentangle book you'll ever need: the fabulous Zentangle PRIMER Vol 1. It's your CZT-in-a-book by the founders of Zentangle®. Visit the STORE tab on the top menu bar or click on the image. For more about the content and to read the rave reviews, visit the BOOK REVIEWS tab.
NEW! Now available in KINDLE format for $9.99. Spanish Edition here. Japanese Edition here.
"Absolutely the best Zentangle Book yet! As an accomplished artist I used to think I did not need instruction on this art form. How wrong I was! My tangling improved by leaps and bounds after reading this book. If you think you have Zentangle down then you need this book more than ever!" ~ Kris H

---

.oOo.