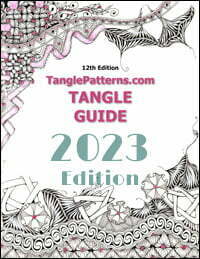 Each year around the second week of January I publish my updated, interactive TANGLE GUIDE integrating all the previous year's new tangles and adding a new feature or two.
An announcement is made when the new edition is available so be sure to subscribe to receive your (free) email notice.

The 2023 edition of my TanglePatterns.com TANGLE GUIDE integrates all the tangles appearing on the site from May 2010 through December 31, 2022.
YAY! My favourite annual book release!!!! I love getting the new edition each year and have them on my iPad – makes for an easy time to get to the site, the tangles, and all the fantastic site features <3 So convenient!!

Thank you for publishing the TanglePatterns book – that's a lot of time, energy, hard work and commitment and it's very appreciated. ~ Jenn Brayton, CZT

.oOo.

Yet another package full of awesome from Linda Farmer, CZT. Run, do not walk, to get your TANGLE GUIDE, 2022 edition. Linda's high editorial standards and cover art by Michele Beauchamp, CZT, are "over the top". Show your financial support for the most comprehensive reference source IN THE WORLD for all things Zentangle. Get your copy of the guide today. ~ Linda Dochter, CZT
This TWELFTH annual edition of the TanglePatterns.com TANGLE GUIDE is a 103-page, 50 MB interactive eBook resource where the tangle images are hot-linked to their post on this site for the how-to instructions. See a tangle you want to learn (or refresh), simply click or tap the image and you're instantly transported to the instructions. (Hard copies of the GUIDE are not available, your license permits you to print one copy for your own personal use if desired.)
Visit the STORE > EBOOKS page on the top menu bar (or click the cover image) to get your copy.
You can print out the document for your personal use (NOTE: your personal license does not permit classroom copies). Many have spiral bound it for convenience. It is a complete interactive tool for using the website and learning how to draw the tangles. The TANGLE GUIDE includes a page listing all the new tangles added during the past year.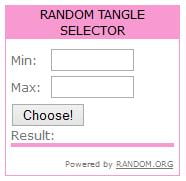 The TANGLE GUIDE features a section on how to get the most out of the site. Another feature is a section suggesting several different ways to use the TANGLE GUIDE to help you choose tangles. It includes instructions on how to use the RANDOM TANGLE SELECTOR in the left sidebar of the site just under my copyright notice — it looks like this screen capture on the right. BTW, you can use it to select Strings too.
Australian artist and CZT Michele Beauchamp continues to add her beautiful touch to the cover of each new edition. Michele selects many of the tangles that appeared on the site during the previous year and features them in her Zentangle-inspired cover art. Recent editions also include two bonus pages of Michele's delicate Zentangle-inspired artistry to introduce the tangles section of the Guide.
More new features!
Several extra features and articles make the TanglePatterns.com TANGLE GUIDE an indispensable aid to using the site. It's not only fantastic having a printed version to refer to, but where the Guide really shines is as a digital aid.
The GUIDE has some "awesome" features I think you'll find pretty handy.
On page 2 the "Guide Contents" directory has "Quick Links" so you can jump to any section of the GUIDE . Even better, on page 10 where "The Tangles" begin there's a "Quick Links" feature so you can jump immediately to any letter of the alphabet when you're looking for a particular tangle.
Also included is a "Zentangle Terminology" section so when you see an unfamiliar term you'll have this handy reference at your fingertips.
This edition also includes a page with links to all of my summaries of Zentangle's Project Pack series to date.
Each edition contains a reprint of CZT Sandy Hunter's excellent article, A post with no pictures. Sandy has graciously given me permission to include her article "in perpetuity" 🙂
You will receive a single-user license file for your own exclusive non-commercial personal use. Encourage your tangling friends to support the site as you have, and they will receive their own copy.
Your purchase helps offset a fraction of what it takes to maintain and grow this Zentangle® resource and is greatly appreciated. Without your financial support, TanglePatterns simply could not continue to be available.
1. "How do I get a copy?"
Visit the STORE > EBOOKS page for details. There are more eBook GUIDES available too.
Your single-user license file is for your own exclusive personal use. Sharing in any form including making classroom copies violates your license, please see the Condition of Use on the EBOOKS page. I trust your integrity to encourage your tangling friends to support the site as you have, and they will receive their own copy.
2. "When will I receive the TANGLE GUIDE?"
Immediately. It's a digital download, there is no print edition but you can print your own handy copy. The TanglePatterns.com TANGLE GUIDE is available from the link on the STORE > EBOOKS page.
The entire download process is automated — when your transaction is successfully completed your browser will be redirected to another page containing your personalized secure download link. Be sure to SAVE the document to your computer before you attempt to open it!
If your browser fails to open another page, your secure download link is also sent to the email address you used in PayPal. If you use the email address of a "significant other" remember to let them know you are expecting a confirming email so they don't accidentally delete it.
Be sure to download your copy as soon as your transaction is completed because your personalized link expires after 5 days (120 hours).
The files are large, for best results download to your desktop computer. And to avoid overloading your printer's memory, print just a few pages at a time.
3. "Does the eBook contain tangle instructions?"
No, and for very good reasons.
There will never be a "how to draw" compilation of the steps because each tangle creator owns the copyright to their instructions and illustrations. Publishing by anyone else is copyright infringement. It is also unethical. It amounts to stealing their ideas, their images and their hard-earned website traffic. It's known as digital theft. For more thoughts on this, please click on the "Artists For Respect" logo in the left sidebar.
That is why I link to the tangle originator's site and don't publish the instructions on TanglePatterns unless they have been sent to me for that purpose. And the tangle originator still owns the images, so I can't legally publish them in another form.
You may download steps and images for your own personal reference, however any other use especially commercial use including reproduction (ie. publishing your own version of their steps) or publishing in any form — and yes, this includes pinning on public boards — without the owner's express written permission, is illegal.
As noted above, the TanglePatterns.com TANGLE GUIDE is an interactive resource where the tangle images are hot-linked to their post on this site for the how-to instructions.
Keep your file in a safe place
Keep a backup of your PDF on a thumb drive for safe keeping. Due to the alarming frequency of requests to replace lost files and the personal time involved in handling these requests, lost files will not be replaced free. Paraphrasing the late Canadian artist Robert Genn, I'd love to do it, but I'd need an extra week tacked onto every day.  A replacement can be ordered and downloaded from the STORE > EBOOKS page.
Feedback on the 2013 Edition
"Thank you so much for the 2013 Guide.  It is even more fabulous than last years Guide.  Also, thank you for all of the time and effort that you put into doing all of this plus making it available to anyone and everyone that is interested in this wonderful art form." – Rosanne T
"I must say this years copy is so beautiful. Thanks again! " – Denise K
"Bravo!  As a computer expert 'wana-be' I can really appreciate the amount of work and organization this document takes." Bette A.
"Well worth the small fee. Thank you." – Susan P.
"Thank you for sharing your love of the art of Zentangle. Your 2013 Guide is done to perfection." – Ellie S.
"I tote my copy of Tangle Patterns to every class and show it off (mine is nicely laminated and bound) and encourage my students to get their own. You provide SUCH a wonderful service for Zentangle afficionados." – Barb R.
"I just got my new 2013 Tangle Pattern Book!  It's awesome just as I expected!" – Lena R.
"I'll be looking forward to your next support renewal invite but meanwhile – I LOVE 2013!!!    NICE WORK!  AND THANK YOU FOR ALL YOU DO FOR US!!!!!" – Sherri L.
Now available! TanglePatterns.com BEGINNER'S GUIDE to Zentangle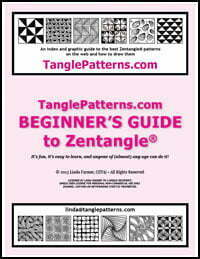 A jump-start for beginners. This illustrated 14-page eBook for beginners describes Zentangle®, its origins, the supplies recommended, and the steps of the Zentangle Method. It contains over a dozen examples of official tangles that are good for Beginners, and an interactive list of additional free learning resources. If you don't have a CZT near you, this explains everything you need to know to get started with Zentangle.
Available now from the STORE > E-BOOKS page. Your purchase of this eBook from TanglePatterns.com helps support the sustainability of this freely available Zentangle® resource.
.oOo.

Enhance your Zentangle experience while supporting TanglePatterns:

CURRENT EDITION!

TanglePatterns.com TANGLE GUIDE, 2023 Edition

The 12th Edition of the TanglePatterns.com TANGLE GUIDE is an instant-download 103-page (50 MB) interactive digital eBook/PDF containing almost 1,900 tangles on the site from May 2010 through December 31, 2022. It's a great resource and a must-have digital tool for using the site. Visit the STORE > E-BOOKS page and help keep TanglePatterns.com online by getting your copy now!

"Linda, Thank you! I was relying on too few and getting stuck after 3 years of daily working with Zentangle. This has inspired me to 'begin again' with renewed excitement." ~ Barbara R.

See the BOOK REVIEWS page for more details on its features and view a sample page. Note: this is a digital product you download immediately when you place your order, nothing will be physically mailed to you.
GIFT ORDERS FOR ANOTHER PERSON: To give the TANGLE GUIDE as a gift, visit this page to place your gift order.
If you're new to Zentangle® and tangling, my TanglePatterns.com BEGINNER'S GUIDE TO ZENTANGLE is just what you need to get started. Also available en Français and en Español.

---

This is the only Zentangle book you'll ever need: the fabulous Zentangle PRIMER Vol 1. It's your CZT-in-a-book by the founders of Zentangle®. Visit the STORE tab on the top menu bar or click on the image. For more about the content and to read the rave reviews, visit the BOOK REVIEWS tab.
NEW! Now available in KINDLE format for $9.99. Spanish Edition here. Japanese Edition here.
"Absolutely the best Zentangle Book yet! As an accomplished artist I used to think I did not need instruction on this art form. How wrong I was! My tangling improved by leaps and bounds after reading this book. If you think you have Zentangle down then you need this book more than ever!" ~ Kris H

---

.oOo.
Save