Greetings y'all. Happy weekend to ya.
Today's fun (and easy!) woven-style Cuenc tangle is from Spanish CZT Carmen Menchón, it's her third tangle on the site.
Carmen writes,
Recently we went on a trip to Cuenca's abstract art museum. It is in one of the famous 16th-century "hanging houses" and preserves some original moldings, ceilings, and frescoes.
I wasn't familiar with Cuenca, Spain or its hanging houses so naturally I was compelled to check them out. There are many photos of them in Google Images, the houses are perched precariously on the edges of mountain cliffs as this photo from Wikipedia shows us: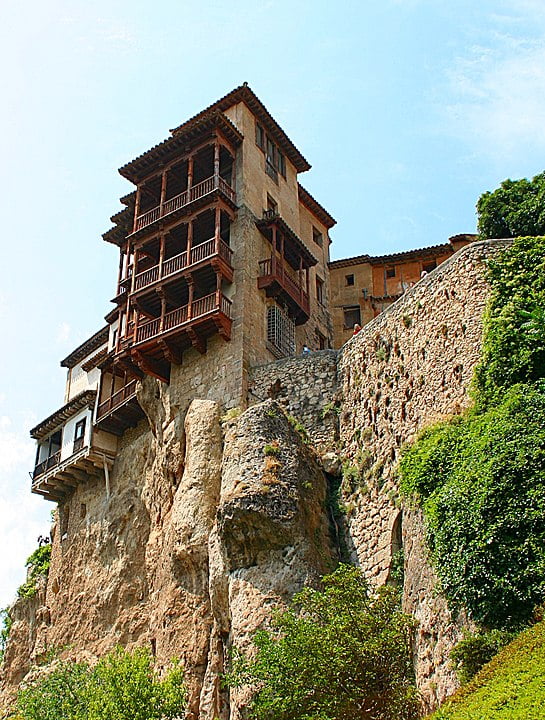 As Wikipedia explains:
The Casas Colgadas (Hung Houses) is a complex of houses located in Cuenca, Spain. In the past, houses of this kind were frequent along the eastern border of the ancient city, located near the ravine of the river Huécar. Today, however, there are only a few of them remaining. Of all of these structures, the most well-known is a group of three with wooden balconies.
Their origin remains uncertain, though there is proof of their existence in the 15th century. Throughout their history they have been refurbished several times. The most recent took place during the 1920s.
They have been used as individual homes, council houses, and in the past hosted a mesón, a type of restaurant, and the Museo de Arte Abstracto Español (Spanish Abstract Art Museum), in Cuenca.
Carmen tells us more about her tangle:
Based on one of those old moldings, I have deconstructed "Cuenc".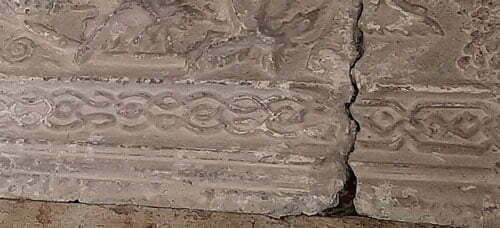 It requires a bit of concentration and placing the "parentheses" in its place under the "rice shapes" so that when we extend them they come together elegantly. Once you get that it's not so hard to get the rest of it.
I found Cuenc surprisingly easy to get the hang of 😉 It's a cool deconstruction by Carmen, I hope you enjoy it too …
Carmen illustrates the step-by-step instructions for drawing Cuenc below. She includes three beautiful tiles featuring Cuenc with the Zentangle®-originals Stiritup, Arukas, and Diva Dance.
As you enjoy any of the tangles on the site, please leave a comment of thanks and encouragement to show the artists you appreciate them for sharing their creativity to inspire yours. Your thanks helps motivate them to continue to share! And please share a link to your favorite tangles on social media. Thanks!
Check out the tag carmenn for more of Carmen's tangles on TanglePatterns.com.
Related Links
Looking for tangles by Artist or Type? For details visit the ABOUT > HOW TO FIND TANGLES BY ARTIST OR TYPE page on the top menu bar of any page on the site.
What is a Zentangle? — if you are new to the Zentangle Method, start here for the fundamentals.
Zentangle terminology — a glossary of terms used in this art form.
How to use the site — an excellent free video tutorial showing how to use the site as well as pointing out lots of useful features you might have missed.
Linda's List of Zentangle-Original Patterns — here is the complete list of original tangles (aka "official tangles") created and introduced by founders Rick Roberts and Maria Thomas, including those not published online. If you are new to the Zentangle Method I highly recommend learning a few of the published Zentangle classics first.
"A Zentangle has no up or down and is not a picture of something, so you have no worries about whether you can draw a hand, or a duck. You always succeed in creating a Zentangle." Thus patterns that are drawings of a recognizable naturalistic or actual object, figure, or scene, are not tangles. A pattern is not always a tangle — here's what makes a tangle. TIP: tangles never start with pencil planning.
For lots of great FREE tutorials on TanglePatterns, click on the TUTORIALS link in the pink alphabetic menu bar below the tangle images at the top of any page.
Strings! Have we got STRINGS! Click on the STRINGS link in the pink alphabetic menu bar below the tangle images at the top of any page for 250 different (free) Zentangle-starters. More than enough for any lifetime!
Never miss a tangle! FREE eMAIL NEWSLETTER - visit the SUBSCRIBE page on the top menu bar of any page on the site and sign up to get notices delivered free to your inbox.
.oOo.

Enhance your Zentangle experience while supporting TanglePatterns:

CURRENT EDITION!

TanglePatterns.com TANGLE GUIDE, 2023 Edition

The 12th Edition of the TanglePatterns.com TANGLE GUIDE is an instant-download 103-page (50 MB) interactive digital eBook/PDF containing almost 1,900 tangles on the site from May 2010 through December 31, 2022. It's a great resource and a must-have digital tool for using the site. Visit the STORE > E-BOOKS page and help keep TanglePatterns.com online by getting your copy now!

"Linda, Thank you! I was relying on too few and getting stuck after 3 years of daily working with Zentangle. This has inspired me to 'begin again' with renewed excitement." ~ Barbara R.

See the BOOK REVIEWS page for more details on its features and view a sample page. Note: this is a digital product you download immediately when you place your order, nothing will be physically mailed to you.
GIFT ORDERS FOR ANOTHER PERSON: To give the TANGLE GUIDE as a gift, visit this page to place your gift order.
If you're new to Zentangle® and tangling, my TanglePatterns.com BEGINNER'S GUIDE TO ZENTANGLE is just what you need to get started. Also available en Français and en Español.

---

This is the only Zentangle book you'll ever need: the fabulous Zentangle PRIMER Vol 1. It's your CZT-in-a-book by the founders of Zentangle®. Visit the STORE tab on the top menu bar or click on the image. For more about the content and to read the rave reviews, visit the BOOK REVIEWS tab.
NEW! Now available in KINDLE format for $9.99. Spanish Edition here. Japanese Edition here.
"Absolutely the best Zentangle Book yet! As an accomplished artist I used to think I did not need instruction on this art form. How wrong I was! My tangling improved by leaps and bounds after reading this book. If you think you have Zentangle down then you need this book more than ever!" ~ Kris H

---

.oOo.