Hello again friends, welcome to Wednesday's tangle …
Today's Bali Breezeway comes to us from Australian tangler Karen Bentley and it's her first on the site.
Karen introduces herself and shares the inspiration for Bali Breezeway:
I am a long time Australian tangler and former student of CZT Michele Beauchamp.
I am not a CZT but have been tangling since 2012 … A few years ago I created Bali Breezeway but for one reason or another I have not gotten around to submitting it.
I was on holidays in Bali and tangling was my main form of relaxation.
The pattern is inspired by a breezeway brick that was in the hotel we visited.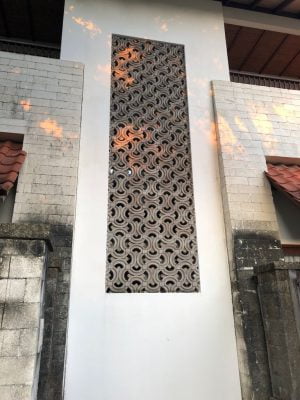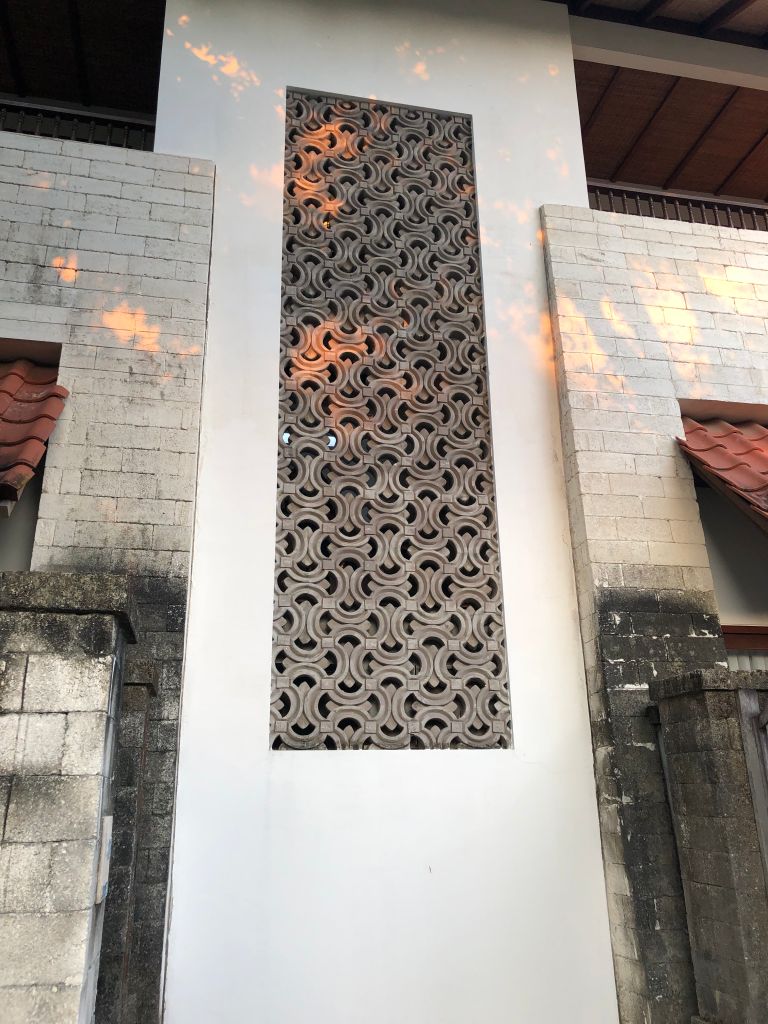 Karen's Bali Breezeway takes me back to one of the early tangles from 2010 on the site, Warped Eggs by Livia Chua, who wrote at the time,
Livia is from Southeast Asia, and believes one eventually acquires a slightly warped sense of humor from living on a tiny island that is just a single degree north of the Equator, since it's always hot enough to fry your brains.
It's been a long time since I've heard from Livia and I miss her kooky sense of humor and her unique style, fortunately we can all still enjoy her creativity by checking out all 14 of her fun and whimsical tangles on the site.
Bali Breezeway creates similar shapes to Warped Eggs but in a different way and it's possible to vary it many ways with shading and solid patterns of ink.
Karen illustrates the step-by-step instructions for drawing Bali Breezeway here on her blog where she shares a lovely photo montage of her vacation in Bali and this cool ATC monotangle featuring Bali Breezeway.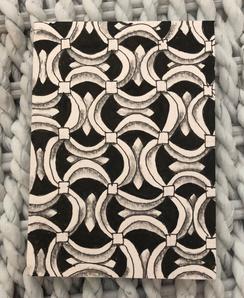 What is an ATC?
From Wikipedia:
Artist trading cards (ATCs) is a conceptual art project initiated by the Swiss artist M. Vänçi Stirnemann in 1997. He called it a Collaborative Cultural Performance.
Artist trading cards are 2+1/2 by 3+1/2 inches (64 mm × 89 mm) in size, the same format as modern trading cards (hockey cards or baseball cards). They are self-made unique works or small series, signed and dated on the reverse by the artist/producer, exchanged and collected by the people who participate in the collaboration.
In 1996, Stirnemann began making small artworks the size of commercial trading cards. An exhibition of 1200 of Stirnemann's cards ran at his second-hand bookshop and gallery INK.art&text in Zurich, Switzerland between 23 April and 31 May 1997. The exhibition ended with a trading session.
The ATC project was intended to allow people from different backgrounds to participate in an ongoing art project, which was not part of the art market. Selling or buying ATCs clearly contradicts the initial idea. Instead, people would meet at trading sessions and exchange their art work in a democratic face to face situation. Anybody can participate in the project and all techniques are allowed.
ATCs are produced in various media, including dry media (pencils, pens, markers, etc.), wet media (watercolor, acrylic paints, etc.), paper media (in the form of collage, papercuts, found objects, etc.), or even metals, fiber, wax and other materials.
A few weeks after the first ATC exhibition and trading session in Zurich, the Canadian artist Don Mabie adopted the idea and showed artist trading cards at the Alberta College of Art and Design in Calgary, Alberta, Canada. In September 1997, a trading session was organized at the New Gallery in Calgary.
Today, there are regular trading sessions in more than 30 cities in Europe, Canada, the US and Australia. The Zurich and Calgary trading sessions are still held on a monthly basis.
If you're curious to learn more, I suggest Googling "artist trading cards" and selecting the "Images" page linked at the top. Anything goes and there's some pretty amazing art in a very doable size …
As you enjoy any of the tangles on the site, please leave a comment of thanks and encouragement to show the artists you appreciate them for sharing their creativity to inspire yours. Your thanks helps motivate them to continue to share! And please share a link to your favorite tangles on social media. Thanks!
Check out the tag karenb2 for more of Karen's tangles on TanglePatterns.com.
.oOo.
Guidelines for creating Zentangle®-inspired art and products
Thinking about creating Zentangle-related products for sale? Please see these pages:
You'll find all sorts of great tips and useful information by visiting the TUTORIALS tab on the pink alphabetic tangle index menu bar.
It's all there!
.oOo.
Related Links
Looking for tangles by Artist or Type? For details visit the ABOUT > HOW TO FIND TANGLES BY ARTIST OR TYPE page on the top menu bar of any page on the site.
What is a Zentangle? — if you are new to the Zentangle Method, start here for the fundamentals.
Zentangle terminology — a glossary of terms used in this art form.
How to use the site — an excellent free video tutorial showing how to use the site as well as pointing out lots of useful features you might have missed.
Linda's List of Zentangle-Original Patterns — here is the complete list of original tangles (aka "official tangles") created and introduced by founders Rick Roberts and Maria Thomas, including those not published online. If you are new to the Zentangle Method I highly recommend learning a few of the published Zentangle classics first.
"A Zentangle has no up or down and is not a picture of something, so you have no worries about whether you can draw a hand, or a duck. You always succeed in creating a Zentangle." Thus patterns that are drawings of a recognizable naturalistic or actual object, figure, or scene, are not tangles. A pattern is not always a tangle — here's what makes a tangle. TIP: tangles never start with pencil planning.
For lots of great FREE tutorials on TanglePatterns, click on the TUTORIALS link in the pink alphabetic menu bar below the tangle images at the top of any page.
Strings! Have we got STRINGS! Click on the STRINGS link in the pink alphabetic menu bar below the tangle images at the top of any page for 250 different (free) Zentangle-starters. More than enough for any lifetime!
Never miss a tangle! FREE eMAIL NEWSLETTER - visit the SUBSCRIBE page on the top menu bar of any page on the site and sign up to get notices delivered free to your inbox.
.oOo.

Enhance your Zentangle experience while supporting TanglePatterns:

CURRENT EDITION!

TanglePatterns.com TANGLE GUIDE, 2023 Edition

The 12th Edition of the TanglePatterns.com TANGLE GUIDE is an instant-download 103-page (50 MB) interactive digital eBook/PDF containing almost 1,900 tangles on the site from May 2010 through December 31, 2022. It's a great resource and a must-have digital tool for using the site. Visit the STORE > E-BOOKS page and help keep TanglePatterns.com online by getting your copy now!

"Linda, Thank you! I was relying on too few and getting stuck after 3 years of daily working with Zentangle. This has inspired me to 'begin again' with renewed excitement." ~ Barbara R.

See the BOOK REVIEWS page for more details on its features and view a sample page. Note: this is a digital product you download immediately when you place your order, nothing will be physically mailed to you.
GIFT ORDERS FOR ANOTHER PERSON: To give the TANGLE GUIDE as a gift, visit this page to place your gift order.
If you're new to Zentangle® and tangling, my TanglePatterns.com BEGINNER'S GUIDE TO ZENTANGLE is just what you need to get started. Also available en Français and en Español.

---

This is the only Zentangle book you'll ever need: the fabulous Zentangle PRIMER Vol 1. It's your CZT-in-a-book by the founders of Zentangle®. Visit the STORE tab on the top menu bar or click on the image. For more about the content and to read the rave reviews, visit the BOOK REVIEWS tab.
NEW! Now available in KINDLE format for $9.99. Spanish Edition here. Japanese Edition here.
"Absolutely the best Zentangle Book yet! As an accomplished artist I used to think I did not need instruction on this art form. How wrong I was! My tangling improved by leaps and bounds after reading this book. If you think you have Zentangle down then you need this book more than ever!" ~ Kris H

---

.oOo.