Well, it has been quite the year and here we are with our final tangle for 2021!
What a wonderful collection (inspiration!) of tangles we've enjoyed and explored, all due to the generous tanglers in our community who've shared their creativity and inspired us. We thank them each and every one 🙂
Heba is another sweet ribbon-style tangle that's easy to do and looks great in festive colors as well as striking in black and white with shades of gray.
Heba is from German CZT Nadine Roller and it's her eighth tangle on the site.
Nadine writes,
I deconstructed Heba, developed from the Christmas mail of my house printer Hemmersbach.
It's a very simple, cheerful pattern that I really enjoy tangling.
It is perfect for decorating Christmas mail with beautiful borders. I really like this cheerful combination of leaves and baubles!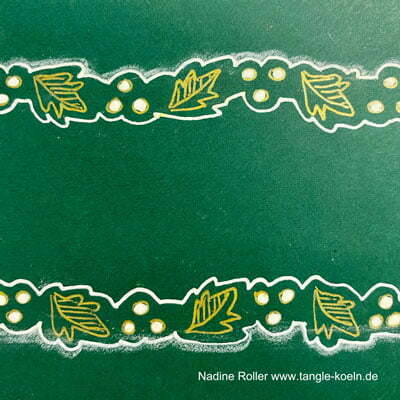 Nadine illustrates the step-by-step instructions for drawing Heba here on her blog where she includes several different pretty tiles showing various ways to use Heba.
As you enjoy any of the tangles on the site, please leave a comment of thanks and encouragement to show the artists you appreciate them for sharing their creativity to inspire yours. Your thanks helps motivate them to continue to share! And please share a link to your favorite tangles on social media. Thanks!
Check out the tag nadiner for more of Nadine's tangles on TanglePatterns.com.
My very best wishes for a beautiful holiday season!
I will be back in your inboxes tomorrow with my detailed (step-by-step!) Project Pack #16 Summary of the Twelve Days of Zentangle, 2021 Edition – Keeping Score.
In the meantime over the next two weeks I'll be working on the NEW 2022 Edition of my TanglePatterns.com TANGLE GUIDE and my goal is to have it ready around January 10th. I will definitely let you know when it's ready!
Until then, may the true meaning of these holidays fill your heart with many blessings.
I wish you and your family the most wonderful of holidays and my very best wishes too for a Zen-ful 2022.
With much love and grateful appreciation,
Linda xx
Merry Christmas and a Very Happy New Year