Today, tucked in between May Day and Cinco de Mayo celebrations, TanglePatterns.com celebrates ELEVEN wonderful years of sharing Zentangle® learning, creativity, fun and inspiration with you.
Eleven years ago today, on May 4th, 2010, I began this website with the post "Hello Zentangle® Zealots!" Little did I know what wonderful creative places this would take us all.
And here we are together over a decade later and still going strong.
In this time — 575 weeks! — we've enjoyed hundreds and hundreds and hundreds of great tangles, dozens and dozens of wonderful tutorials, tons of creative inspiration, the world of tanglers sharing their expertise and experience and their heartfelt stories. Friendships have been made around the globe. What an amazing community!
Thanks so much to each and every one of you who help keep TanglePatterns going. Thanks too for your treasured notes, cards, letters, emails, and kind words of encouragement. I couldn't have continued doing this for so long this without your love and support.
A world of thanks to Rick and Maria for the beautiful gift of Zentangle. And bountiful gratitude to all the wonderful members of the Zentangle community around the globe for sharing their tangles and creativity with us all.
Many thanks for allowing me the honor and the pleasure of keeping your Zentangle passion fueled with TanglePatterns.com.
I look forward with excitement to our continuing adventure — and May the 4th be with you!  🙂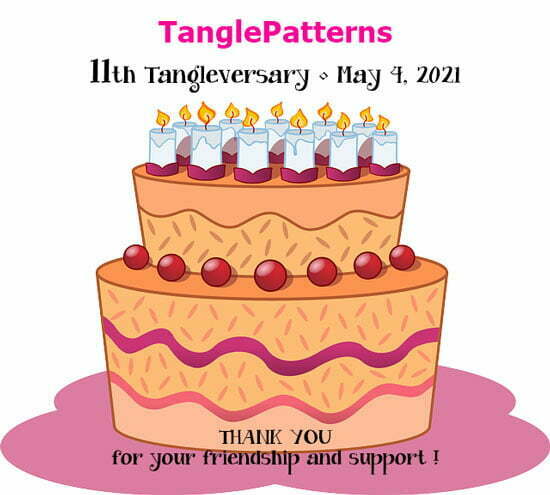 Digital cake's on me!
.oOo.