It's the weekend!
And it's a long holiday weekend for our friends and rellies north of the border as Canadians celebrate Victoria Day. I think the meaning has pretty much been lost to the general population in the mists of time but there's no doubt it's the official launch of summer festivities. For us in the USA, our long Memorial Day weekend is next weekend — the very last day of the month this year. Ladies and gentlemen, start your grills …
For this weekend's homework we have Ganada, a cool tangle that looks a little challenging but I think you'll be quite surprised at how relatively easy it is to tangle with a few repetitive strokes.
Ganada is from Korean CZT James Lim and he has gone to a great deal of effort to provide background on his tangle so let's get to it:
It's a long story, but I want to share my appreciation with you about the journey from the rise of inspiration to completing the tangle.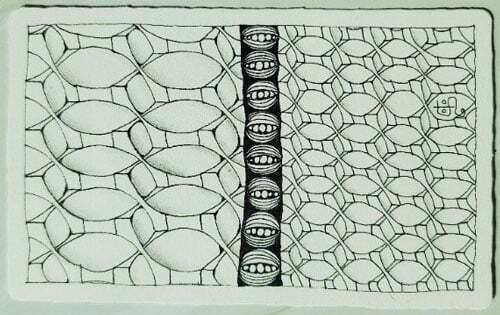 This tangle is inspired by the pattern of windows and doors called Salchang (the lattice window of traditional Korean houses).
Salchang is a traditional Korean window and door made of thin woven wood with traditional Korean paper pasted on it. The wooden lattice is mainly made from the pine tree, and various patterns come out depending on how they are laid out.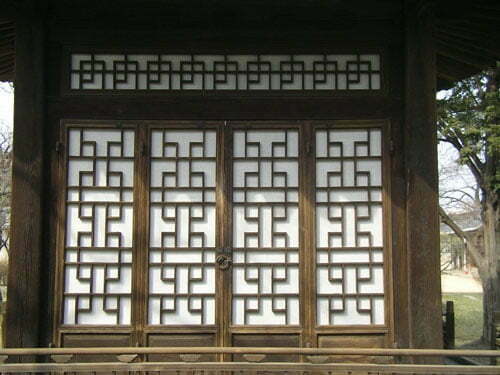 I always thought that the pattern of traditional Korean windows and doors was great, and from a few years ago, I wanted to make a tangle with this pattern of the Salchang.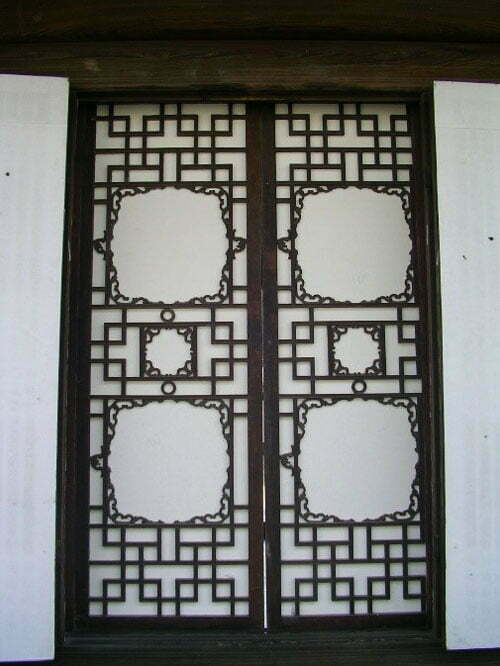 I repeated my research whenever I had time. But when I drew it, I realized that I was just portraying the actual Salchang patterns. It wasn't easy to deconstruct it into a tangle. However, I always kept the pattern of the Salchang in my heart.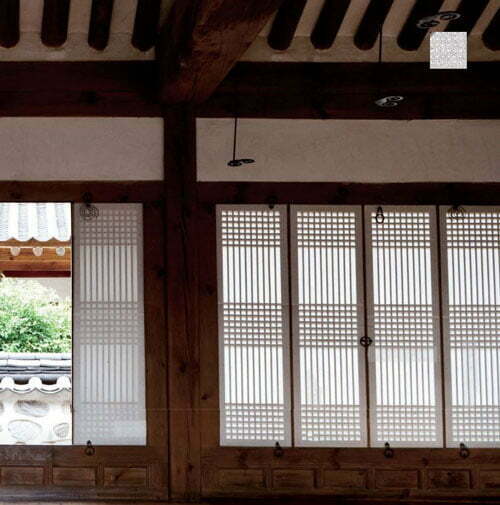 But a few days ago, the words of Rick and Maria suddenly came to my mind, shaking my head. "If you can write your name, you can do the Zentangle method!"
"If you can write your name… !"
Suddenly, at that very point, it seemed like the stagnant creativity found its way to an eruption. One part of my head that was thinking about the pattern of Salchang and the other part that remembered Zentangle philosophy were connected at some point, and the light was shining.
If you can write your name… !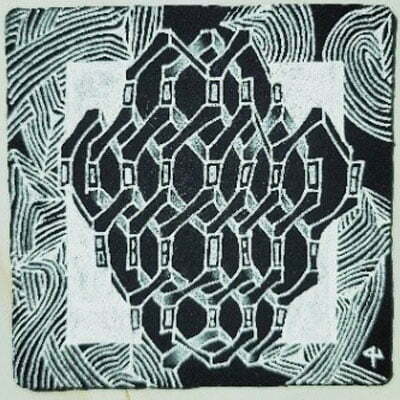 [Linda's note: the site's software isn't equipped to display the characters of the Korean alphabet so I've had to remove them. In his explanation below James refers to the first two letters in the column on the left of the chart below as the shape of the strokes for Ganada. These will become apparent to you in Step 1.]
When you learn the Korean alphabet, Hangul, you learn "(giyeok)" and "(nieun)" first. These can be said to be "A" and "B" in the English alphabet. The inspiration from the traditional windows was amplified by Zentangle philosophy, reminding me of "(giyeok)" and "(nieun)".
When my thoughts reached even the C-curve that connects the two letters, the pattern quickly deconstructed.
The traditional window pattern that has been hovering around for few years was born into a new tangle, consisting of only "(giyeok)" and "(nieun)" and C curves, in just a few hours.
It was a fantastic experience where inspiration, creativity, passion, and understanding of the Zentangle philosophy were not independently separated from each other but influenced each other and melted together into one new creation in an instant.
The Zentangle Method makes our lives comfortable and happy and constantly stimulates creativity. In particular, this experience was a moment when I felt the meaning of creativity that Rick and Maria have always spoken of, and it was a very happy and thrilling moment.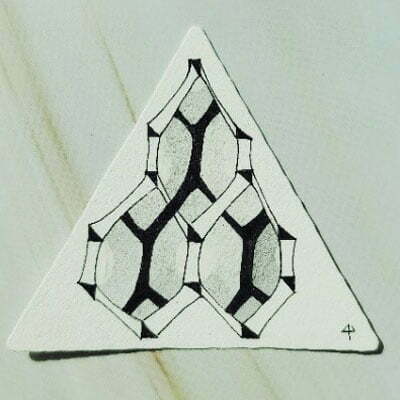 The name of the new tangle is "Ganada".
Ganada is a word with a vowel (a) added to the Hangul consonants "(giyeok)" and "(nieun)". It is the first word to follow when learning Hangeul, like the English "ABC". It also contains the meaning that the Zentangle method is easy to learn.
I particularly like this tangle because the simple strokes are repeated, it is difficult to understand how it was drawn after it is finished, and it can be transformed into various shapes.
What an interesting peek into Korean heritage and its alphabet. Thanks so much for your hard work and your Zentangle passion, James.
I mentioned above that I think you'll be surprised at how relatively easy Ganada is to tangle. My only tip would be to envision the "(giyeok)" and "(nieun)" strokes of Step 1 as top right and bottom left corners of an imaginary rectangle. That helped me to keep them aligned for the rest of the steps.
James illustrates the step-by-step instructions for drawing Ganada below.
As you enjoy any of the tangles on the site, please leave a comment of thanks and encouragement to show the artists you appreciate them for sharing their creativity to inspire yours. Your thanks helps motivate them to continue to share! And please share a link to your favorite tangles on social media. Thanks!
UPDATE August 10, 2021: Rick and Maria have also posted James's tangle here on their blog.
Check out the tag jamesl for more of James's tangles on TanglePatterns.com.
Related Links
Looking for tangles by Artist or Type? For details visit the ABOUT > HOW TO FIND TANGLES BY ARTIST OR TYPE page on the top menu bar of any page on the site.
What is a Zentangle? — if you are new to the Zentangle Method, start here for the fundamentals.
Zentangle terminology — a glossary of terms used in this art form.
Linda's List of Zentangle-Original Patterns — here is the complete list of original tangles (aka "official tangles") created and introduced by founders Rick Roberts and Maria Thomas, including those not published online. If you are new to the Zentangle Method I highly recommend learning a few of the published Zentangle classics first.
"A Zentangle has no up or down and is not a picture of something, so you have no worries about whether you can draw a hand, or a duck. You always succeed in creating a Zentangle." Thus patterns that are drawings of a recognizable naturalistic or actual object, figure, or scene, are not tangles. A pattern is not always a tangle — here's what makes a tangle. TIP: tangles never start with pencil planning.
For lots of great FREE tutorials on TanglePatterns, click on the TUTORIALS link in the pink alphabetic menu bar below the tangle images at the top of any page.
Strings! Have we got STRINGS! Click on the STRINGS link in the pink alphabetic menu bar below the tangle images at the top of any page for 250 different (free) Zentangle-starters. More than enough for any lifetime!
Never miss a tangle! FREE eMAIL NEWSLETTER - visit the SUBSCRIBE page on the top menu bar of any page on the site and sign up to get notices delivered free to your inbox.
.oOo.

Enhance your Zentangle experience while supporting TanglePatterns:

BRAND NEW!

TanglePatterns.com TANGLE GUIDE, 2023 Edition

The 12th Edition of the TanglePatterns.com TANGLE GUIDE is an instant-download 103-page (50 MB) interactive digital eBook/PDF containing almost 1,900 tangles on the site from May 2010 through December 31, 2022. It's a great resource and a must-have digital tool for using the site. Visit the STORE > E-BOOKS page and help keep TanglePatterns.com online by getting your copy now!

"Linda, Thank you! I was relying on too few and getting stuck after 3 years of daily working with Zentangle. This has inspired me to 'begin again' with renewed excitement." ~ Barbara R.

See the BOOK REVIEWS page for more details on its features and view a sample page. Note: this is a digital product you download immediately when you place your order, nothing will be physically mailed to you.
GIFT ORDERS FOR ANOTHER PERSON: To give the TANGLE GUIDE as a gift, visit this page to place your gift order.
If you're new to Zentangle® and tangling, my TanglePatterns.com BEGINNER'S GUIDE TO ZENTANGLE is just what you need to get started. Also available en Français and en Español.

---

This is the only Zentangle book you'll ever need: the fabulous Zentangle PRIMER Vol 1. It's your CZT-in-a-book by the founders of Zentangle®. Visit the STORE tab on the top menu bar or click on the image. For more about the content and to read the rave reviews, visit the BOOK REVIEWS tab.
NEW! Now available in KINDLE format for $9.99. Spanish Edition here. Japanese Edition here.
"Absolutely the best Zentangle Book yet! As an accomplished artist I used to think I did not need instruction on this art form. How wrong I was! My tangling improved by leaps and bounds after reading this book. If you think you have Zentangle down then you need this book more than ever!" ~ Kris H

---

.oOo.