Welcome to Wednesday, and Australian CZT Yvette Campbell's lovely Savana tangle.
Yesterday was Australia Day, "the official national day of Australia", and while I understand that ANZAC Day (April 25th) is probably more popular, any excuse for a summer holiday works for me.
So sharing Yvette's tangle is almost perfectly timed for the day and for all our tangling friends down under.
Savana is Yvette's first tangle on the site. She says Savana was inspired by "the African savannah grasses" and her beautiful ensemble of tiles shows Savana really does give the impression of clumps of grasses waving gracefully in the breeze.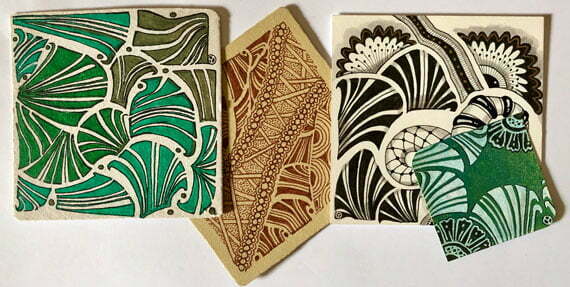 I am Yvette Campbell, an Australian artist from Boweya North in rural Victoria. I live on 120 acres in the Aussie bushland near the Murray River.
I work full-time in human services, but from when I could hold a pen, my art was always a passionate hobby and a vital life therapy. I have been able to self-manage various illnesses, pain, grief and constant anxiety through practising art.
I wanted to share these art benefits with others, but could not articulate how to do so. Researching the therapeutic benefits of art led me to discover Zentangle® in 2015. I was overjoyed to find exactly what I was looking for, and a whole supportive community opened up to me. I saved and finally travelled to the USA to qualify as a CZT in 2017, a most precious time.
I am so grateful for the framework of the Zentangle Method, which has given structure to my own rambling art practice, and has also enabled me to share with others the coping skills of practising Zentangle.
Naturally I had to do a little digging to check out savannas and the go-to Wikipedia informs:
A savanna or savannah is a mixed woodland-grassland ecosystem characterised by the trees being sufficiently widely spaced so that the canopy does not close. The open canopy allows sufficient light to reach the ground to support an unbroken herbaceous layer consisting primarily of grasses. …
Savannas are also characterised by seasonal water availability, with the majority of rainfall confined to one season; they are associated with several types of biomes, and are frequently in a transitional zone between forest and desert or grassland.
Savanna covers approximately 20% of the Earth's land area.
As for our tangle …
You can take advantage of the sections created by your string to fill them with Savana leaving a little breathing space around each as Yvette has done with her tiles and her example below. Yvette's consistent spacing between the "clumps" increases the impact, IMHO.
Yvette illustrates the step-by-step instructions for drawing Savana below where she features it in a lovely duotangle with the Zentangle-original and infinitely-variable Bales.
As you enjoy any of the tangles on the site, please leave a comment of thanks and encouragement to show the artists you appreciate them for sharing their creativity to inspire yours. Your thanks helps motivate them to continue to share! And please share a link to your favorite tangles on social media. Thanks!
Check out the tag yvettec for more of Yvette's tangles on TanglePatterns.com.
Related Links
Looking for tangles by Artist or Type? For details visit the ABOUT > HOW TO FIND TANGLES BY ARTIST OR TYPE page on the top menu bar of any page on the site.
What is a Zentangle? — if you are new to the Zentangle Method, start here for the fundamentals.
Zentangle terminology — a glossary of terms used in this art form.
How to use the site — an excellent free video tutorial showing how to use the site as well as pointing out lots of useful features you might have missed.
Linda's List of Zentangle-Original Patterns — here is the complete list of original tangles (aka "official tangles") created and introduced by founders Rick Roberts and Maria Thomas, including those not published online. If you are new to the Zentangle Method I highly recommend learning a few of the published Zentangle classics first.
"A Zentangle has no up or down and is not a picture of something, so you have no worries about whether you can draw a hand, or a duck. You always succeed in creating a Zentangle." Thus patterns that are drawings of a recognizable naturalistic or actual object, figure, or scene, are not tangles. A pattern is not always a tangle — here's what makes a tangle. TIP: tangles never start with pencil planning.
For lots of great FREE tutorials on TanglePatterns, click on the TUTORIALS link in the pink alphabetic menu bar below the tangle images at the top of any page.
Strings! Have we got STRINGS! Click on the STRINGS link in the pink alphabetic menu bar below the tangle images at the top of any page for 250 different (free) Zentangle-starters. More than enough for any lifetime!
Never miss a tangle! FREE eMAIL NEWSLETTER - visit the SUBSCRIBE page on the top menu bar of any page on the site and sign up to get notices delivered free to your inbox.
.oOo.

Enhance your Zentangle experience while supporting TanglePatterns:

CURRENT EDITION!

TanglePatterns.com TANGLE GUIDE, 2023 Edition

The 12th Edition of the TanglePatterns.com TANGLE GUIDE is an instant-download 103-page (50 MB) interactive digital eBook/PDF containing almost 1,900 tangles on the site from May 2010 through December 31, 2022. It's a great resource and a must-have digital tool for using the site. Visit the STORE > E-BOOKS page and help keep TanglePatterns.com online by getting your copy now!

"Linda, Thank you! I was relying on too few and getting stuck after 3 years of daily working with Zentangle. This has inspired me to 'begin again' with renewed excitement." ~ Barbara R.

See the BOOK REVIEWS page for more details on its features and view a sample page. Note: this is a digital product you download immediately when you place your order, nothing will be physically mailed to you.
GIFT ORDERS FOR ANOTHER PERSON: To give the TANGLE GUIDE as a gift, visit this page to place your gift order.
If you're new to Zentangle® and tangling, my TanglePatterns.com BEGINNER'S GUIDE TO ZENTANGLE is just what you need to get started. Also available en Français and en Español.

---

This is the only Zentangle book you'll ever need: the fabulous Zentangle PRIMER Vol 1. It's your CZT-in-a-book by the founders of Zentangle®. Visit the STORE tab on the top menu bar or click on the image. For more about the content and to read the rave reviews, visit the BOOK REVIEWS tab.
NEW! Now available in KINDLE format for $9.99. Spanish Edition here. Japanese Edition here.
"Absolutely the best Zentangle Book yet! As an accomplished artist I used to think I did not need instruction on this art form. How wrong I was! My tangling improved by leaps and bounds after reading this book. If you think you have Zentangle down then you need this book more than ever!" ~ Kris H

---

.oOo.