Happy Monday to you and thanks a bunch for hanging out with me today for a bit.
It's a long Labor Day/Labour Day holiday weekend here in North America — whatever that means these days!? In any case I hope you're enjoying your Monday, day off or not.
Canadian tangler Cyndi Knapp is back to share two bold "sister" tangles for us to explore.
The first is Zyoko (Zi-o-ko) and the second Zyama (Zi-am-a) coming up next.
First Zyoko. Geography, history and fascinating culture lesson!
Cyndi writes,
I find when I'm on the internet, it's easy to get caught up in something totally different than what I was looking for.
That's how the inspiration for sister patterns Zyoko and Zyama came about. I happened upon a mesmerizing photo of decorated mud houses, each a work of art on its own. The beauty of the designs and the rich earthy colours immediately sent my mind into a Zentangle® spin. I had to know about them.
With my original search abandoned, my new search led me to the West African country of Burkina Faso – specifically the unique royal village of Tiébélé. Simply stated, the men build the houses and the women artistically decorate them.
The website Amusing Planet tells us more about Burkina Faso, its people, and the story behind how they build and finish their homes with creative designs that serve a practical function,
In the south of Burkina Faso, a landlocked country in west Africa, near the border with Ghana lies a small, circular village of about 1.2 hectares, called Tiébélé. This is home of the Kassena people, one of the oldest ethnic groups that had settled in the territory of Burkina Faso in the 15th century. Tiébélé is known for their amazing traditional Gurunsi architecture and elaborately decorated walls of their homes.
Burkina Faso is a poor country, even by West African standards, and possibly the poorest in the world. But they are culturally rich, and decorating the walls of their buildings is an important part of their cultural legacy in this area of the country. Wall decorating is always a community project done by the women and it's a very ancient practice that dates from the sixteenth century AD.
The Kassena people build their houses entirely of local materials: earth, wood and straw. Soil mixed with straw and cow dung is moistened to a state of perfect plasticity, to shape almost vertical surfaces. Today this technique is replaced by the use of mud brick molding walls with foundations resting on large stone.
Tiébélé's houses are built with defense in mind, whether that be against the climate or potential enemies. Walls are over a foot thick and the homes are designed without windows except for a small opening or two to let just enough light in to see. Front doors are only about two feet tall, which keeps the sun out and makes enemies difficult to strike. Roofs are protected with wood ladders that are easily retracted.
After construction, the women make murals on the walls using colored mud and white chalk. The motifs and symbols are either taken from everyday life, or from religion and belief. The finished wall is then carefully burnished with stones, each color burnished separately so that the colors don't blur together. Finally, the entire surface is coated with a natural varnish made by boiling pods of néré, the African locust bean tree.
The designs also serves to protect the walls themselves. The decorating is usually done just before the rainy season and protects the outside walls from the rain. Adding cow dung, compacting layers of mud, burnishing the final layer, and varnishing with néré all make the designs withstand wet weather, enabling the structures to last longer.
Don't miss the 7-minute video, it's fascinating and the sound track is great (credits are in the description on YouTube). Imagine creating tangles with stones and chicken feathers! (Never mind having to build your own home from mud.)
Cyndi continues,
There's an unmistakable commonality between our art forms. It's not difficult to recognize Zentangle patterns (or variations of) Arrowheads, Chard, Jonqal, Kandysnake, Knase, Knightsbridge and Meer to name a few.
The creativity of the Tiébélé women inspired me to reproduce two of their patterns. They're truly tangle artists but with mud, not Microns!
Zyoko is a grid based op art pattern that's very easy to draw but does require a little concentration to fill.
The main illustration included with the steps shows Zyoko and many of the other patterns on the houses of Tiébélé.
These twin illustrations are more polished, showing Zyoko with simple line and colour variations.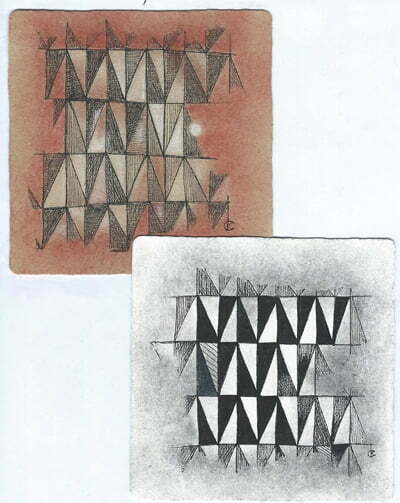 Cyndi illustrates the step-by-step instructions for drawing Zyoko below and the ZIA tile described above.
As you enjoy any of the tangles on the site, please leave a comment of thanks and encouragement to show the artists you appreciate them for sharing their creativity to inspire yours. Your thanks helps motivate them to continue to share! And please share a link to your favorite tangles on social media. Thanks!
Stay tuned for Zyama coming up shortly.
Check out the tag cyndik for more of Cyndi's tangles on TanglePatterns.com.
.oOo.
How to submit your pattern to TanglePatterns
From The Book of Zentangle:
"Keep it Non-representational. Zentangle artwork is intended to be non-representational. Zentangle's elemental strokes are also non-representational.
We don't teach complex elements such as hearts, stars or flowers. Tangles are also non-representational."
Remember that tangles never start with pencil planning.
"A tangle has no pre-planning with pencil guidelines, grids or dots, no erased lines."
If you need a refresher on what makes a tangle, read the A PATTERN IS NOT ALWAYS A TANGLE page on the ZENTANGLES menu bar at the top of any page.
Everyone is invited to submit patterns, you do NOT need to be a CZT.
In order for patterns to be considered for TanglePatterns.com they must be submitted to me by email. In other words you have to let me know about them. Here's how:
For details on how to submit your pattern for consideration visit the SUBMIT YOUR PATTERN page on the top menu bar of any page on the site. On that menu you will find these two pages:
The first page includes instructions on how to prepare and send your file. It also includes a link to this PDF submission form - NOTE: be sure to right click the link to download the file. I've recently updated the form with more information so if you have an old copy, you might like to download the current edition.
When your examples include additional tangles from the site, please list them in your email. (This saves me time and my memory some wear and tear.)
If your pattern is posted on your blog, attach your steps and tile images to your email and be sure your email includes the direct URL so I can link to it.
And remember, to quote Zentangle's co-founders Rick and Maria: tangles should be "magical, simple and easy to create", non-objective patterns of repetitive strokes that are easy to teach and offer a high degree of success to tanglers of all ages.
"Keep the tangles as little like 'drawing something' as possible."
.oOo.
Related Links
Looking for tangles by Artist or Type? For details visit the ABOUT > HOW TO FIND TANGLES BY ARTIST OR TYPE page on the top menu bar of any page on the site.
What is a Zentangle? — if you are new to the Zentangle Method, start here for the fundamentals.
Zentangle terminology — a glossary of terms used in this art form.
How to use the site — an excellent free video tutorial showing how to use the site as well as pointing out lots of useful features you might have missed.
Linda's List of Zentangle-Original Patterns — here is the complete list of original tangles (aka "official tangles") created and introduced by founders Rick Roberts and Maria Thomas, including those not published online. If you are new to the Zentangle Method I highly recommend learning a few of the published Zentangle classics first.
"A Zentangle has no up or down and is not a picture of something, so you have no worries about whether you can draw a hand, or a duck. You always succeed in creating a Zentangle." Thus patterns that are drawings of a recognizable naturalistic or actual object, figure, or scene, are not tangles. A pattern is not always a tangle — here's what makes a tangle. TIP: tangles never start with pencil planning.
For lots of great FREE tutorials on TanglePatterns, click on the TUTORIALS link in the pink alphabetic menu bar below the tangle images at the top of any page.
Strings! Have we got STRINGS! Click on the STRINGS link in the pink alphabetic menu bar below the tangle images at the top of any page for 250 different (free) Zentangle-starters. More than enough for any lifetime!
Never miss a tangle! FREE eMAIL NEWSLETTER - visit the SUBSCRIBE page on the top menu bar of any page on the site and sign up to get notices delivered free to your inbox.
.oOo.

Enhance your Zentangle experience while supporting TanglePatterns:

CURRENT EDITION!

TanglePatterns.com TANGLE GUIDE, 2023 Edition

The 12th Edition of the TanglePatterns.com TANGLE GUIDE is an instant-download 103-page (50 MB) interactive digital eBook/PDF containing almost 1,900 tangles on the site from May 2010 through December 31, 2022. It's a great resource and a must-have digital tool for using the site. Visit the STORE > E-BOOKS page and help keep TanglePatterns.com online by getting your copy now!

"Linda, Thank you! I was relying on too few and getting stuck after 3 years of daily working with Zentangle. This has inspired me to 'begin again' with renewed excitement." ~ Barbara R.

See the BOOK REVIEWS page for more details on its features and view a sample page. Note: this is a digital product you download immediately when you place your order, nothing will be physically mailed to you.
GIFT ORDERS FOR ANOTHER PERSON: To give the TANGLE GUIDE as a gift, visit this page to place your gift order.
If you're new to Zentangle® and tangling, my TanglePatterns.com BEGINNER'S GUIDE TO ZENTANGLE is just what you need to get started. Also available en Français and en Español.

---

This is the only Zentangle book you'll ever need: the fabulous Zentangle PRIMER Vol 1. It's your CZT-in-a-book by the founders of Zentangle®. Visit the STORE tab on the top menu bar or click on the image. For more about the content and to read the rave reviews, visit the BOOK REVIEWS tab.
NEW! Now available in KINDLE format for $9.99. Spanish Edition here. Japanese Edition here.
"Absolutely the best Zentangle Book yet! As an accomplished artist I used to think I did not need instruction on this art form. How wrong I was! My tangling improved by leaps and bounds after reading this book. If you think you have Zentangle down then you need this book more than ever!" ~ Kris H

---

.oOo.