Is it a birthday?
Is it an anniversary?
Both! It's a Tangleversary! And it's a really BIG one …
Ten years is a remarkable milestone and I'm very proud of what TanglePatterns has grown to become in the Zentangle® world. It's hard to wrap my head around everything we've shared over the last decade.
I am so honored to have this occasion memorialized in a beautiful hand-tangled card I received from Canadian tangler Cyndi Knapp. (I have permission to share her creation with you today.)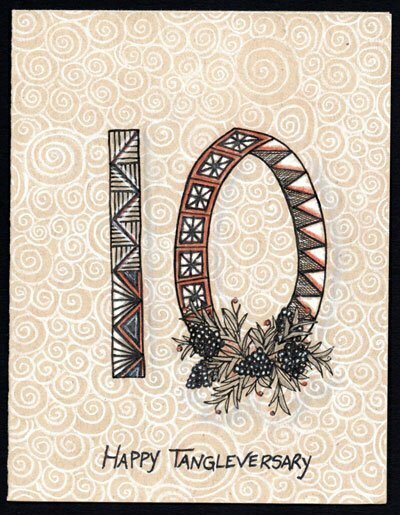 These scans don't do justice to the sparkly gorgeous eye-candy Cyndi has created and she even used several of my tangles 🙂 What a special, unique treat and one I will always treasure. Thanks again, Cyndi!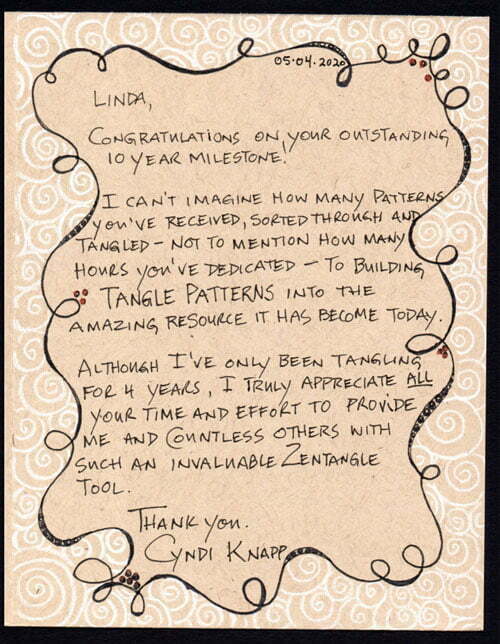 On May 4th, 2010, I  launched the site with "Hello Zentangle Zealots!" Little did I know where this adventure would take me. And us!
Today celebrates ten wonderful years of sharing Zentangle® learning, creativity, fun and inspiration with you.
Over this amazing decade, together we've enjoyed hundreds and hundreds and hundreds of tangles, dozens and dozens of wonderful tutorials, tons of creative inspiration, the world of tanglers sharing their expertise and experience and their heartfelt stories. Friendships have been made around the globe. It's a beautiful thing this Zentangle community of ours.
Thanks so much to each and every one of you who help keep TanglePatterns going with your financial and emotional support. Thanks too for your treasured notes, cards, letters, emails, and comments of encouragement.
Immeasurable gratitude to Rick and Maria for this magical Zentangle® art form that made this wonderful community possible. Thanks to all my CZT colleagues for sharing their enthusiasm with tanglers around the world.
Of course, a very special thanks to all the artists who share their tangles with us and inspire our creativity.
And finally, huge thanks to my biggest fans who've encouraged me all the way — my Sweetheart Robert, my Darling Mom, and my Sweet sisters Carol, Karen and Bev. xoxo
As Obi-Wan Kenobi says, "May the 4th be with you!" And may the tangles continue to be with you too.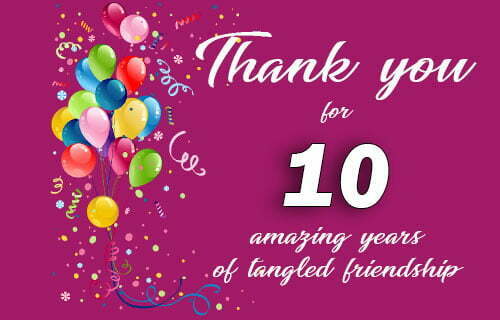 Thank you, Thank you, Thank you!
I couldn't have done this for 10 years without YOU.
.oOo.
I'll be back soon with another new tangle … today I simply wanted to relish this special moment with you  🙂