Shango, by South African CZT Milde Weiss is a tangle I've been hanging onto for a long time, two years in fact.
The reason for my hesitation in posting Shango is I thought it might be the same as the Zentangle®-original Ravel. Ravel had already appeared months earlier in the Zentangle PRIMER Vol. 1 book but the step-by-step instructions were not included and have not been released by Rick and Maria.
Finally I decided just to go ahead with Shango and had it planned for last Friday but at the last minute (still hesitating) decided to post CZT Sue Leslie's NAF instead. To my astonishment, an hour after Shango would have been published on Friday, a CZT-only newsletter arrived in my inbox with the steps to Ravel included!
And to my delight, while they are quite similar, Shango is different from Ravel. Both are Cadent-related based on orbs and S-strokes, and there are other tangles sharing similar DNA. (There are also exercises in Simone Bischoff's free Line Drawing Skills lessons that produce similar results.)
When Ravel is publicly published by Zentangle HQ we'll add it to our resource, but in the meantime we can all enjoy its first cousin, Milde's Shango. This is Milde's sixth tangle on the site.
The lovely Shango was actually born of stressful and tragic circumstances, beauty from tragedy. In June 2017 Milde wrote, "I named it after Shango, mythological Yoruba god of thunder, fire and storms," and she explains how Shango the tangle emerged:
During the past week, the Western Cape province of South Africa was hit by a monster storm. In the Cape Town area, gale force winds with rain caused flooding, uprooted trees and damaged cars and houses.
In the Southern Cape, where I moved a month ago, there was no rain, but fires (the cause still unknown) were driven by the gale force winds, with devastating results. The picturesque and historical town of Knysna was especially hard hit, with huge areas of the town and adjoining suburbs destroyed by several fires, which raged out of control.
Between Wednesday, 7 June, and Saturday, 10 June, 439 homesteads were burnt down in the area, and seven people, including firefighters and children, lost their lives. The town had to be evacuated at one stage, because the fires could not be contained. My friend and co-CZT, Brenda Urbanik, has her home in Knysna, and I just could not stop thinking of her and other friends living there. Fortunately, they are safe.
We were inundated by visual material on the media, showing monster waves, swirling water, and cars being overturned by strong winds in Cape Town. This was followed by video material of sweeping walls of fire and billowing black clouds of smoke between Sedgefield, Knysna and Plettenberg Bay.
The images of the destruction whirled around in my mind. I couldn't sleep, and grabbed my Microns and tiles. The result was this new tangle.
I dedicate Shango to the people of Knysna, who are all traumatized, whether they sustained losses or not. Also to the brave firefighters and volunteers who fought tirelessly to try and control the flames. Although most of the fires have been put out, some parts are still smouldering. We pray for rain and that the wind does not pick up again.
Milde gives some tips for tangling Shango:
This is how the tangle is formed:
Place small circles randomly on your tile – start with about 7 or 8 – you can always add on later.
Connect them with the take-off-and-land technique, as in Cadent, so that each circle is connected by at least one curve to all the other circles.
Aura each connecting line with a wide, curvy aura.
Continue filling the space between the circles with curving lines. Vary the direction of the curves, if necessary. Also vary the space between the lines.
Thicken some of the lines. Fill in little triangles that may be formed.
Add shading.
You can grow this tangle in any direction, and the amount of in-between lines and shading determine whether it looks 'airy' or dramatic. This example shows one possible variation: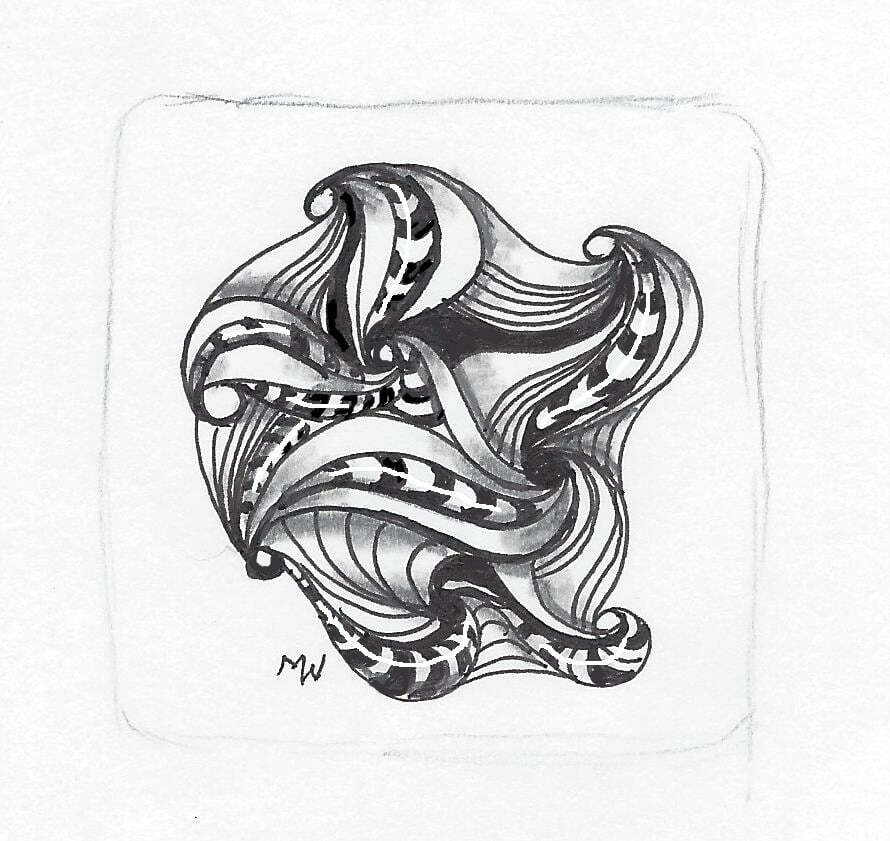 Milde illustrates the step-by-step instructions for drawing Shango below. Shading, sparkle, striping, color — lots of embellishment options here. We're approaching the height of the hurricane season so Shango is one I'll definitely remember to ease the situation when it arises!
As you enjoy any of the tangles on the site, please leave a comment of thanks and encouragement to show the artists you appreciate them for sharing their creativity to inspire yours. Your comment helps motivate them to continue to share!
Check out the tag milde_w for more of Milde's tangles on TanglePatterns.com.
Related Links
Looking for tangles by Artist or Type? For details visit the ABOUT > HOW TO FIND TANGLES BY ARTIST OR TYPE page on the top menu bar of any page on the site.
What is a Zentangle? — if you are new to the Zentangle Method, start here for the fundamentals.
Zentangle terminology — a glossary of terms used in this art form.
How to use the site — an excellent free video tutorial showing how to use the site as well as pointing out lots of useful features you might have missed.
Linda's List of Zentangle-Original Patterns — here is the complete list of original tangles (aka "official tangles") created and introduced by founders Rick Roberts and Maria Thomas, including those not published online. If you are new to the Zentangle Method I highly recommend learning a few of the published Zentangle classics first.
"A Zentangle has no up or down and is not a picture of something, so you have no worries about whether you can draw a hand, or a duck. You always succeed in creating a Zentangle." Thus patterns that are drawings of a recognizable naturalistic or actual object, figure, or scene, are not tangles. A pattern is not always a tangle — here's what makes a tangle. TIP: tangles never start with pencil planning.
For lots of great FREE tutorials on TanglePatterns, click on the TUTORIALS link in the pink alphabetic menu bar below the tangle images at the top of any page.
Strings! Have we got STRINGS! Click on the STRINGS link in the pink alphabetic menu bar below the tangle images at the top of any page for 250 different (free) Zentangle-starters. More than enough for any lifetime!
Never miss a tangle! FREE eMAIL NEWSLETTER - visit the SUBSCRIBE page on the top menu bar of any page on the site and sign up to get notices delivered free to your inbox.
.oOo.

Enhance your Zentangle experience while supporting TanglePatterns:

CURRENT EDITION!

TanglePatterns.com TANGLE GUIDE, 2023 Edition

The 12th Edition of the TanglePatterns.com TANGLE GUIDE is an instant-download 103-page (50 MB) interactive digital eBook/PDF containing almost 1,900 tangles on the site from May 2010 through December 31, 2022. It's a great resource and a must-have digital tool for using the site. Visit the STORE > E-BOOKS page and help keep TanglePatterns.com online by getting your copy now!

"Linda, Thank you! I was relying on too few and getting stuck after 3 years of daily working with Zentangle. This has inspired me to 'begin again' with renewed excitement." ~ Barbara R.

See the BOOK REVIEWS page for more details on its features and view a sample page. Note: this is a digital product you download immediately when you place your order, nothing will be physically mailed to you.
GIFT ORDERS FOR ANOTHER PERSON: To give the TANGLE GUIDE as a gift, visit this page to place your gift order.
If you're new to Zentangle® and tangling, my TanglePatterns.com BEGINNER'S GUIDE TO ZENTANGLE is just what you need to get started. Also available en Français and en Español.

---

This is the only Zentangle book you'll ever need: the fabulous Zentangle PRIMER Vol 1. It's your CZT-in-a-book by the founders of Zentangle®. Visit the STORE tab on the top menu bar or click on the image. For more about the content and to read the rave reviews, visit the BOOK REVIEWS tab.
NEW! Now available in KINDLE format for $9.99. Spanish Edition here. Japanese Edition here.
"Absolutely the best Zentangle Book yet! As an accomplished artist I used to think I did not need instruction on this art form. How wrong I was! My tangling improved by leaps and bounds after reading this book. If you think you have Zentangle down then you need this book more than ever!" ~ Kris H

---

.oOo.