Today I have a creative tutorial treat for you!
I'm delighted to share Spanish CZT María Tovar's "técnica seca" dry technique for tangling which she demonstrates in a series of photos of the steps.
María also includes a gallery of gorgeous Zentangle® tiles to inspire you to explore her inkless tangling technique.
Here's María …

Step 1. Gather your supplies
You are going to need a white Zentangle tile, a stylus (an old ballpoint pen that's run out of ink will also work), a Zentangle graphite pencil and a tortillion. And a clean finger tip! (Linda's note: if you try this on a black Zentangle tile, you'll need a White Charcoal pencil.)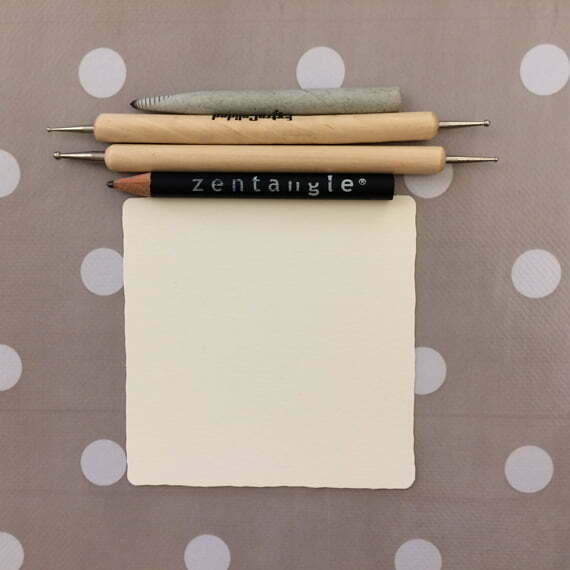 Step 2. Tangle with the stylus
Tangle on your tile using the stylus, or an empty ball point pen. And don't worry at all. Remember: no mistakes.
Step 3. Make a graphite palette
On a scrap piece of paper, make a small "puddle" of graphite with your pencil.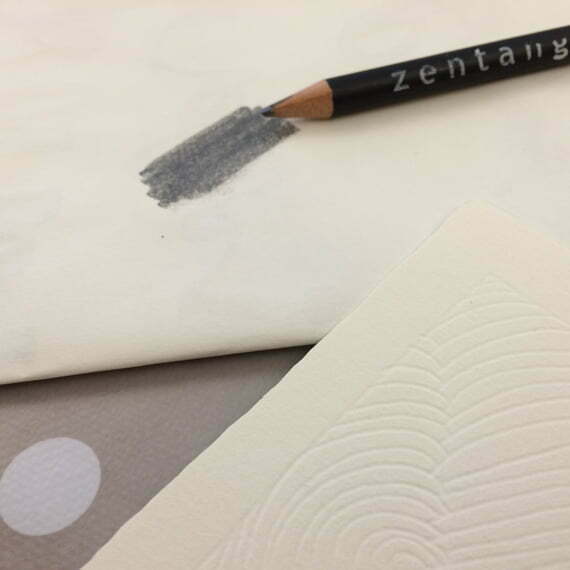 Step 4. Use your finger
Pick up a little of the graphite puddle by rubbing gently with your clean finger tip.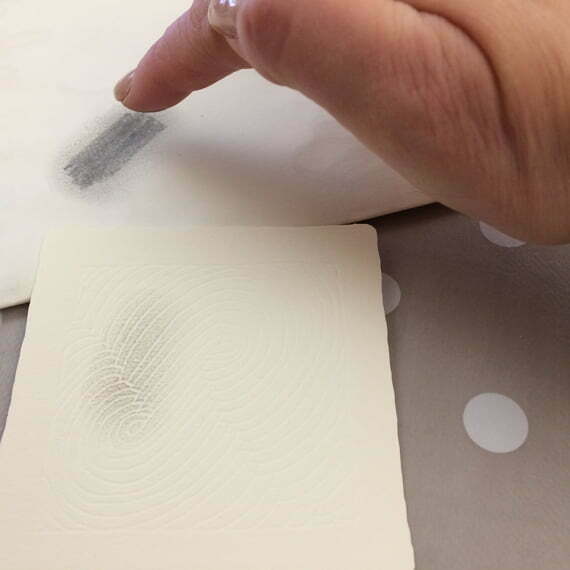 Step 5. Transfer graphite to the tile
Using a light touch, gently spread the graphite onto your tile just until you can clearly see the lines you inscribed in Step 2.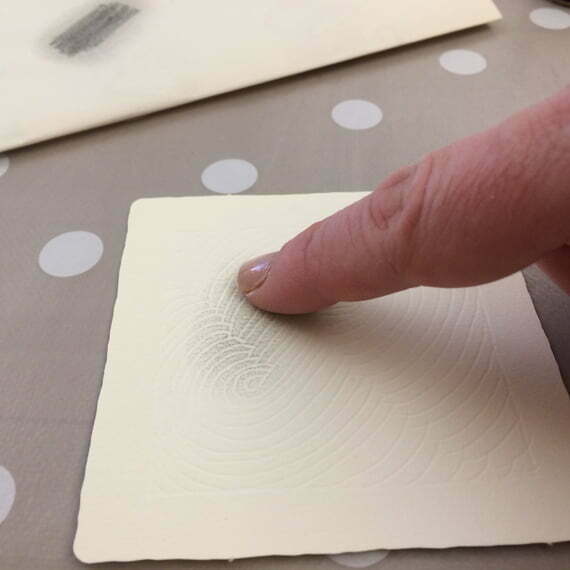 Step 6. Cover the tangle(s)
Lightly cover the whole inscribed area with graphite. Don't rub too hard because you don't want to push the graphite into the inscribed lines.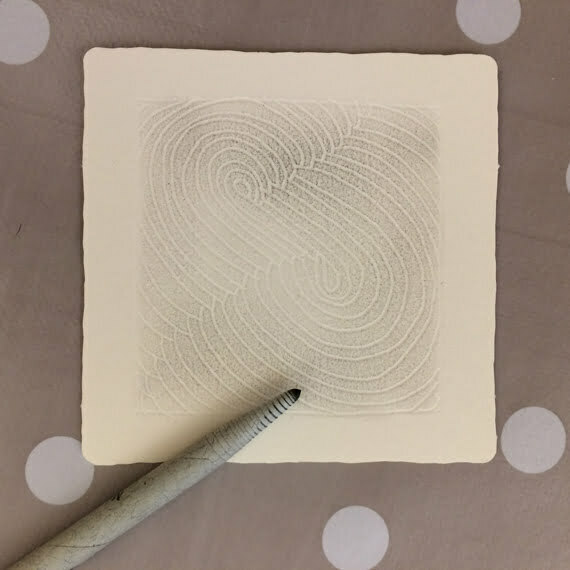 Step 7. Blend with the tortillion
Using your tortillion, begin to blend the graphite as desired. If you want a little more graphite in any area, you can pick it up from the puddle using the tortillion.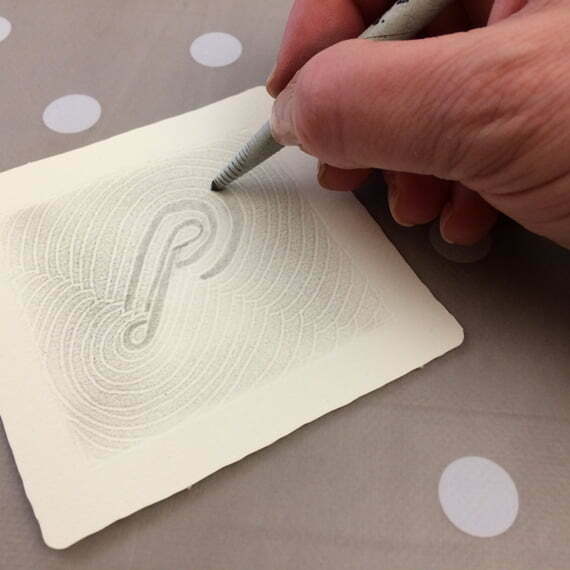 Step 8. Add drama with your pencil
When you have finished blending, add a little more graphite directly with your pencil to create drama or contrast in some areas.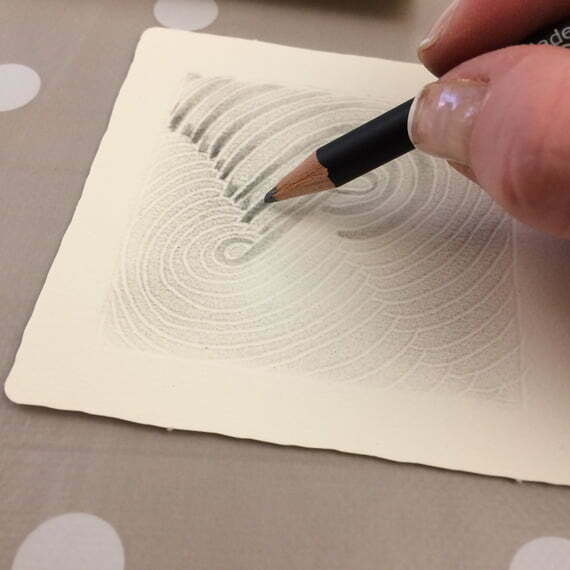 Step 9. Blend again
Blend the new graphite with the tortillion again to create nice smooth transitions between dark and light.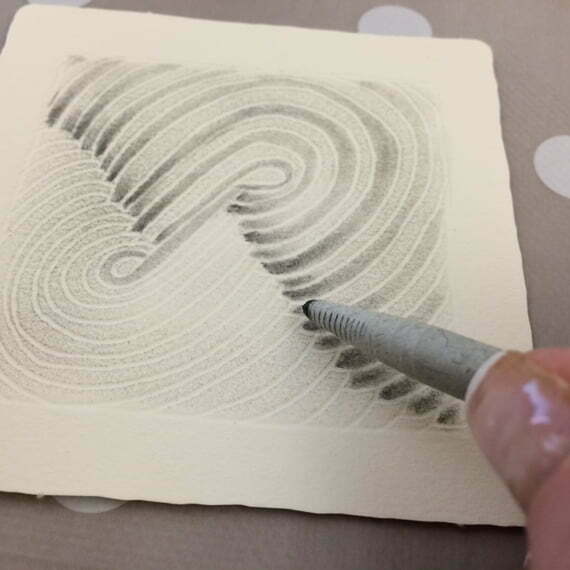 Step 10. Adding Sparkle
You can add the Sparkle tangle enhancer using an eraser.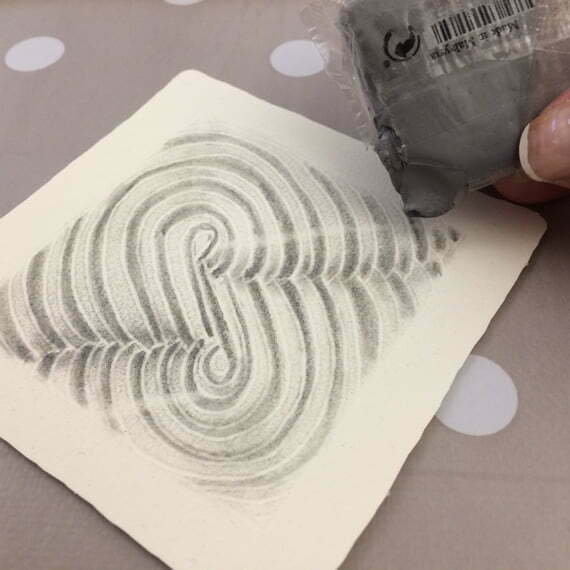 The beautiful end result!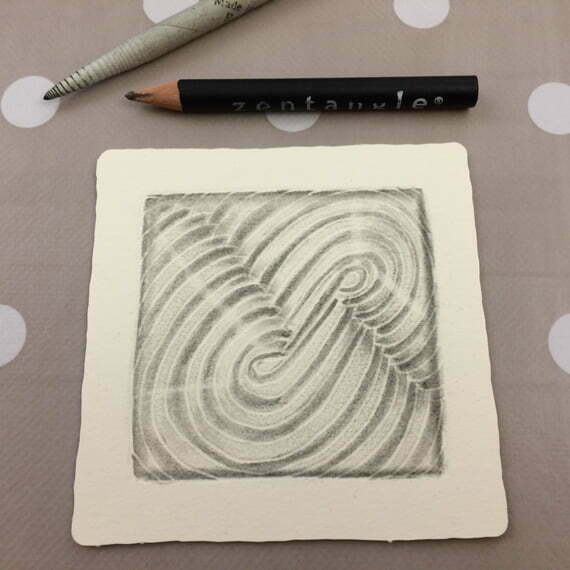 Maria's Gallery of Tiles
Example #1: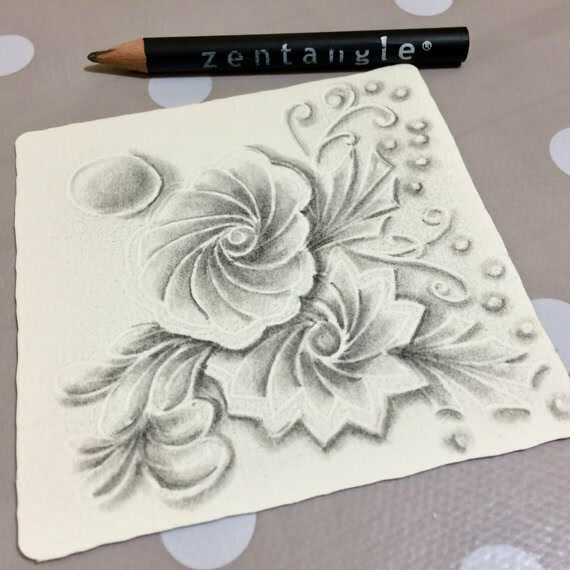 Example #2: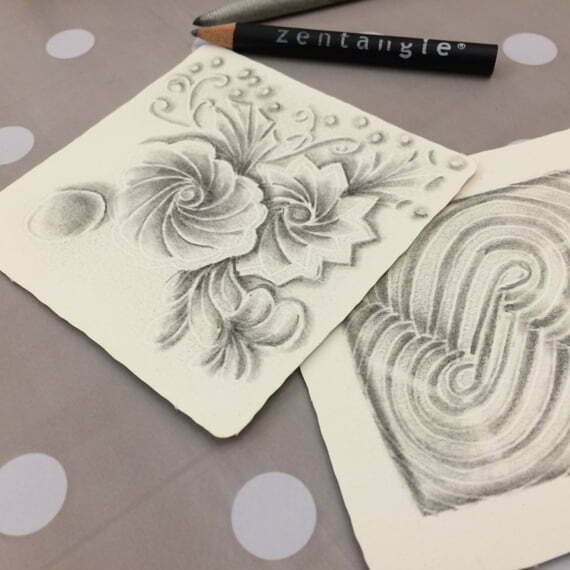 Example #3: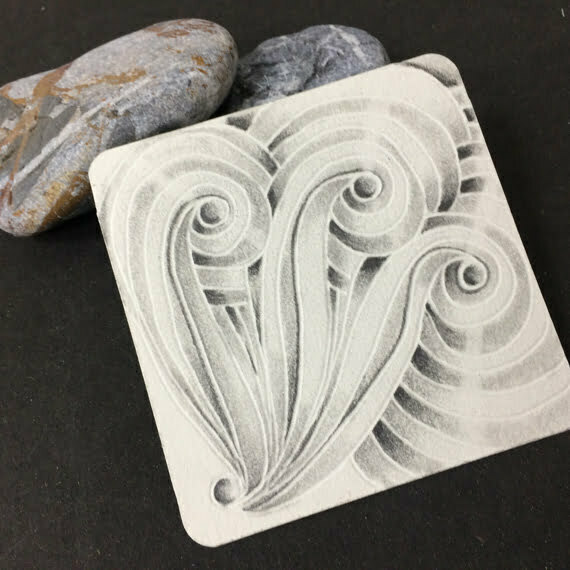 Example #4: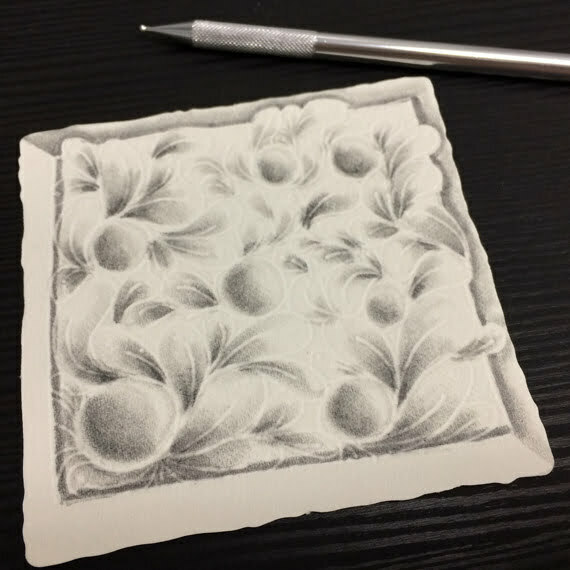 Example #5: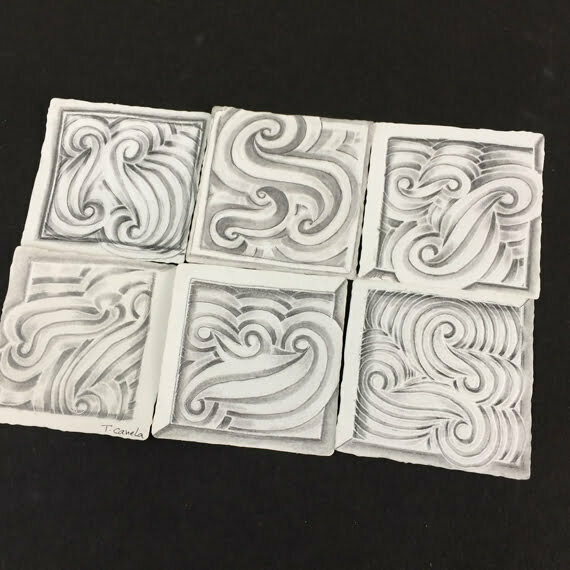 Example #6: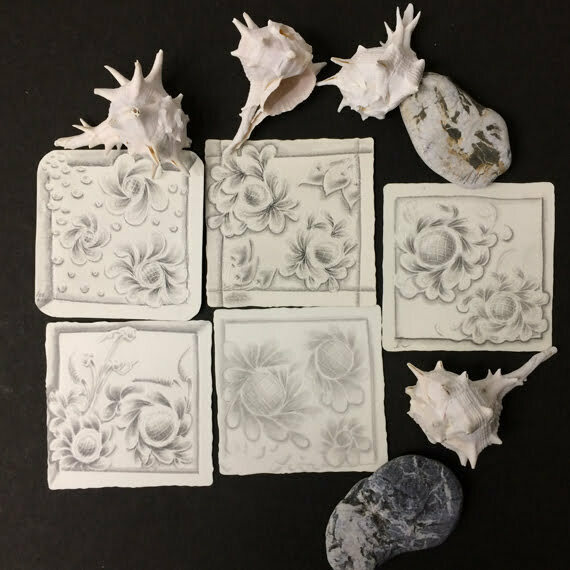 Example #7: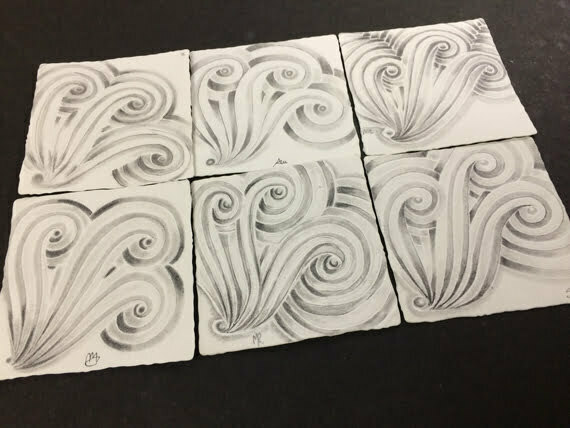 Example #8: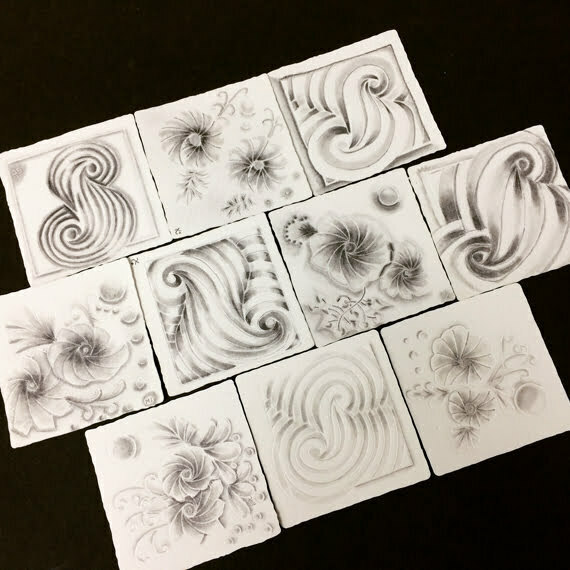 Last one! Example #9:
Paired with a regular Micron, a monotangle of the Zentangle-original Sez.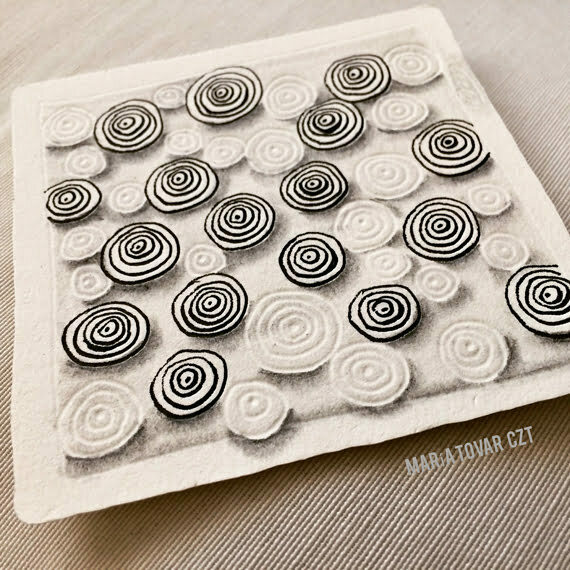 * * *
Meet María Tovar, CZT
I have a Zentangle school in Madrid, El último tangle, which is the first Zentangle school in Spain.
We teach Zentangle, brush lettering, creative backgrounds for artistic works, creative watercolor, shading for Zentangle… and a lot more workshops in which people can learn creative techniques to improve their art, because as I always say "everybody has an artist inside, you only have to discover it".
I hope you enjoy this technique!
* * *
Thanks so much, María for sharing your dry tangling technique with us, expanding our Zentangle creativity. What a great addition to our TUTORIALS resource! #inklesstangling
Check out the tag mariat for María's tangles and her tutorial on TanglePatterns.com.
.oOo.

Enhance your Zentangle experience while supporting TanglePatterns:

BRAND NEW!

TanglePatterns.com TANGLE GUIDE, 2023 Edition

The 12th Edition of the TanglePatterns.com TANGLE GUIDE is an instant-download 103-page (50 MB) interactive digital eBook/PDF containing almost 1,900 tangles on the site from May 2010 through December 31, 2022. It's a great resource and a must-have digital tool for using the site. Visit the STORE > E-BOOKS page and help keep TanglePatterns.com online by getting your copy now!

"Linda, Thank you! I was relying on too few and getting stuck after 3 years of daily working with Zentangle. This has inspired me to 'begin again' with renewed excitement." ~ Barbara R.

See the BOOK REVIEWS page for more details on its features and view a sample page. Note: this is a digital product you download immediately when you place your order, nothing will be physically mailed to you.
GIFT ORDERS FOR ANOTHER PERSON: To give the TANGLE GUIDE as a gift, visit this page to place your gift order.
If you're new to Zentangle® and tangling, my TanglePatterns.com BEGINNER'S GUIDE TO ZENTANGLE is just what you need to get started. Also available en Français and en Español.

---

This is the only Zentangle book you'll ever need: the fabulous Zentangle PRIMER Vol 1. It's your CZT-in-a-book by the founders of Zentangle®. Visit the STORE tab on the top menu bar or click on the image. For more about the content and to read the rave reviews, visit the BOOK REVIEWS tab.
NEW! Now available in KINDLE format for $9.99. Spanish Edition here. Japanese Edition here.
"Absolutely the best Zentangle Book yet! As an accomplished artist I used to think I did not need instruction on this art form. How wrong I was! My tangling improved by leaps and bounds after reading this book. If you think you have Zentangle down then you need this book more than ever!" ~ Kris H

---

.oOo.