Are we still basking in the afterglow of yesterday's Mother's Day celebrations?
It's a very nice way to begin one's week … and here's another one, a fine tangle and a trip to the South Pacific 🙂
U.K. CZT Chrissie Frampton shares her Tonga tangle with us and it's her fifth tangle on the site.
Chrissie writes that Tonga "was inspired by a small spear given to the Queen by the Government and people of Tonga." Both the wood and the carving are beautiful: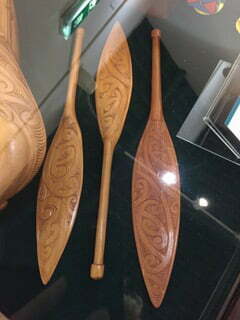 Wikipedia describes The Kingdom of Tonga as:
a Polynesian sovereign state and archipelago comprising 169 islands, of which 36 are inhabited. The total surface area is about 750 square kilometres (290 sq mi) scattered over 700,000 square kilometres (270,000 sq mi) of the southern Pacific Ocean. It has a population of 107,122 people, of whom 70% reside on the main island of Tongatapu.
Tonga stretches across approximately 800 kilometres (500 mi) in a north-south line. It is surrounded by Fiji and Wallis and Futuna (France) to the northwest, Samoa to the northeast, Niue to the east, Kermadec (part of New Zealand) to the southwest, and New Caledonia (France) and Vanuatu to the farther west. …
In many Polynesian languages, including Tongan, the word tonga comes from fakatonga which means "southwards", as the archipelago is the southernmost group of the islands of central Polynesia. The word tonga is cognate to the Hawaiian region of Kona, meaning "leeward" in the Hawaiian language.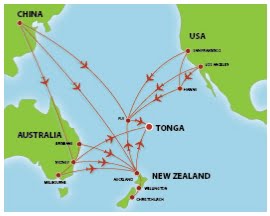 Google Maps offers a more picturesque description:
Tonga is a Polynesian kingdom of more than 170 South Pacific islands, many uninhabited, most lined in white beaches and coral reefs and covered with tropical rainforest. The main island, Tongatapu, is protected by lagoons and limestone cliffs. It's home to the rural capital of Nuku'alofa, as well as beach resorts, plantations and the Ha'amonga, a Maui, a monumental coral gate from the 1200s.
For more, check out the Tourism Tonga website — fabulous scenery and beautiful people full of pride for their nation.
As an armchair sports fan, I recall Tonga also has a pretty awesome National Rugby Team. (As do most of the nations of Oceania.) So I fact-checked:
The Tonga national rugby union team is nicknamed Ikale Tahi (Sea Eagles). Like their Polynesian neighbours, the Tongans start their matches with a war dance – the Sipi Tau. They are members of the Pacific Islands Rugby Alliance (PIRA) along with Fiji and Samoa.
The Ikale Tahi achieved a historic 19–14 victory over France in the 2011 Rugby World Cup, but having lost to New Zealand and Canada, were unable to achieve what would have been their first ever presence at the quarter-finals.
The 2019 Rugby World Cup — the 3rd largest sports event in the world after the Summer Olympics and the Football World Cup — takes place next year in Japan and Tonga has qualified for "the game's flagship tournament." Go Tonga, to the quarter-finals and beyond!
And now for Chrissie's Tonga. Personally, I love grid tangles. They fill a section of the Zentangle® tile reasonably quickly and they're always rhythmic and mesmerizing to tangle. The example of Tonga I chose to use (I played with several of them) is one of Chrissie's variations and I added a bit of shading just for the fun of it.
Chrissie illustrates the step-by-step instructions for drawing Tonga below and in both her steps and her tile she demonstrates a variety ways to vary this very flexible tangle by rotating and mirroring the "fragment" and varying the fill embellishments. One tangle, many options.
As you enjoy any of the tangles on the site, please leave a comment of thanks and encouragement to show the artists you appreciate them for sharing their creativity to inspire yours.
Check out the tag chrissief for more of Chrissie's tangles on TanglePatterns.com.
Related Links
Looking for tangles by Artist or Type? For details visit the ABOUT > HOW TO FIND TANGLES BY ARTIST OR TYPE page on the top menu bar of any page on the site.
What is a Zentangle? — if you are new to the Zentangle Method, start here for the fundamentals.
Zentangle terminology — a glossary of terms used in this art form.
How to use the site — an excellent free video tutorial showing how to use the site as well as pointing out lots of useful features you might have missed.
Linda's List of Zentangle-Original Patterns — here is the complete list of original tangles (aka "official tangles") created and introduced by founders Rick Roberts and Maria Thomas, including those not published online. If you are new to the Zentangle Method I highly recommend learning a few of the published Zentangle classics first.
"A Zentangle has no up or down and is not a picture of something, so you have no worries about whether you can draw a hand, or a duck. You always succeed in creating a Zentangle." Thus patterns that are drawings of a recognizable naturalistic or actual object, figure, or scene, are not tangles. A pattern is not always a tangle — here's what makes a tangle. TIP: tangles never start with pencil planning.
For lots of great FREE tutorials on TanglePatterns, click on the TUTORIALS link in the pink alphabetic menu bar below the tangle images at the top of any page.
Strings! Have we got STRINGS! Click on the STRINGS link in the pink alphabetic menu bar below the tangle images at the top of any page for 250 different (free) Zentangle-starters. More than enough for any lifetime!
Never miss a tangle! FREE eMAIL NEWSLETTER - visit the SUBSCRIBE page on the top menu bar of any page on the site and sign up to get notices delivered free to your inbox.
.oOo.

Enhance your Zentangle experience while supporting TanglePatterns:

CURRENT EDITION!

TanglePatterns.com TANGLE GUIDE, 2023 Edition

The 12th Edition of the TanglePatterns.com TANGLE GUIDE is an instant-download 103-page (50 MB) interactive digital eBook/PDF containing almost 1,900 tangles on the site from May 2010 through December 31, 2022. It's a great resource and a must-have digital tool for using the site. Visit the STORE > E-BOOKS page and help keep TanglePatterns.com online by getting your copy now!

"Linda, Thank you! I was relying on too few and getting stuck after 3 years of daily working with Zentangle. This has inspired me to 'begin again' with renewed excitement." ~ Barbara R.

See the BOOK REVIEWS page for more details on its features and view a sample page. Note: this is a digital product you download immediately when you place your order, nothing will be physically mailed to you.
GIFT ORDERS FOR ANOTHER PERSON: To give the TANGLE GUIDE as a gift, visit this page to place your gift order.
If you're new to Zentangle® and tangling, my TanglePatterns.com BEGINNER'S GUIDE TO ZENTANGLE is just what you need to get started. Also available en Français and en Español.

---

This is the only Zentangle book you'll ever need: the fabulous Zentangle PRIMER Vol 1. It's your CZT-in-a-book by the founders of Zentangle®. Visit the STORE tab on the top menu bar or click on the image. For more about the content and to read the rave reviews, visit the BOOK REVIEWS tab.
NEW! Now available in KINDLE format for $9.99. Spanish Edition here. Japanese Edition here.
"Absolutely the best Zentangle Book yet! As an accomplished artist I used to think I did not need instruction on this art form. How wrong I was! My tangling improved by leaps and bounds after reading this book. If you think you have Zentangle down then you need this book more than ever!" ~ Kris H

---

.oOo.