Today's pretty Ying tangle is from Cat Kwan, a member of the first CZT-Asia class, and it's her first on the site.
I've been saving Ying for this week when we celebrate the first day of Spring (yesterday, March 20th) AND roughly the peak bloom time and the annual "Bloom Watch" for Washington's Yoshino Cherry (Prunus x yedoensis) blossoms. (There's even a video cam for the Bloom Watch, unfortunately there were technical difficulties and it was down when I last checked it.)
Here's some background on the Cherry Blossoms and the annual Bloom Watch,
In a ceremony at the Tidal Basin in Washington, D.C., on March 27, 1912, First Lady Helen Herron Taft and Viscountess Chinda, wife of the Japanese ambassador, planted the first two of 3,020 flowering cherry trees gifted to the nation's capital from the city of Tokyo. As a show of gratitude for this generous gift, former President William Howard Taft arranged for the United States to send 50 flowering dogwood trees to Japan in 1915. This reciprocal gift featured a species of tree native to the eastern United States and Canada.
These gestures of goodwill fostered a rich tradition of exchanging cherry and dogwood trees that continues to this day.
This information is contained in the United States Postal Service press release announcing the Joint release in 2015 in the USA and Japan of these gorgeous commemorative stamps, which are still available for purchase today. The only reason I know about these is because coincidentally earlier this week Robert showed me the set he just received. What great serendipity!
Again from the USPS press release,
Stamp artist Paul Rogers worked with art director and designer William J. Gicker to create the U.S. stamps. Japanese artist Junko Kaifuchi illustrated the stamps from Japan Post. The left side of the stamp sheet features four new stamp designs: two created by the Postal Service and two created by Japan Post.

Continuing with the Cherry Blossom theme. As you may recognize from examining your Microns, the logo for the manufacturer of our treasured Sakura Micron Pens, is a symbolic cherry blossom. And indeed if Google Translate is to be relied upon, in Japanese sakura means cherry blossoms.
About her tangle's background and its name, Kit writes:
In Cantonese, the pronunciation of

is "Ying". This is a gift for my sister, Kit-Ying.

She likes Japan, and hope to travel to Japan a long time ago. I want to create a tangle to her as I know she feel depression last year, then I started to find some ideas from the symbolic element of Japan – Sakura.
This idea is come from Sakura, but I think it can have many variations.
Here are some of Cat's beautiful tiles featuring Ying.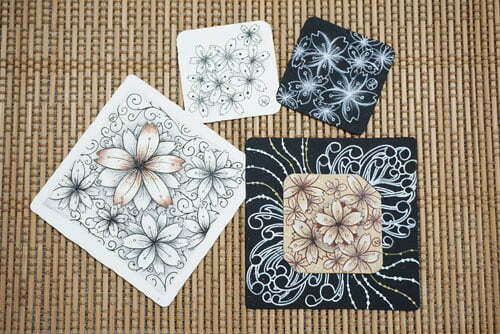 And here Cat illustrates the step-by-step instructions for drawing YIng and she features it in a closeup of one of her lovely Zentangle® tiles above.
As you enjoy any of the tangles on the site, please leave a comment of thanks and encouragement to show the artists you appreciate them for sharing their creativity to inspire yours.
Check out the tag catk for more of Cat's tangles on TanglePatterns.com.
Happy Spring, y'all! 🙂
Related Links
Looking for tangles by Artist or Type? For details visit the ABOUT > HOW TO FIND TANGLES BY ARTIST OR TYPE page on the top menu bar of any page on the site.
What is a Zentangle? — if you are new to the Zentangle Method, start here for the fundamentals.
Zentangle terminology — a glossary of terms used in this art form.
How to use the site — an excellent free video tutorial showing how to use the site as well as pointing out lots of useful features you might have missed.
Linda's List of Zentangle-Original Patterns — here is the complete list of original tangles (aka "official tangles") created and introduced by founders Rick Roberts and Maria Thomas, including those not published online. If you are new to the Zentangle Method I highly recommend learning a few of the published Zentangle classics first.
"A Zentangle has no up or down and is not a picture of something, so you have no worries about whether you can draw a hand, or a duck. You always succeed in creating a Zentangle." Thus patterns that are drawings of a recognizable naturalistic or actual object, figure, or scene, are not tangles. A pattern is not always a tangle — here's what makes a tangle. TIP: tangles never start with pencil planning.
For lots of great FREE tutorials on TanglePatterns, click on the TUTORIALS link in the pink alphabetic menu bar below the tangle images at the top of any page.
Strings! Have we got STRINGS! Click on the STRINGS link in the pink alphabetic menu bar below the tangle images at the top of any page for 250 different (free) Zentangle-starters. More than enough for any lifetime!
Never miss a tangle! FREE eMAIL NEWSLETTER - visit the SUBSCRIBE page on the top menu bar of any page on the site and sign up to get notices delivered free to your inbox.
.oOo.

Enhance your Zentangle experience while supporting TanglePatterns:

CURRENT EDITION!

TanglePatterns.com TANGLE GUIDE, 2023 Edition

The 12th Edition of the TanglePatterns.com TANGLE GUIDE is an instant-download 103-page (50 MB) interactive digital eBook/PDF containing almost 1,900 tangles on the site from May 2010 through December 31, 2022. It's a great resource and a must-have digital tool for using the site. Visit the STORE > E-BOOKS page and help keep TanglePatterns.com online by getting your copy now!

"Linda, Thank you! I was relying on too few and getting stuck after 3 years of daily working with Zentangle. This has inspired me to 'begin again' with renewed excitement." ~ Barbara R.

See the BOOK REVIEWS page for more details on its features and view a sample page. Note: this is a digital product you download immediately when you place your order, nothing will be physically mailed to you.
GIFT ORDERS FOR ANOTHER PERSON: To give the TANGLE GUIDE as a gift, visit this page to place your gift order.
If you're new to Zentangle® and tangling, my TanglePatterns.com BEGINNER'S GUIDE TO ZENTANGLE is just what you need to get started. Also available en Français and en Español.

---

This is the only Zentangle book you'll ever need: the fabulous Zentangle PRIMER Vol 1. It's your CZT-in-a-book by the founders of Zentangle®. Visit the STORE tab on the top menu bar or click on the image. For more about the content and to read the rave reviews, visit the BOOK REVIEWS tab.
NEW! Now available in KINDLE format for $9.99. Spanish Edition here. Japanese Edition here.
"Absolutely the best Zentangle Book yet! As an accomplished artist I used to think I did not need instruction on this art form. How wrong I was! My tangling improved by leaps and bounds after reading this book. If you think you have Zentangle down then you need this book more than ever!" ~ Kris H

---

.oOo.