Happy Monday! Our get-the-week-going-with-an-easy-tangle is Endo by West Virginia tangler Beth Snoderly.
Beth has over two dozen great tangles on the site, many are my personal favorites, but it's been quite a while since we had a new one from her.
She says she made a promise to herself to tear herself away from her work deadlines and send in a new tangle for us to share. And we're very happy she did.
"Here it is. Endo is the name I picked. My hubby thinks it looks like DNA.
I was playing with Rain and messed up, then started playing with it and ended up with this tangleation.
In Zentangle® I have learned mistakes are an opportunity to create something new. This one is one of my favorite mistakes."

No mistakes, only opportunities, definitely a fine Zentangle mantra.
I was playing around with Endo for quite a while — including this lacy-looking version I think would look great in white ink on a black tile — before I realized that it's also similar to Livia Chua's Frillee from way back when. But Endo differs with the Zentangle-original Rain as its starting point versus Frillee's curves and Beth shows us many ways to vary this one.
Beth illustrates the step-by-step instructions for drawing Endo below and in her monotangle she shows some of those ways to vary it with different embellishments.
Beth explored her "mistake" in her journal and here she shares the pages of her experimentation. "I like playing with the scales on the outside of the scoops. Sometimes it looks like orange slices hooked together, sometimes not.  Just depends on how you choose to decorate it."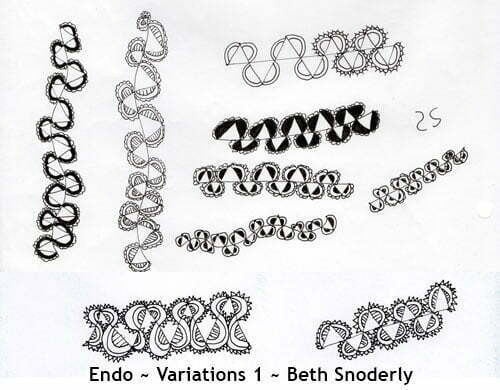 Page 2 of Beth's explorations.
TIP: For those of us "of a certain age" … a reminder that you always have the ability to increase the magnification of your browser pages by holding down the CTRL key on your keyboard and rolling the mouse wheel. There are also keyboard strokes to accomplish this,  CTRL ++, but I find the mouse wheel more convenient. To return the zoomed pages to normal viewing simply press CTRL 0 (the number zero, for zero magnification I'm guessing, not the letter o).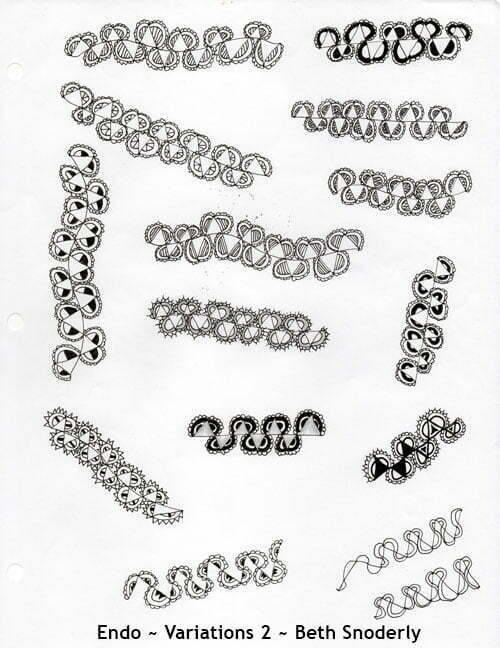 I like this last variation at the bottom left where the straight stroke in Step 1 is eliminated and you simply start with the zigzag line. Creates an interesting negative space shape like the tip of an arrow.
As you enjoy any of the tangles on the site, please leave a comment of thanks and encouragement to show the artists you appreciate them for sharing their creativity to inspire yours.
Check out the tag beths for more of Beth's tangles on TanglePatterns.com.
.oOo.
Guidelines for creating Zentangle®-inspired art and products
Thinking about creating Zentangle-related products for sale? Please see these pages:
You'll find all sorts of great tips and useful information by visiting the TUTORIALS tab on the pink alphabetic tangle index menu bar.
It's all there!
.oOo.
.oOo.

Enhance your Zentangle experience while supporting TanglePatterns:

BRAND NEW!

TanglePatterns.com TANGLE GUIDE, 2023 Edition

The 12th Edition of the TanglePatterns.com TANGLE GUIDE is an instant-download 103-page (50 MB) interactive digital eBook/PDF containing almost 1,900 tangles on the site from May 2010 through December 31, 2022. It's a great resource and a must-have digital tool for using the site. Visit the STORE > E-BOOKS page and help keep TanglePatterns.com online by getting your copy now!

"Linda, Thank you! I was relying on too few and getting stuck after 3 years of daily working with Zentangle. This has inspired me to 'begin again' with renewed excitement." ~ Barbara R.

See the BOOK REVIEWS page for more details on its features and view a sample page. Note: this is a digital product you download immediately when you place your order, nothing will be physically mailed to you.
GIFT ORDERS FOR ANOTHER PERSON: To give the TANGLE GUIDE as a gift, visit this page to place your gift order.
If you're new to Zentangle® and tangling, my TanglePatterns.com BEGINNER'S GUIDE TO ZENTANGLE is just what you need to get started. Also available en Français and en Español.

---

This is the only Zentangle book you'll ever need: the fabulous Zentangle PRIMER Vol 1. It's your CZT-in-a-book by the founders of Zentangle®. Visit the STORE tab on the top menu bar or click on the image. For more about the content and to read the rave reviews, visit the BOOK REVIEWS tab.
NEW! Now available in KINDLE format for $9.99. Spanish Edition here. Japanese Edition here.
"Absolutely the best Zentangle Book yet! As an accomplished artist I used to think I did not need instruction on this art form. How wrong I was! My tangling improved by leaps and bounds after reading this book. If you think you have Zentangle down then you need this book more than ever!" ~ Kris H

---

.oOo.