Trix is a fun new versatile and mesmerizing tangle by UK tangler Lucy Farran, and it's her first on the site.
Lucy is from Welwyn Garden City, in Hertfordshire, England (just north of London), and according to Wikipedia,
"Welwyn Garden City was the second garden city in England (founded 1920) and one of the first new towns (designated 1948).
It is unique in being both a garden city and a new town and exemplifies the physical, social and cultural planning ideals of the periods in which it was built. …
Welwyn Garden City was founded by Sir Ebenezer Howard in the 1920s following his previous experiment in Letchworth Garden City. Howard had called for the creation of planned towns that were to combine the benefits of the city and the countryside and to avoid the disadvantages of both. The Garden Cities and Town Planning Association had defined a garden city as:
'a town designed for healthy living and industry of a size that makes possible a full measure of social life but not larger, surrounded by a rural belt; the whole of the land being in public ownership, or held in trust for the community.'
The town is laid out along tree-lined boulevards with a neo-Georgian town centre. It has its own environmental protection legislation, the Scheme of Management for Welwyn Garden City. Every road has a wide grass verge. The spine of the town is Parkway, a central mall or scenic parkway, almost a mile long. The view along Parkway to the south was once described as one of the world's finest urban vistas."
Sounds positively delightful and of literary note, near Welwyn Garden City is "Shaw's Corner", primary residence of the renowned Irish playwright George Bernard Shaw.
About her Trix tangle Lucy writes, "Its name is inspired by the fact that an individual segment looks like a shark fin or tooth, and one of the latin words for shark is pistrix, hence – trix. …
I have been tangling for almost a year now. I discovered Zentangle® by accident when I found a book in my local craft shop, whilst shopping for something else. I became immediately hooked.
I was inspired by a swirly pattern in an old colouring book I was flicking through – my attempts to replicate what I saw turned into something quite different, and once I started drawing the 's' shapes, I truly could not stop until the page was full – it was a true tangling moment!
Composed entirely of S strokes, Trix is similar to Fengle but as Lucy notes while Fengle starts the same way it's generally a stand alone pattern. Trix grows out from the center as far as you have room for and works as a monotangle or even a String to be filled with other tangles as desired. Lucy demonstrates this in her main white-on-black example below. Trix is also similar to the triangular version of Cadent that Maria illustrates in her original steps (and which often gets posted mistakenly as a new tangle) but Trix is formed without Cadent's initial orbs and grows without that structure.
Lucy illustrates the step-by-step instructions for drawing Trix below with the String version noted above filled with mostly Zentangle-original tangles.
In this image Lucy shares "some monotangles to illustrate different filling and shading ideas". Lucy's second monotangle is the one I used for my example above.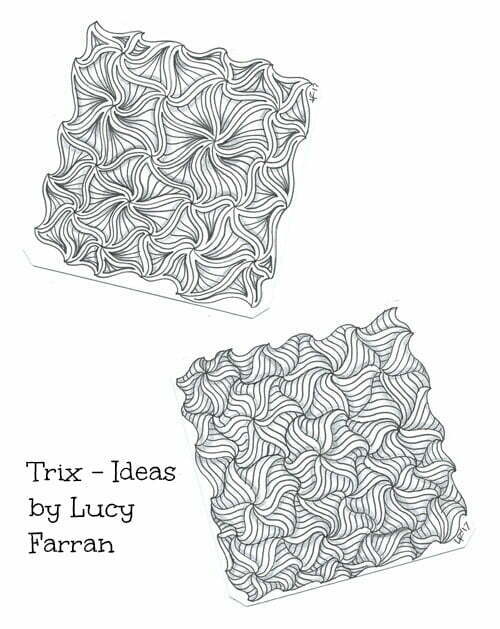 As you enjoy any of the tangles on the site, please do leave a comment of thanks and encouragement to show the artists you appreciate them for sharing their creativity to inspire yours.
Check out the tag lucyf for more of Lucy's tangles on TanglePatterns.com.
Related Links
Looking for tangles by Artist or Type? For details visit the ABOUT > HOW TO FIND TANGLES BY ARTIST OR TYPE page on the top menu bar of any page on the site.
What is a Zentangle? — if you are new to the Zentangle Method, start here for the fundamentals.
Zentangle terminology — a glossary of terms used in this art form.
Linda's List of Zentangle-Original Patterns — here is the complete list of original tangles (aka "official tangles") created and introduced by founders Rick Roberts and Maria Thomas, including those not published online. If you are new to the Zentangle Method I highly recommend learning a few of the published Zentangle classics first.
"A Zentangle has no up or down and is not a picture of something, so you have no worries about whether you can draw a hand, or a duck. You always succeed in creating a Zentangle." Thus patterns that are drawings of a recognizable naturalistic or actual object, figure, or scene, are not tangles. A pattern is not always a tangle — here's what makes a tangle. TIP: tangles never start with pencil planning.
For lots of great FREE tutorials on TanglePatterns, click on the TUTORIALS link in the pink alphabetic menu bar below the tangle images at the top of any page.
Strings! Have we got STRINGS! Click on the STRINGS link in the pink alphabetic menu bar below the tangle images at the top of any page for 250 different (free) Zentangle-starters. More than enough for any lifetime!
Never miss a tangle! FREE eMAIL NEWSLETTER - visit the SUBSCRIBE page on the top menu bar of any page on the site and sign up to get notices delivered free to your inbox.
.oOo.

Enhance your Zentangle experience while supporting TanglePatterns:

BRAND NEW!

TanglePatterns.com TANGLE GUIDE, 2023 Edition

The 12th Edition of the TanglePatterns.com TANGLE GUIDE is an instant-download 103-page (50 MB) interactive digital eBook/PDF containing almost 1,900 tangles on the site from May 2010 through December 31, 2022. It's a great resource and a must-have digital tool for using the site. Visit the STORE > E-BOOKS page and help keep TanglePatterns.com online by getting your copy now!

"Linda, Thank you! I was relying on too few and getting stuck after 3 years of daily working with Zentangle. This has inspired me to 'begin again' with renewed excitement." ~ Barbara R.

See the BOOK REVIEWS page for more details on its features and view a sample page. Note: this is a digital product you download immediately when you place your order, nothing will be physically mailed to you.
GIFT ORDERS FOR ANOTHER PERSON: To give the TANGLE GUIDE as a gift, visit this page to place your gift order.
If you're new to Zentangle® and tangling, my TanglePatterns.com BEGINNER'S GUIDE TO ZENTANGLE is just what you need to get started. Also available en Français and en Español.

---

This is the only Zentangle book you'll ever need: the fabulous Zentangle PRIMER Vol 1. It's your CZT-in-a-book by the founders of Zentangle®. Visit the STORE tab on the top menu bar or click on the image. For more about the content and to read the rave reviews, visit the BOOK REVIEWS tab.
NEW! Now available in KINDLE format for $9.99. Spanish Edition here. Japanese Edition here.
"Absolutely the best Zentangle Book yet! As an accomplished artist I used to think I did not need instruction on this art form. How wrong I was! My tangling improved by leaps and bounds after reading this book. If you think you have Zentangle down then you need this book more than ever!" ~ Kris H

---

.oOo.