Australian tangler Helen Williams is back today with her Faux Weave tangle. Faux Weave is Helen's 21st tangle on TanglePatterns!
There are many tangles on the site in the "weave" category, and I wouldn't have thought there were many more ways to come up with a new one.
But Helen has managed it with Faux Weave where — once you've established your base grid (wonky or otherwise) — it's a continuous line type of tangle.
Helen writes,
I love, love, LOVE easy patterns and how, often, from a simple construct the illusion of a more complex design can be created.
Faux Weave is indeed simple to tangle and its construction even forms its own shading.
Helen illustrates the step-by-step instructions for drawing Faux Weave here on her blog and she also features it in a "strip-ey, wonky grid version".
BTW – In her post Helen refers to her tangle called Weave. As I make every effort not to repeat a tangle on TanglePatterns (and it gets harder and harder to remember them all), Weave was not included on the site because we already had Jonathan Baetens's Meo tangle a few years before Weave. Helen's Weave is a grid-free version of Meo with auras. Either way, an interesting tangle to to have in your repertoire!
As you enjoy any of the tangles on the site, please do leave a comment of thanks and encouragement to show the artists you appreciate them for sharing their creativity to inspire yours.
Check out the tag helenw for more of Helen's tangles on TanglePatterns.com.
.oOo.
TAGS & How to locate tangles by artist or type on TanglePatterns
Did you know you can easily find TANGLES BY ARTIST and TANGLES BY TYPE on TanglePatterns?
Each tangle has its tags listed as live links in the date bar just above the comments section on each page. The date bar looks like this screen capture where I've highlighted the Tag section in aqua:

Scroll down on any tangle's page and click on those live links in the date bar to get to similar types of tangles and to find tangles by the same artist.
There's also a section called TANGLES BY TYPE in the LEFT sidebar of any page as shown in this image: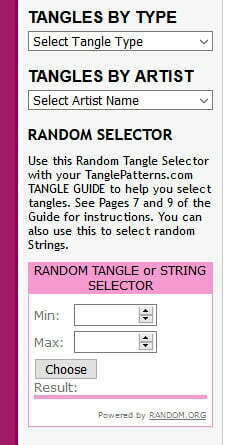 Scroll to that section in the sidebar, click the down arrow and select the type of tangle you're looking for, and a new page will open with the list of all the tangles of that type. (TANGLES BY ARTIST are located directly below there.)
Feel like choosing tangles at random for your Zentangle® art?
There are four ways to do this on the site.
First, there's the random TANGLE SELECTOR in the left sidebar with instructions on how to use it. This handy gadget can be used to select Zentangle®-original tangles from this page and it can also be used to select random Strings. Just type in the number range you want to select from.
Second, just above that section there's a TANGLE RANDOMIZER that has already selected 5 random tangles to use.
Third, many like to use the tangles listed at the end of every tangle in the "You might also like:" section of the page.
Fourth, use the selection of tangles in any TANGLE REFRESHER. This is a great way to revisit tangles you've forgotten about or might have missed when it was originally posted.
Be sure to check out all the features that are hidden in plain sight in the sidebars on both sides of every page.
And remember to check out the main menu bar across the top of every page — there's a lot of great reading and learning there that you won't want to miss.
.oOo.
.oOo.

Enhance your Zentangle experience while supporting TanglePatterns:

TanglePatterns.com TANGLE GUIDE, 2020 Edition

The 9th Edition of my TanglePatterns.com TANGLE GUIDE. This instant-download 79-page (54 MB) interactive digital eBook contains all the tangles on the site from May 2010 through December 31, 2019. Containing almost 1,400 tangles, it's a must-have tool for using the site. Visit the STORE > E-BOOKS page and support TanglePatterns.com by getting your copy now!

"Linda, Thank you! I was relying on too few and getting stuck after 3 years of daily working with Zentangle. This has inspired me to 'begin again' with renewed excitement." ~ Barbara R.

See the BOOK REVIEWS page for more details on its features and view a sample page. Note: this is a digital product you download when you place your order, nothing will be physically mailed to you.
GIFT ORDERS FOR ANOTHER PERSON: To give the TANGLE GUIDE as a gift, visit this page to place your gift order.
If you're new to Zentangle® and tangling, my TanglePatterns.com BEGINNER'S GUIDE TO ZENTANGLE is just what you need to get started. Also available en Français and en Español.

---

This is the only Zentangle book you'll ever need: the fabulous Zentangle PRIMER Vol 1. It's your CZT-in-a-book by the founders of Zentangle®. Visit the STORE tab on the top menu bar or click on the image. For more about the content and to read the rave reviews, visit the BOOK REVIEWS tab.
NEW! Now available in KINDLE format for $9.99.
"Absolutely the best Zentangle Book yet! As an accomplished artist I used to think I did not need instruction on this art form. How wrong I was! My tangling improved by leaps and bounds after reading this book. If you think you have Zentangle down then you need this book more than ever!" ~ Kris H

---

Another great jump-starter for new tanglers is the original Official Zentangle Kit. The Kit includes all the supplies you'll need to get started properly: Sakura Micron Pens, Zentangle Tiles, pencil, sharpener, tortillion, a booklet and an instructional DVD by co-founder Maria Thomas. Click on the image for more information about the Kit and its contents.

.oOo.