On the occasion of this Good Friday and the Easter weekend I would like to share with you a beautiful book I've been reading the last week or so, and a photograph I took recently.
Several months ago my sister Karen, the middle of my three cherished younger sisters, emailed a recommendation to The Book of Joy: Lasting Happiness in a Changing World.
The Book of Joy is by the Nobel Peace Prize Laureates His Holiness the Dalai Lama and Archbishop Desmond Tutu, together with interviewer Douglas Abrams. The book arises from several days the two long-time friends, both now in advanced years of worldly experience, spent together with Abrams.
From the dust cover:
In April 2015, Archbishop Tutu traveled to the Dalai Lama's home in Dharamsala, India, to celebrate His Holiness's eightieth birthday and to create what they hoped would be a gift for others. They looked back on their long lives to answer a single burning question: How do we find joy in the face of today's inevitable suffering?
As The Publishers Weekly review says, "This sparkling, wise, and immediately useful gift to readers from two remarkable spiritual masters offers hope that joy is possible for everyone even in the most difficult circumstances, and describes a clear path for attaining it."
This is a book I will read again and again and I highly commend it to you. Get it from your public library if you must, but I think in the end you will want to have it in your personal library for regular reference.
As my second Easter gift to you, I share this photograph I took a couple of weeks ago and "embellished" with a pearl of wisdom from the Dalai Lama. The bloom is from a succulent plant we've had in a little terracotta pot on our patio for three years and to our astonishment one recent morning discovered this exquisite new development. The entire cluster is not quite two inches across so this is pretty much actual-size.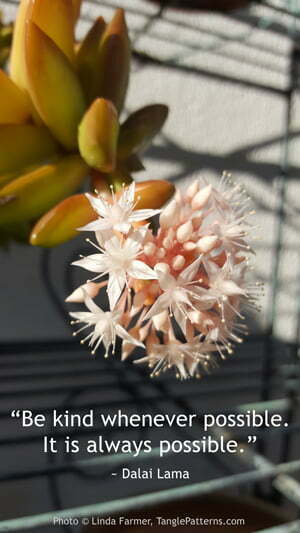 From The Book of Joy, adapted from the traditional Tibetan prayer of the Four Immeasurables (Loving-kindness, Compassion, Joy, Equanimity*),
May all beings attain happiness.
May all beings be free from suffering.
May all beings never be separated from joy.
May all beings abide in equanimity.
*These are called the Four Immeasurables because they are directed to an immeasurable number of sentient beings, and because the wholesome karma produced through practicing them is immeasurable.
Peace, blessings, and loving kindness my friends.