Flec is a lovely ribbon or border-style tangle from UK tangler Jem Miller (aka Ragged Ray), who's previously shared her Snag, Kitl and Sati tangles with us.
Jem explains how she came up with this Zen-like tangle,
"I based it on those images that pepper the cover of so many Zen guidebooks. A stack of stones on water with their reflection beneath them. Hence the name – Flec."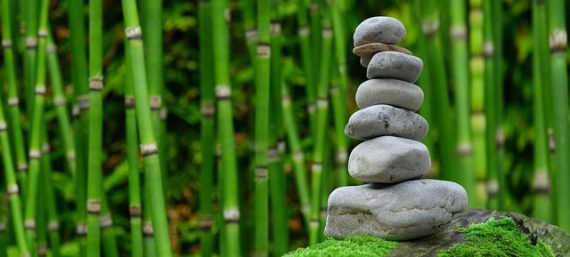 Curious to know more about Zen Stones, I came across this article about Zen Gardens describing the various shapes of stones and their meanings. The article begins with this general description:
"Zen gardens are specifically designed to give people time to escape hectic daily life and reflect on themselves and the world around them without the influences of others. The Japanese have used Zen gardens since the Muromachi period [1336 to 1573]. Since that time, Zen gardens have grown in popularity around the world, as people have adopted various ways to relax and search for inner peace.
Unlike typical gardens that feature flowers and greenery or water, Zen gardens are sparse and feature only sand, gravel, stones and every so often, a few pieces of moss. While Zen gardens may seem lacking, every part of the garden has a meaning. Sand is used to represent water, while gravel sometimes symbolizes the ocean or the islands of Japan.
Stones are one of the most important aspects of a Zen garden and have several meanings, such as harmony and soul. Each rock shape and formation has a different name and is represented by one of the five elements." [See the article for a description of the shapes and their meanings.]
A number of indigenous cultures around the world have similar practices, including cairns in Scotland and rock stacking by Native American Indians and the inuksuk of Canada's Inuit. In some cases these stacks were seen as a symbol of a protective spirit and in many places people have adopted this practice at the entrance of their home or property for this symbolism.
"Cairns have been and are used for a broad variety of purposes, from prehistoric times to the present.
In modern times, cairns are often erected as landmarks, a use they have had since ancient times. However, since prehistory, they have also been built and used as burial monuments; for defense and hunting; for ceremonial purposes, sometimes relating to astronomy; to locate buried items, such as caches of food or objects; and to mark trails, among other purposes." ~ Wikipedia
Both articles are fascinating reading. Look how much you can learn from a simple tangle! And now for Flec …
Jem illustrates the step-by-step instructions for drawing Flec here on her blog where she shows Flec in use in three pretty Zentangle®-inspired pieces. As she says, "it has scope for variation as to the size and shape of the 'stones' you use, and how you choose to stack them."
As you enjoy any of the tangles on the site, please do leave a comment of thanks and encouragement to show the artists you appreciate them for sharing their creativity to inspire yours.
Check out the tag jemm for more of Jem's tangles on TanglePatterns.com.
How to manage your TanglePatterns Newsletter subscriptions

You can change your email address, temporarily pause your subscription while you're on vacation, or unsubscribe at any time by using your subscription management links at the bottom of any of your newsletters. Note: Whether you subscribe to the daily TanglePatterns newsletter, the Comments newsletter, or the Weekly Digest newsletter, each one is a separate subscription so use the links in the relevant email to make your changes. For more information see ABOUT > HOW TO CHANGE YOUR EMAIL SUBSCRIPTION on the menu bar at the top of any page.
* * *
.oOo.

Enhance your Zentangle experience while supporting TanglePatterns:

CURRENT EDITION!

TanglePatterns.com TANGLE GUIDE, 2023 Edition

The 12th Edition of the TanglePatterns.com TANGLE GUIDE is an instant-download 103-page (50 MB) interactive digital eBook/PDF containing almost 1,900 tangles on the site from May 2010 through December 31, 2022. It's a great resource and a must-have digital tool for using the site. Visit the STORE > E-BOOKS page and help keep TanglePatterns.com online by getting your copy now!

"Linda, Thank you! I was relying on too few and getting stuck after 3 years of daily working with Zentangle. This has inspired me to 'begin again' with renewed excitement." ~ Barbara R.

See the BOOK REVIEWS page for more details on its features and view a sample page. Note: this is a digital product you download immediately when you place your order, nothing will be physically mailed to you.
GIFT ORDERS FOR ANOTHER PERSON: To give the TANGLE GUIDE as a gift, visit this page to place your gift order.
If you're new to Zentangle® and tangling, my TanglePatterns.com BEGINNER'S GUIDE TO ZENTANGLE is just what you need to get started. Also available en Français and en Español.

---

This is the only Zentangle book you'll ever need: the fabulous Zentangle PRIMER Vol 1. It's your CZT-in-a-book by the founders of Zentangle®. Visit the STORE tab on the top menu bar or click on the image. For more about the content and to read the rave reviews, visit the BOOK REVIEWS tab.
NEW! Now available in KINDLE format for $9.99. Spanish Edition here. Japanese Edition here.
"Absolutely the best Zentangle Book yet! As an accomplished artist I used to think I did not need instruction on this art form. How wrong I was! My tangling improved by leaps and bounds after reading this book. If you think you have Zentangle down then you need this book more than ever!" ~ Kris H

---

.oOo.