Strutz is a fun, quirky tangle in the Hollibaugh family of "drawing behind" from British tangler Sarah Fowler and it's her first on the site.
Sarah introduces herself,

I live in Ruislip which is kind of west London. My husband's brother lives in Texas and it was his wife that introduced me to Zentangle back in August 2015. Like so many other people it came along just when I needed it. Boy was I hooked! My mum used to be an artist and was always on at me to find something creative….. I was a fingerprint officer for twenty years so I think the fact that I had been looking at fingerprints all that time (at tiny details under a magnifying glass) something clicked with me and Zentangle.
Now both our sons are off at university I suddenly have "zen-time".

I have been overwhelmed by the welcoming and friendly community I have discovered with Zentangle and mentally thank my sister-in-law every day for telling me about it.
Here Sarah describes how she came across Strutz and offers some great advice,
Strutz just turned up one day when I was tangling away and felt that the tangle I was drawing needed some support … I used to love the illustrations of Heath Robinson: with those ridiculous, convoluted inventions of his and that's what Strutz reminds me of.
It's a very forgiving pattern…..you can add more steps or not, you can make them large and fill them with other tangles. Don't be put off by the straight lines. Speaking as someone that has an on/off tremor, once you've shaded it adds a bit of character 🙂 .
Heath Robinson?? Oh goodie, another rabbit hole!
"William Heath Robinson (31 May 1872 – 13 September 1944) was an English cartoonist and illustrator best known for drawings of ridiculously complicated machines for achieving simple objectives.
In the UK, the term 'Heath Robinson' entered the popular language during the 1914–1918 First World War as a description of any unnecessarily complex and implausible contrivance, much as 'Rube Goldberg machines' came to be used in the US from the 1920s onwards as a term for similar efforts. 'Heath Robinson contraption' is perhaps more often used in relation to temporary fixes using ingenuity and whatever is to hand, often string and tape, or unlikely cannibalisations." ~ Wikipedia
From an article in WIRED magazine:
"Heath Robinson: the unsung hero of British eccentricity and innovation. Heath Robinson's name has been used to describe absurdly complex, makeshift contraptions since the early 20th century."
And from the Heath Robinson Museum site.
"William Heath Robinson is best known as the creator of weird mechanical devices and strange gadgets, usually held together with knotted string. … Heath Robinson is an artist whose work, whether in his well known humorous drawings or his illustrations for Kipling, Shakespeare or children's stories, is integral to British cultural heritage. His name entered the language as early as 1912 and is still in daily use to describe the kind of ad hoc contraptions that featured in many of his cartoons.
He was a genuinely good person – there was no bitterness in his humour, he never made racial jokes and he steered clear of politics. It is this that ensures that his work appeals to people of all ages and diverse backgrounds."
It's entertaining to check out some of Heath Robinson's creations, he certainly had an ingenious way of looking at things. Although his time was much before it was founded, I think his cartoons could easily have found a home in Mad Magazine. Perhaps his novel way of looking at life provided inspiration to the cartoonists who followed …
As easy as Strutz is, and looks to be, I will say it can be a bit of a challenge to get the long strokes meeting up with the supporting "steps" when drawing the Strutz behind. Just sayin'. I had fun doing several versions of Strutz, I particularly like how it looks when Steps 1-3 are drawn with rounded "corners", rather pipe-like. [Update: See Sarah's tip in the comments below about drawing the "poles".]
Sarah illustrates the step-by-step instructions for drawing Strutz below and she features it in a whimsical Heath Robinson-esque duotangle with aura-ed Tipple bubbles trickling through their vise-like grip. Sarah's shading on the bubbles gives some great texture to this piece.
Sarah also sent along this lovely Zendala with Strutz on chocolate-colored paper and a bit of Shiraz in the center black paper. In the caption Sarah explains how she constructed this piece.
And here's an example combining Strutz with the Zentangle-original, 'Nzeppel.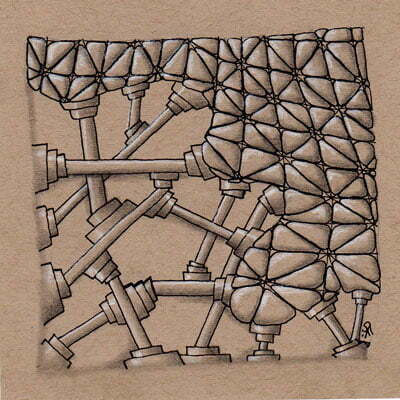 As you enjoy any of the tangles on the site, please do leave a comment of thanks and encouragement to show the artists you appreciate them for sharing their creativity to inspire yours.
Check out the tag sarahf for more of Sarah's tangles on TanglePatterns.com.
Related Links
Looking for tangles by Artist or Type? For details visit the ABOUT > HOW TO FIND TANGLES BY ARTIST OR TYPE page on the top menu bar of any page on the site.
What is a Zentangle? — if you are new to the Zentangle Method, start here for the fundamentals.
Zentangle terminology — a glossary of terms used in this art form.
How to use the site — an excellent free video tutorial showing how to use the site as well as pointing out lots of useful features you might have missed.
Linda's List of Zentangle-Original Patterns — here is the complete list of original tangles (aka "official tangles") created and introduced by founders Rick Roberts and Maria Thomas, including those not published online. If you are new to the Zentangle Method I highly recommend learning a few of the published Zentangle classics first.
"A Zentangle has no up or down and is not a picture of something, so you have no worries about whether you can draw a hand, or a duck. You always succeed in creating a Zentangle." Thus patterns that are drawings of a recognizable naturalistic or actual object, figure, or scene, are not tangles. A pattern is not always a tangle — here's what makes a tangle. TIP: tangles never start with pencil planning.
For lots of great FREE tutorials on TanglePatterns, click on the TUTORIALS link in the pink alphabetic menu bar below the tangle images at the top of any page.
Strings! Have we got STRINGS! Click on the STRINGS link in the pink alphabetic menu bar below the tangle images at the top of any page for 250 different (free) Zentangle-starters. More than enough for any lifetime!
Never miss a tangle! FREE eMAIL NEWSLETTER - visit the SUBSCRIBE page on the top menu bar of any page on the site and sign up to get notices delivered free to your inbox.
.oOo.

Enhance your Zentangle experience while supporting TanglePatterns:

CURRENT EDITION!

TanglePatterns.com TANGLE GUIDE, 2023 Edition

The 12th Edition of the TanglePatterns.com TANGLE GUIDE is an instant-download 103-page (50 MB) interactive digital eBook/PDF containing almost 1,900 tangles on the site from May 2010 through December 31, 2022. It's a great resource and a must-have digital tool for using the site. Visit the STORE > E-BOOKS page and help keep TanglePatterns.com online by getting your copy now!

"Linda, Thank you! I was relying on too few and getting stuck after 3 years of daily working with Zentangle. This has inspired me to 'begin again' with renewed excitement." ~ Barbara R.

See the BOOK REVIEWS page for more details on its features and view a sample page. Note: this is a digital product you download immediately when you place your order, nothing will be physically mailed to you.
GIFT ORDERS FOR ANOTHER PERSON: To give the TANGLE GUIDE as a gift, visit this page to place your gift order.
If you're new to Zentangle® and tangling, my TanglePatterns.com BEGINNER'S GUIDE TO ZENTANGLE is just what you need to get started. Also available en Français and en Español.

---

This is the only Zentangle book you'll ever need: the fabulous Zentangle PRIMER Vol 1. It's your CZT-in-a-book by the founders of Zentangle®. Visit the STORE tab on the top menu bar or click on the image. For more about the content and to read the rave reviews, visit the BOOK REVIEWS tab.
NEW! Now available in KINDLE format for $9.99. Spanish Edition here. Japanese Edition here.
"Absolutely the best Zentangle Book yet! As an accomplished artist I used to think I did not need instruction on this art form. How wrong I was! My tangling improved by leaps and bounds after reading this book. If you think you have Zentangle down then you need this book more than ever!" ~ Kris H

---

.oOo.